It's no surprise that south-facing garden ideas are often one of the things people look for when buying a home. 
They're ripe with potential and provide you with more opportunity to experiment with all types of garden ideas.
'South-facing gardens are exposed to lots more sunlight and heat than others, so it's important to choose sun-loving plants that will thrive in bright conditions,' says Charlotte McGrattan, head nursery stock buyer at Hillier Garden Centres. 
'Luckily there are a wide variety of plants that prefer south-facing locations to shadier environments, so there is plenty of opportunity to incorporate fantastic colour, texture and interest to any outdoor space.'
As well as giving you more options for planting there are other elements you need to consider when it comes to south-facing garden ideas. With the heat of summer, a south-facing garden can be extremely hot so creating areas of shade is a must. You can also use the sunlight to your advantage when it comes to lighting.
South-facing garden ideas
From what plants to choose to utilising solar power and creating shade, take a look at these easy garden ideas for a south-facing plot. 
1. Choose fragrant Mediterranean plants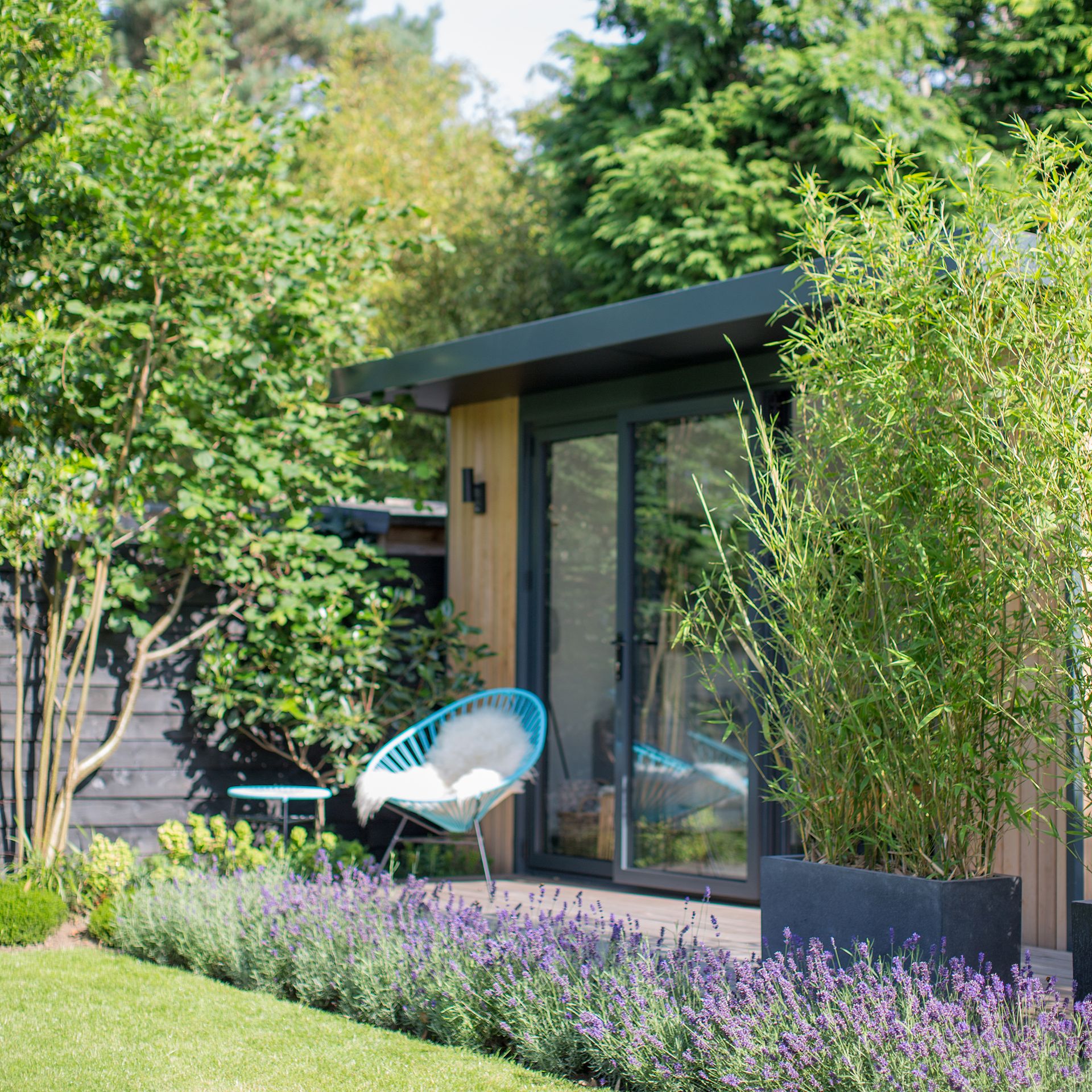 As summers become hotter and drier, plant choice is a key south-facing garden idea. 'When choosing plants for your south-facing garden, a Mediterranean palette would be ideal as they have evolved to cope with dry, hot conditions,' explains Angela Slater, gardening expert at Hayes Garden World. 
'The very best plant for fragrance, which loves a sunny position, is the classic lavender.' Growing lavender in a border is not only easy from a maintenance point of view, but it will also attract pollinators to your garden.
2. Plant succulents in a gravel garden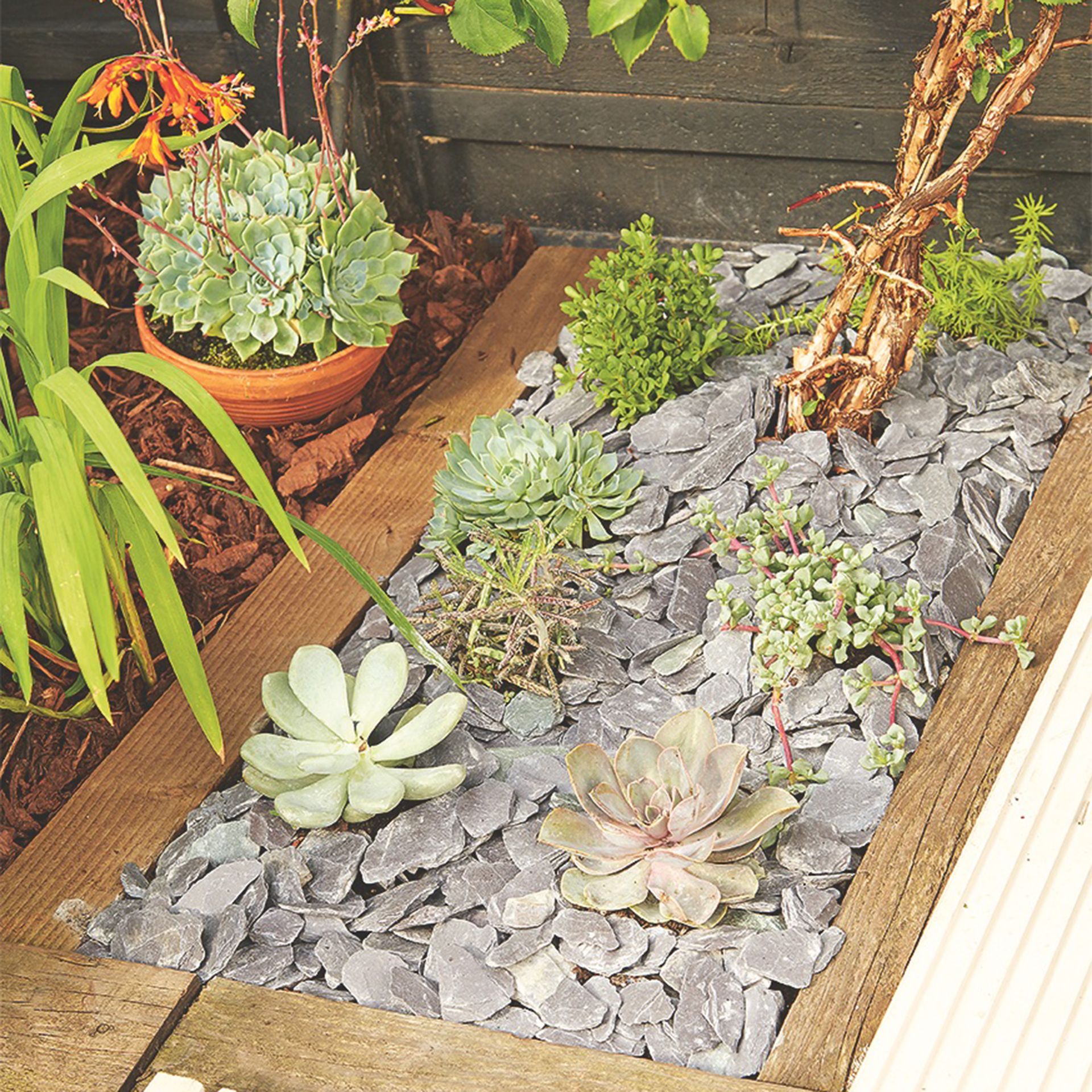 If you're not the most green-fingered person, choosing plants which will survive if you forget to water them is a good idea. 'If you want a low-maintenance south-facing garden that can deal with hot temperatures in summer, a gravel garden is a winning solution,' says Fiona Jenkins of Myjobquote.co.uk. 
'You can lay weed-control fabric over the ground and simply cut holes where you want to pop your plants and then cover the whole thing with slate chippings. This means you'll have very little weeding and tidying to do.' 
Succulents make an interesting display and require little watering so will thrive in a south-facing garden.
3. Choose tropical palms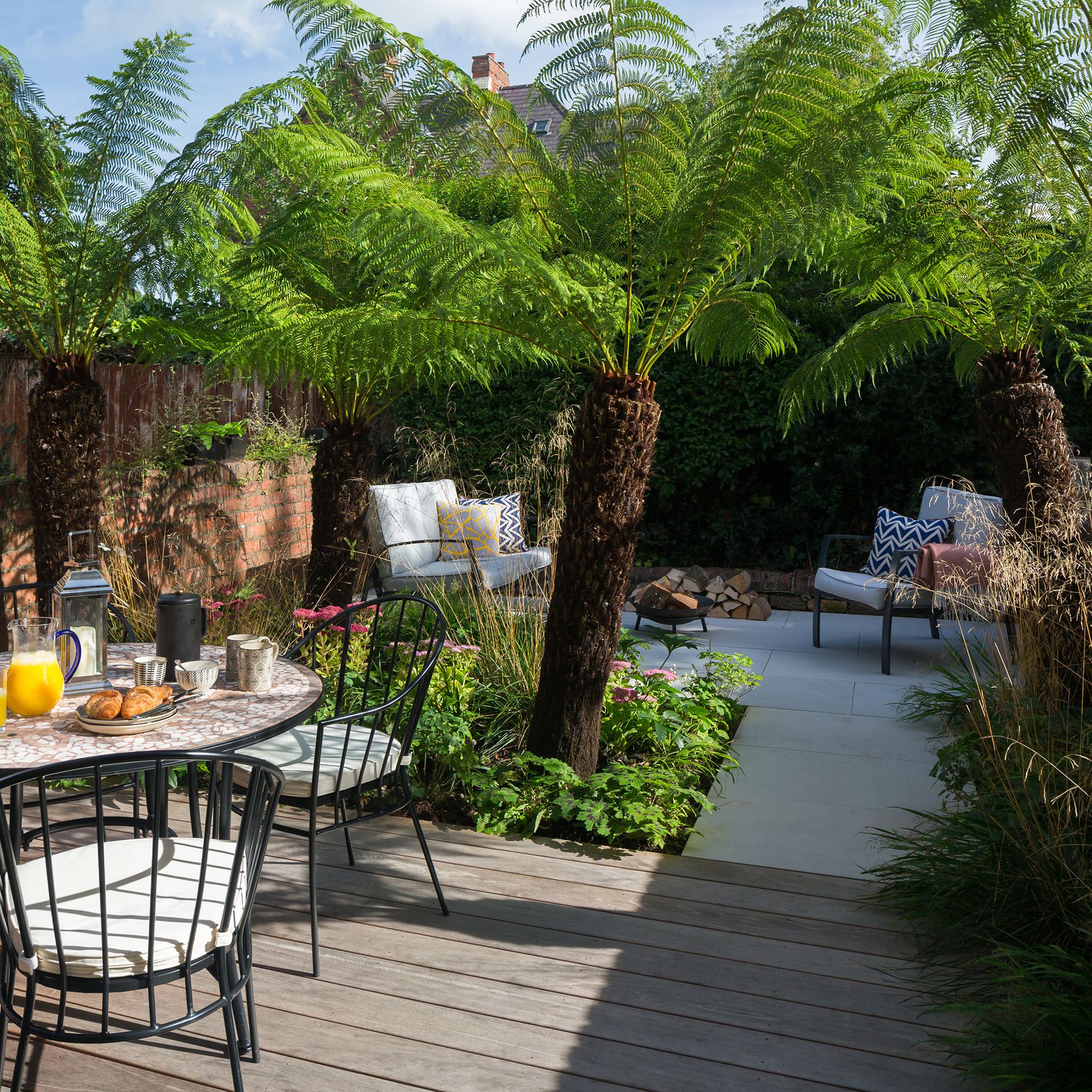 With sunlight filling your garden, why not embrace a tropical holiday vibe? Choose plants such as palms, which provide dappled shade, helping to break up the intense heat and transport yourself to sunnier climes from the comfort of your own garden. They are easy to care for too.
4. Use an awning for shade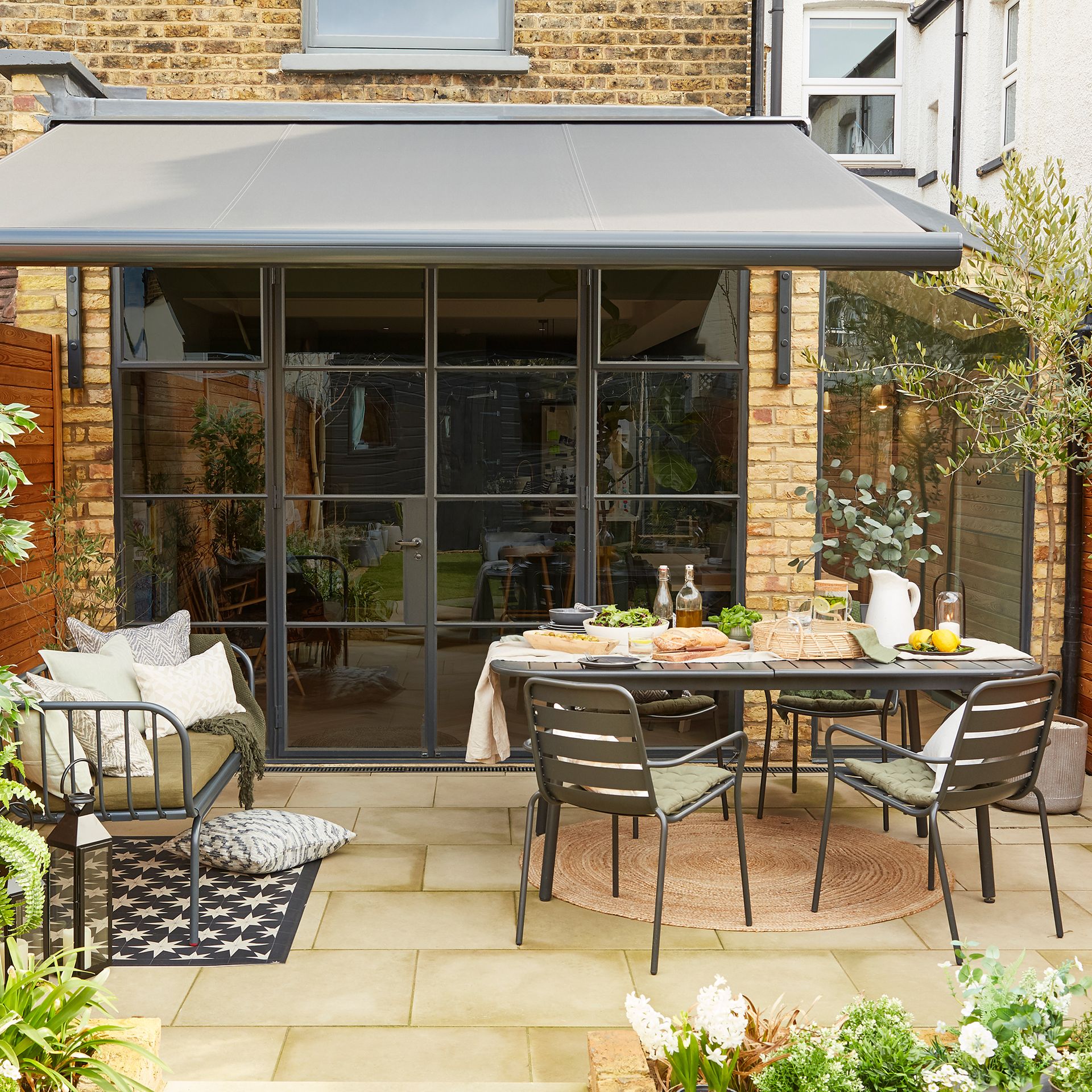 Setting up shady areas is vital in south-facing garden ideas especially if you have little ones or enjoy eating outside. Investing in an awning attached to the back of the house allows you to control how much shade you have on a patio area. So, you can enjoy your morning coffee in the sun and set up the awning to give you shade during the hottest times of the day.
5. Set up a herb garden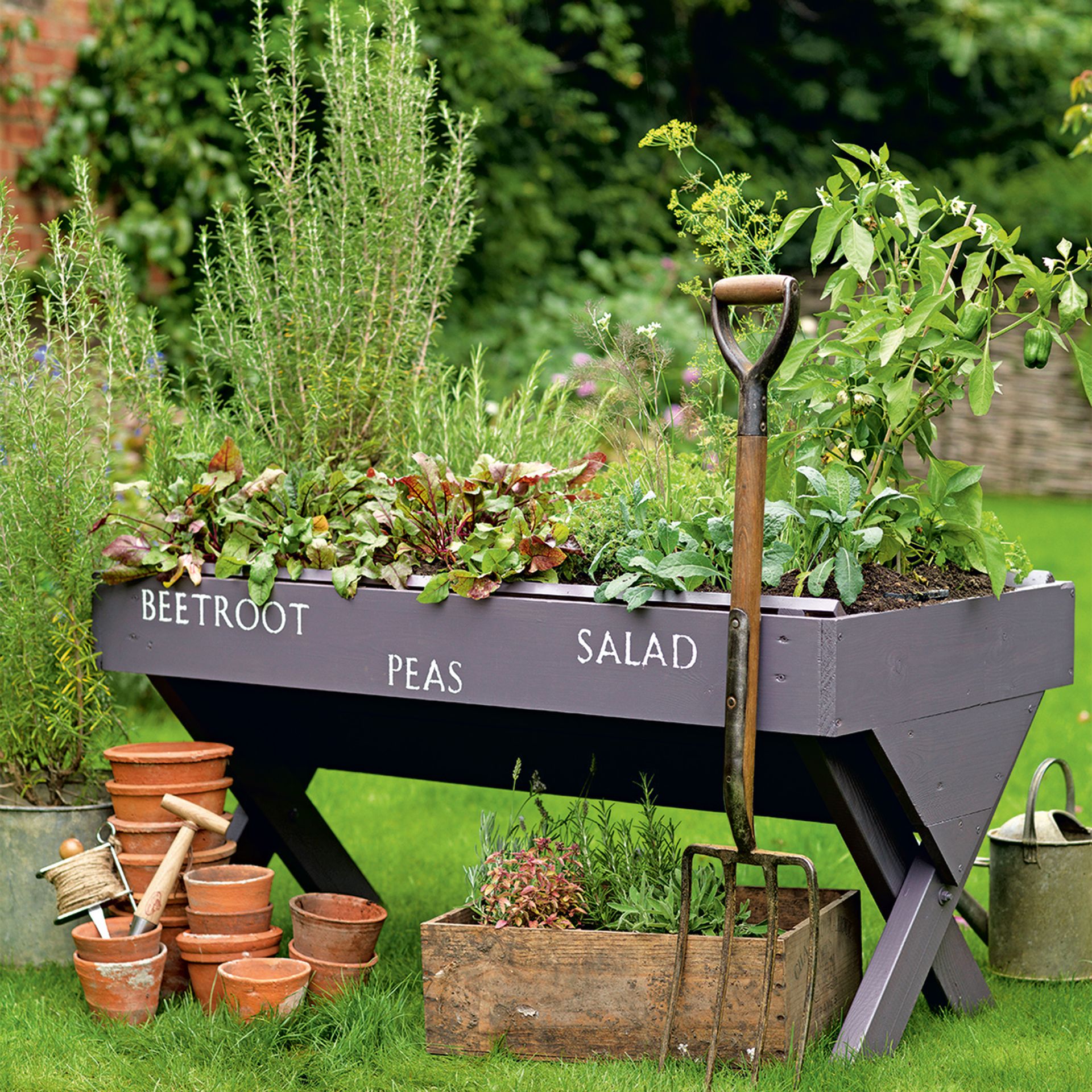 Herbs thrive in a warm environment so if you love to cook and want fresh herbs to hand, setting up a herb planter or raised bed near your kitchen door is a handy addition in a south-facing garden. 
'Mediterranean herbs which thrive in a hot south-facing garden include: sage, oregano, marjoram, lavender, thyme, rosemary, curry plant, flat-leaved parsley, basil and fennel,' explains garden expert Angela. 'They need full-sun and well draining soil.'
6. Grow drought-tolerant plants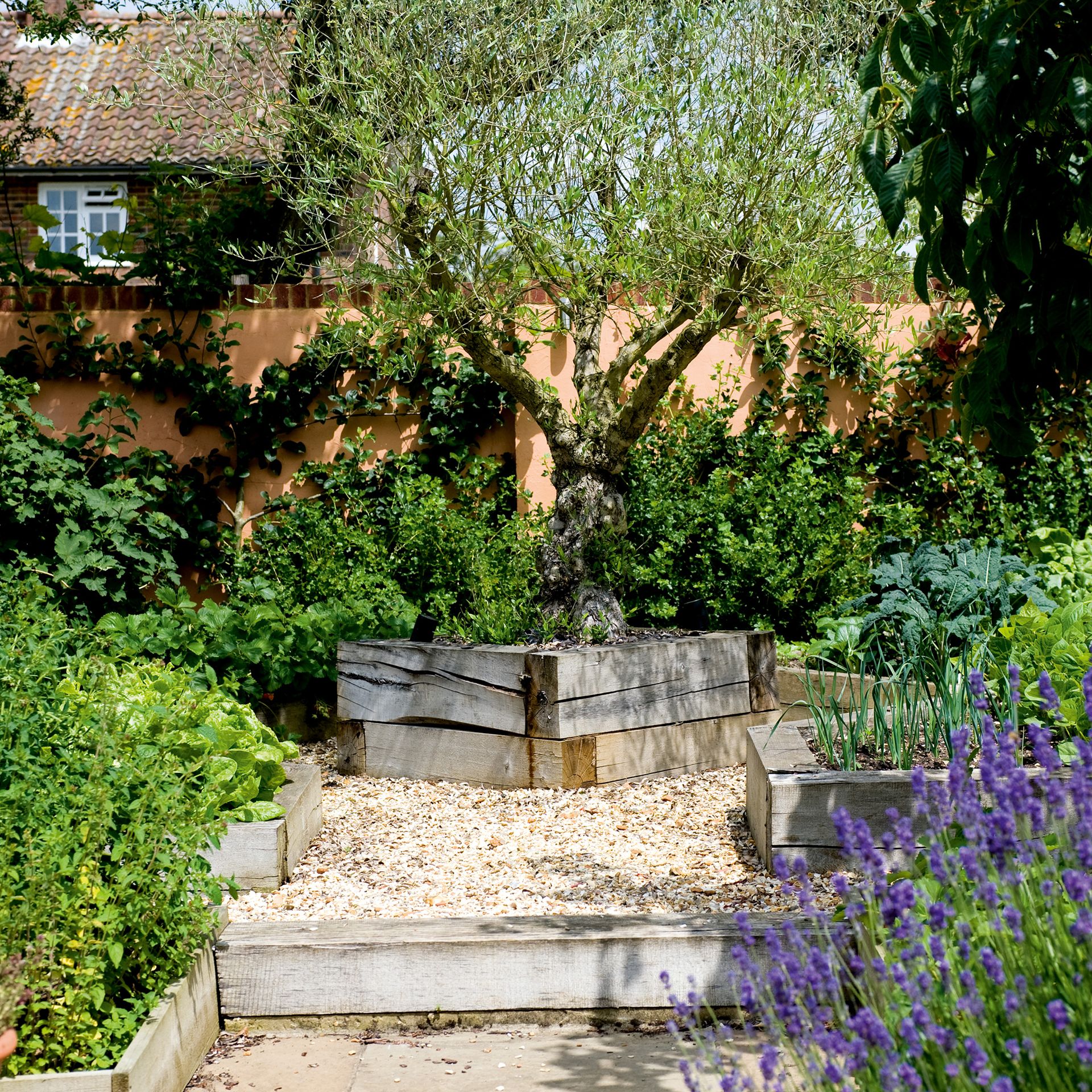 Plant an olive tree as a focal point in your space for a Mediterranean garden feel. The beautiful silvery green leaves will provide a little shade and as they are used to growing in hot environments, an olive tree will thrive in a south-facing garden. Just make sure you plant it in an area with well draining soil or in a large pot.
7. Utilise solar lighting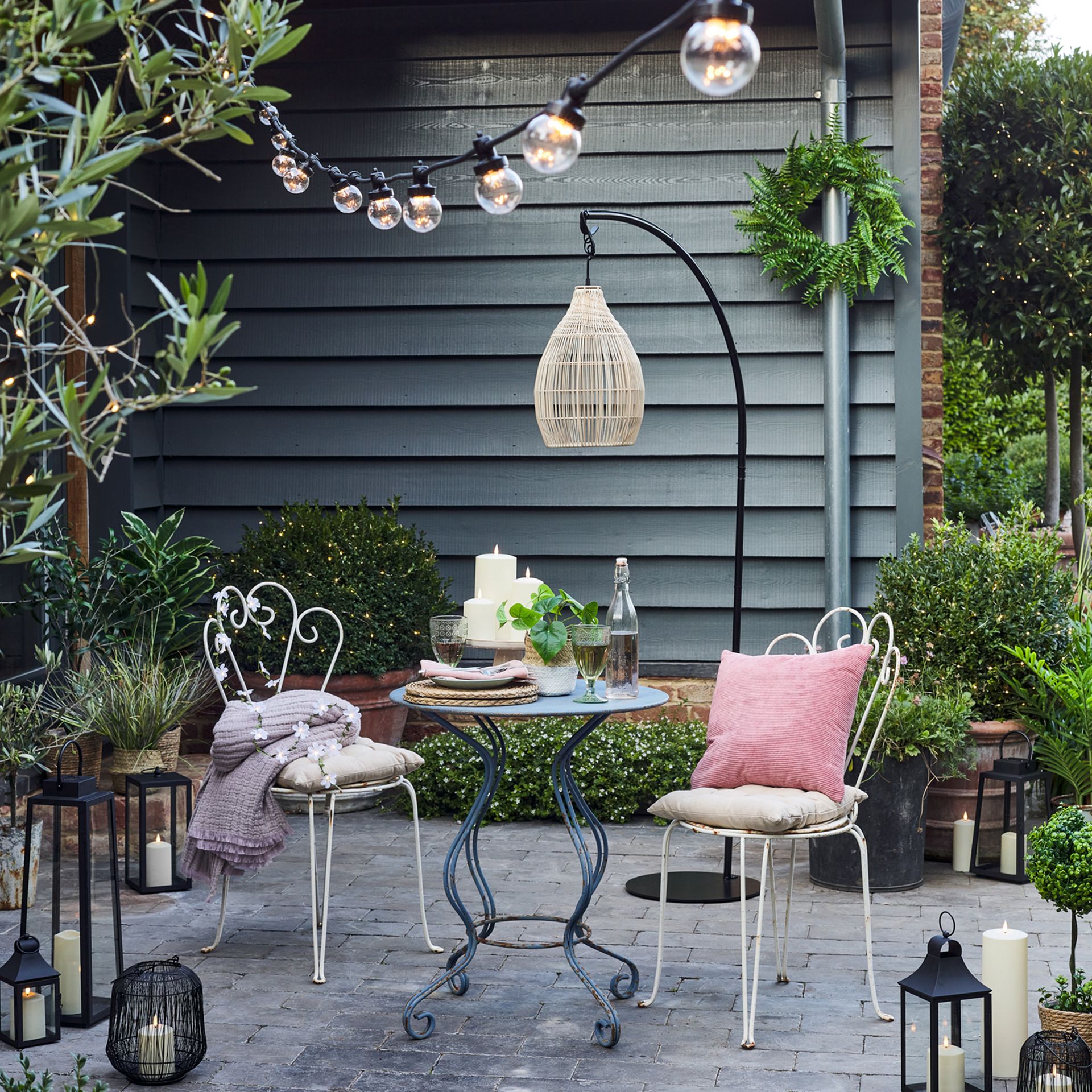 With so much daylight during the summer, a south-facing garden is ideal for solar lighting. Whether it's a few solar lights to brighten up a pathway of an evening or a solar pendant light like here, there are plenty of options to choose from. 
It's a great idea if you don't have a mains power supply outside and saves on the cost of replacing batteries in garden lighting. Just make sure the solar panel is positioned in any area that receives the most sun during the day.
8. Create dappled shade with a pergola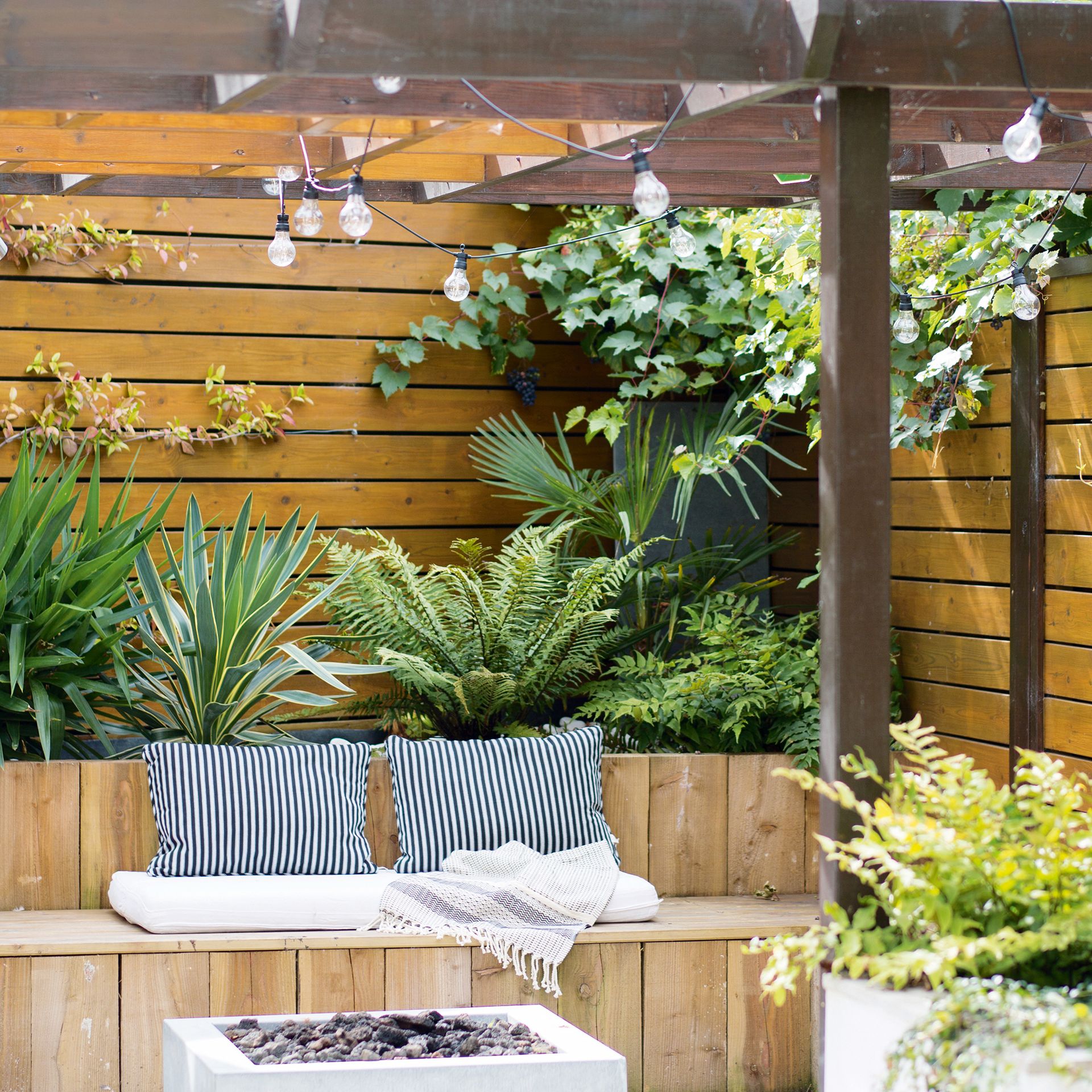 Building a pergola is another option to create shade in a south-facing garden. 'A pergola is invaluable in a south-facing garden as it provides a shady spot to sit and chill out.
'Choose some comfy furniture and surround it with aromatic climbers or a couple of grape vines and pots of lavender,' says gardening expert Angela. It's also a good way to divide a south-facing garden into zones and you can add a retractable roof and side panels to provide more shelter from both the sun and windy conditions. 
9. Embrace a tropical theme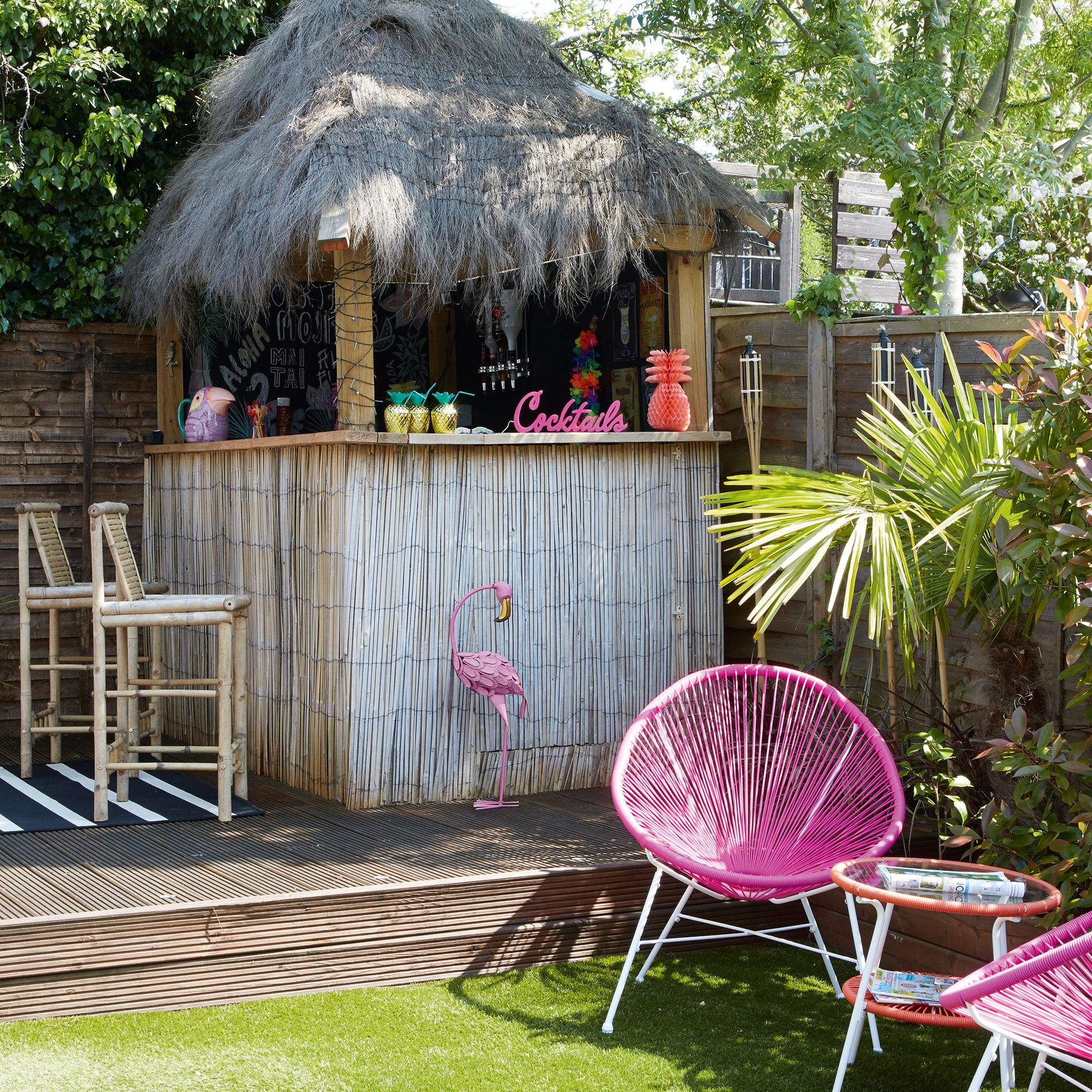 With a sunny garden, it screams out for a tropical makeover. Create a fun and vibrant space with garden furniture in summery shades and set up a tiki garden bar for ultimate holiday vibes. 
Alternatively you can give your shed a makeover with a colourful shade and set a bar up in there. Choose vibrant garden furniture to match and an outdoor rug to up the comfort factor.
10. Set up a greenhouse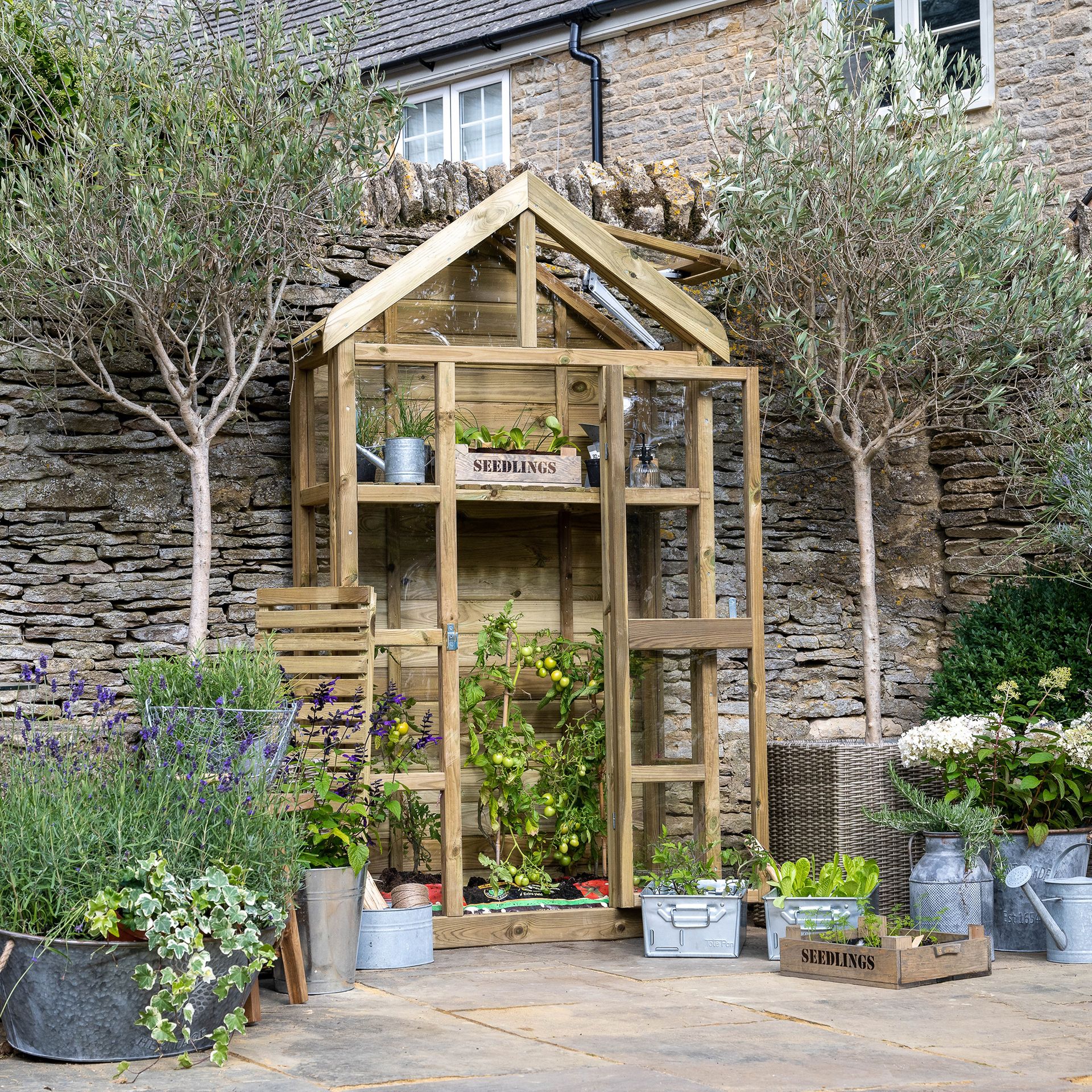 If you like to grow plants, fruit and veggies yourself, having a greenhouse is a good investment and can help to extend the growing season. 'If you have a greenhouse with a south-facing aspect, you'll be the envy of many a gardener,' says Angela. 
'You can grow a range of vegetables and fruit which would struggle in the open garden. A greenhouse is invaluable for raising seedlings and young plants, much cheaper than buying more mature plants later in the season.' 
Growing your own bedding plants like geraniums, petunias and marigolds will save you buying them at a garden centre and will add a welcome boost of colour to the garden.
What can I do with a south-facing garden?
There are countless ways for you to make the most of a south-facing garden but in terms of planting opportunities it will give you plenty of options. 
'If you love the Mediterranean, a south facing aspect would be ideal for this type of planting, so recreating a little bit of the south of France or Italy is possible,' says Angela from Hayes Garden World. 
'Using Mediterranean plants means that it will be low maintenance as, once established, their water requirements are low. You can also go further afield to Mexico with your garden design with hot colours and large succulents.'
Is it good to have a south-facing garden?
Having a south-facing garden is a positive thing for many reasons but it also needs some careful consideration. 'A south facing garden is top of the wish list of most gardeners as it is much easier to find plants which like full sun than those which prefer the shade,' says gardening expert Angela. 
'However, you may find that some plants do need a little shade from the midday sun, but this can easily be provided by planting a small tree or constructing a covered walkway with space to plant underneath.'
How do you plan a south-facing garden?
Careful planning is advised. 'Before you start on the hard landscaping, make sure you have a plan for the whole of the garden,' explains Angela from Hayes Garden World.
'Don't just start and hope to evolve the design as you go along. Consider what zones you need: children's play zone, entertaining, growing vegetables, chilling out, small or large planted areas.' 
Making sure you have areas in the garden the whole family can enjoy is key and will turn your garden into a multifunctional space that can be used at all times of the day.
Related Posts