Chloe Best

Bathroom tile ideas to create a luxurious spa bathroom or update your space, including floor tiling and wall tiling

While our bathrooms need to be functional, there is a growing demand to create our very own luxurious spa-like sanctuaries at home – and bathroom tiling can be just the way to do it.
According to data from Pinterest, searches for the term 'home spa bathroom' are up by 190 per cent over the last two years, as homeowners look to update their practical and plain bathrooms into something a little more special.
WATCH: Get inspiration from these luxurious celebrity bathrooms
"The bathroom has always been one of the most functional rooms in the home, but in a post-pandemic world, homeowners are looking to create gorgeous-looking spaces where they can completely unwind," says Abbas Youssefi, Founder of Porcelain Superstore. "How homeowners perceive their bathroom has changed."
Whether you're looking to create a bathroom to rival a five-star spa or simply want to refresh tired décor for 2023, we've rounded up 16 bathroom tile ideas to give you all the inspiration you need. Paired with these bathroom paint ideas you've got all you need for a full bathroom makeover.
MORE: 10 small bathroom ideas to create a luxurious sanctuary
1. Opt for large natural-effect tiles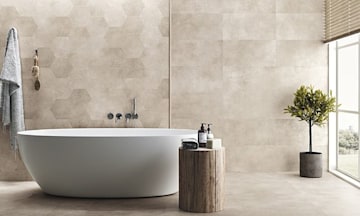 With a blend of natural tones and an interesting hexagon shape, these large tiles exude sophistication and luxury. "Large format tiles mean minimal joins, which improves flow and can help the bathroom feel more expansive. Combine with natural-effect tiles, such as stone, wood or marble for an opulent finish," Abbas says. (Photo: Porcelain Superstore)
2. Don't shy away from colour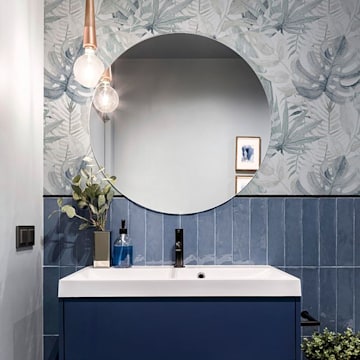 Make a design statement with half-tiled walls in a glossy shade of blue. Placing the tiles vertically can give the illusion of more height, while the tonal patterned wallpaper completes the unique bathroom décor. (Photo: The Range)
3. Rethink grouting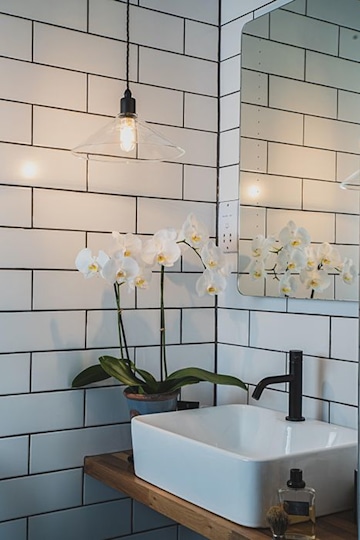 Dark grouting can give classic white metro tiles a contemporary update. Tile around the whole room for a clean and modern look. To regrout your tiles, the tile experts at Atlas Ceramics, recommend investing in a new grout that offers mould protection.
"Use a blade (safely) to remove as much of the old grout as possible. Then, wipe over the tiles to remove any excess dust and dirt," they say. "Using a grout spreader, apply a new grout in a diagonal motion to ensure it fills in any gaps. Try working as quickly as you can, wiping off any excess with a cloth as you go. Leave this to set for a few minutes, then wipe the tiles with a damp sponge to remove the excess. Finally, use a dry cloth to polish and remove any powder once the tiles have been set." (Photo: Fritz Fryer)
SHOP: 8 best shower heads that will transform your life
BATHROOM INSPO: 23 unbelievable celebrity bathrooms
4. Try patterned flooring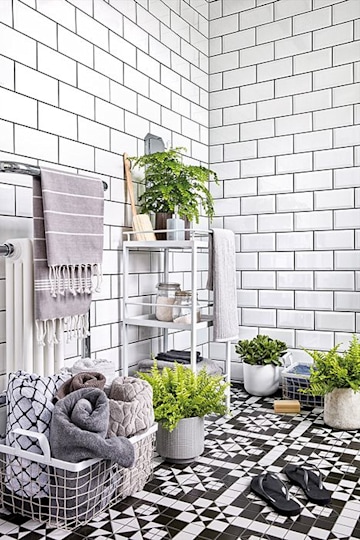 Easy to clean and keep dry, tiled flooring is a great choice for bathrooms. Opt for patterned floor tiles to add impact to an otherwise muted space and give your bathroom the wow factor. (Photo: HomeSense)
5. Experiment with shapes
Even if you want to stick with classic white for your bathroom, opting for a different shape, such as hexagon tiles, offers a modern alternative to rectangular tiles. Contrast with black taps and hardware to complete the look. (Photo: Dunelm)
MORE: How to declutter your home room-by-room
6. Create a focal point with a tiled splashback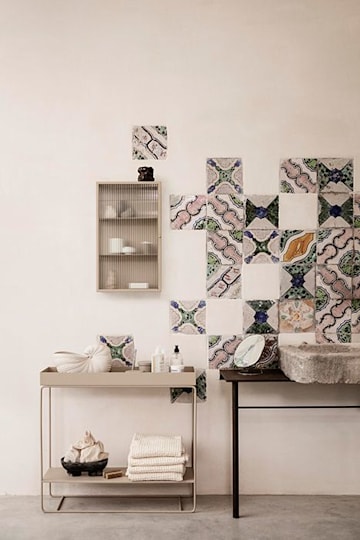 You don't need to tile your entire bathroom walls to add impact to your room; a tiled splashback behind your sink, such as this patterned tile design, could be all you need to completely transform your bathroom. (Photo: Nest.co.uk)
7. Try out tile trends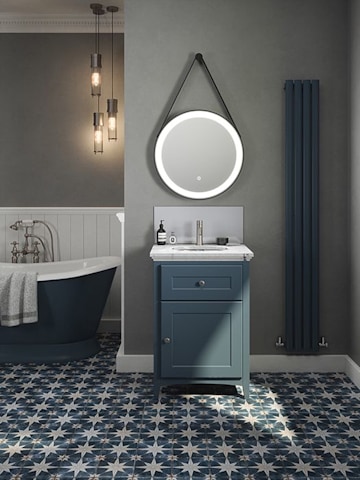 Star-print tiles are a bathroom trend that isn't going anywhere, and make for a show-stopping bathroom floor choice. Tie in the tone with your bathroom cabinet and radiator to bring the look together. (Photo: Splashback)
8. Zone your room with bathroom tiling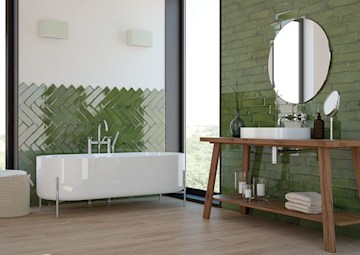 Create zones within your bathroom with different tile designs, or even laying the same tiles in a different way, as seen here. We love how these glossy green tiles have been placed in a herringbone design next to the bath and horizontally behind the sink. (Photo: The London Tile Co)
9. Tile in the bath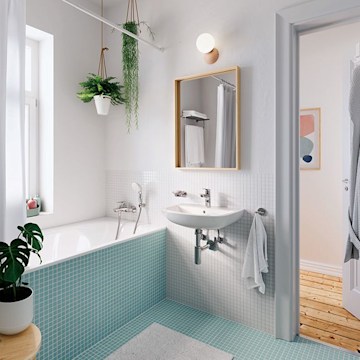 Create a tiled bath panel to cleverly incorporate your bath into your bathroom design. The pale blue square tiles here add a cool colour pop against an otherwise all white bathroom. (Photo: Grohe)
MORE: Mrs Hinch's £11.99 bathroom storage hack is genius
10. Try terrazzo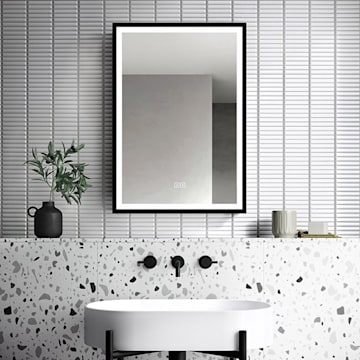 Terrazzo has long been a much-loved interior design trend, and one that works perfectly in the bathroom. To avoid going overboard with the eye-catching pattern, contrast it against plain tiles in complementing tones. (Photo: Bathroom Mountain)
11. Use contrasting tiles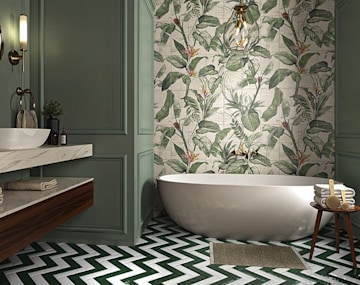 Sometimes it pays to take a risk, and this mix of statement bathroom tiles is a case in point. With eye-catching tropical tiles around the bath and monochrome geometric tiling on the floor, there's a lot to love about this statement bathroom. (Photo: Baked Tile Co.)
12. Try herringbone tiling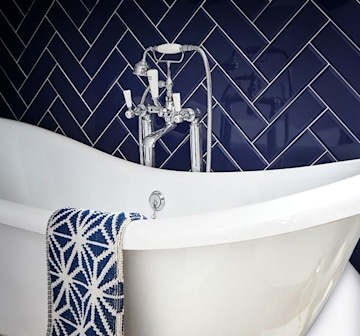 The way your tiles are placed can make a big difference to the overall feel of the room, and a simple swap such as displaying your tiles in a herringbone pattern rather than horizontally make these midnight blue tiles look even more luxurious. (Photo: Big Bathroom Shop)
13. Mix and match colours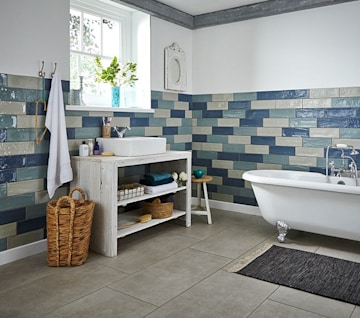 You don't need to settle on just one colour for tiling your bathroom; use a blend of complementary tones, such as blues and whites, to create an eye-catching design. (Photo: Walls and Floors)
14. Go retro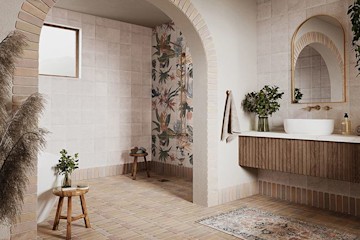 Take inspiration from the seventies with retro-style floor tiling, offset by head-turning floral tiling in the shower and metallic accents. (Photo: Baked Tile Co)
15. Take on texture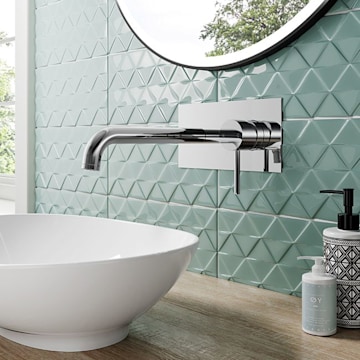 Textured tiles can create a luxurious effect in your bathroom, while duck egg tones create a relaxing ambience. (Photo: Bathroom Mountain)
16. Create an ombré effect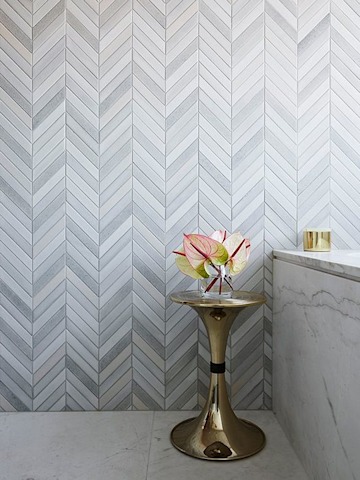 Muted tones are anything but boring when laid in an ombré pattern from dark grey to light. (Photo: Essential Home)
Keep up with the latest celebrity stories Sign up to our HELLO! Mail newsletter to receive the latest news straight to your inbox.
Related Posts