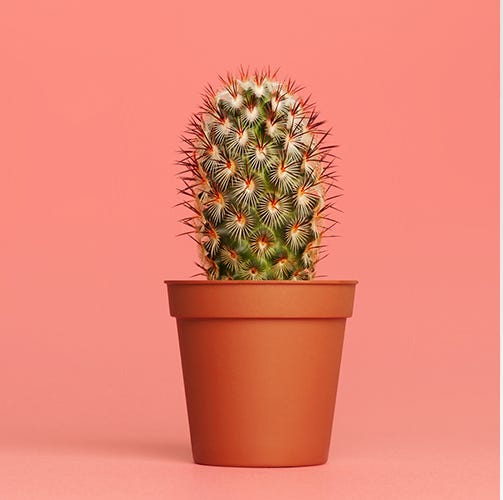 Roc Canals/Natalia Ruedisueli/ Getty Images
There are plenty of reasons to become a houseplant parent. Plants foster wellbeing, they help remove toxins from the air and they feed into our nurturing instincts. Plus, they look great, especially when you pair them with the right planter. That's why we're sharing the best indoor plant pots to keep your plant babies vibrant and full of life.
Whether you're lovers of low-light plants, large indoor plants or plants your pets can be around, the pots you choose for your greenery are key to ensuring they thrive at home (check out these indoor plants that are almost impossible to kill). Planters help retain water and create a structure in which roots can grow. But they also offer a chance to add style to your home. Small ceramic planters can sit on your home office desk to brighten your mood, while hanging planters can create interest in a forgotten corner. Want to make a statement? Try an oversized pot with a tall money tree or ficus planted inside. Not to mention the opportunities for color, texture and pattern that pots and planters offer.
The good news is that there's a perfect pot for every plant (and plant-parent). Here, we've rounded up the most unique indoor planters we've found — all in a variety of looks, sizes (like 10-inch designs) and price points, so you can choose the one that's right for your space (and help your herbs, flowers or succulents flourish).
Advertisement – Continue Reading Below
1
Perfect for Rustic Appeal
Maya Terra Cotta Planter
This terra cotta cachepot has a weathered stone look that'll add an organic modern touch to your decor. Pair it with an olive tree to complement its old-world appeal.
2
Ideal for Small Spaces
Hanging Iron Planter
Part planter, part sculpture, this iron hanging vessel will turn any plant into a show-stopping focal point. You can choose from round or oblong versions, and it comes in five different colors.
3
An Eco-friendly Substitute
Seagrass Planter Basket
Rope planters are versatile enough to suit lots of decor styles, from traditional and coastal, to farmhouse and California modern. This set of three from Amazon also comes with a plastic liner, so you don't have to worry about the baskets leaking if you over-water your plants.
This cute pot is a major upgrade from your garden variety planter. Use this blue-and-white ceramic vessel with or without the included, retro-inspired stand to switch up the look, all for under $30.
5
Best self-watering
Self-Watering Plant Pot
This self-watering planter makes it easy to help your plants thrive, thanks to its unique design. The hidden saucer insert catches excess water that your plants can soak up when they need it. Plus, you can buy a matching midcentury-style stand to (literally) elevate the look.
Looking for indoor planters that serve up vintage boho vibes? Try this set of three macramé hanging planters. They're reminiscent of the classic tasseled versions that were everywhere in the 90s (just swap the spider plant for something a little more structured to keep the look modern).
7
Ficonstone Indoor/Outdoor Planters
An indoor/outdoor planter is ideal for plants that thrive outside during the summer months, but need to be brought indoors in the winter. Plus, the minimalist aesthetic will ensure it goes with your decor wherever you keep it.
8
Blue & White Ceramic Planter
This classic blue-and-white pot is just right for creating a home with the coveted coastal grandmother aesthetic. Just add a hydrangea to complete the vibe.
9
Indoor/Outdoor Cement Basket Planter Large
Basket-style planters are beautiful and versatile (see our No.2 pick). However, because they're made out of a natural fiber, they can be susceptible to moisture, which means they're not great indoor-outdoor options or ideal for plants that need regular misting. If you love the basket-woven planter look but want something a little sturdier, this cement planter from CB2 is the perfect compromise.
10
Best for bookshleves
Gold Face Planter
This gold-painted ceramic planter is suggestive of high-priced designer versions, but with a cost that comes in at under $20. It's a small planter, so it would work best for showing off succulents or a cacti on a desktop, kitchen counter or on a bookcase.
11
Mid Century Modern Large Planter
This modern planter will match almost any decor. If you've been growing a plant for years, the large size will show off its full look. This one comes with an elevated plant stand that's easy to adjust.
While this box makes a great addition to your garden or outdoor space, don't miss out on its potential indoors. The acacia wood structure will bring a rustic farmhouse feel to your inside garden.
This royal-blue trio comes in multiple sizes. They also come with drainage holes and a drainage net to keep your plant from being overwatered.
For lovers of bohemian style, this rattan plant basket will fit right at home in your space. The small stand has sturdy 3-cm legs and can be placed on the kitchen counter, coffee table or office desk.
15
Brushed Brass Plated Pot
This pack of two comes in large and small sizes and has a semi-metallic look that's modern and eye-catching.
16
Multi-Color Ceramic Planter Pots
These ceramic glazed pots will hold your baby succulent, cactus or other small plant. The drainage hole at the bottom will keep the soil moisture in balance and the bamboo trays will prevent any water from leaking.
17
White Ceramic Flower Planters
The gold and gray design on these planters makes them a statement piece for your living room, bedroom or any area in the house. They also made beautiful patio additions.
Weather-resistant and created with four pre-drilled, built-in drainage holes, this white design is made from recycled plastic and natural stone powder for a lightweight feel.
Handcrafted and fired with high temperature, this geometric-designed pot brings a peaceful feel to a space. It features a stainless steel drainage hole mesh net and a tabletop felt pad.
20
Multi-Face Succulent Planter
Get this nine-sided face pot in white or black. And if you want to switch up its use, store your candles, pens or keys inside.
This content is created and maintained by a third party, and imported onto this page to help users provide their email addresses. You may be able to find more information about this and similar content at piano.io
Advertisement – Continue Reading Below
Related Posts