The best garden room ideas will see you enjoying a natural extension of your home, all without the hassle and costs of actually extending a house. Contemporary or classic style garden rooms will not only visually enhance your outdoor space but, they have endless practical perks too. 
With transformative backyard ideas, you can create more separation from daily home routines, and add a little luxury – whether you want a small garden room hidden in an unused corner of the land, or a shepherd's hut acting as your full-time office space – there are endless options. With modular rooms of all shapes, sizes, and specs to choose from, you're sure to find a look that will suit your needs and budget too. Plus, it's a great place to store all your best garden furniture!
Claire Hornby, Head of Creative at Barker and Stonehouse (opens in new tab), says: 'When decorating a garden room, it's important to consider designing this space to act as a natural extension of the home. You'll want to strike a balance between the indoors and outdoors, and I recommend keeping the colour palette of this space similar to the interior of the home, but jazzing up the space with lots of beautiful greenery such as plants or foliage.'
The 33 best garden room ideas
1. Wanderlust with a boho escape nook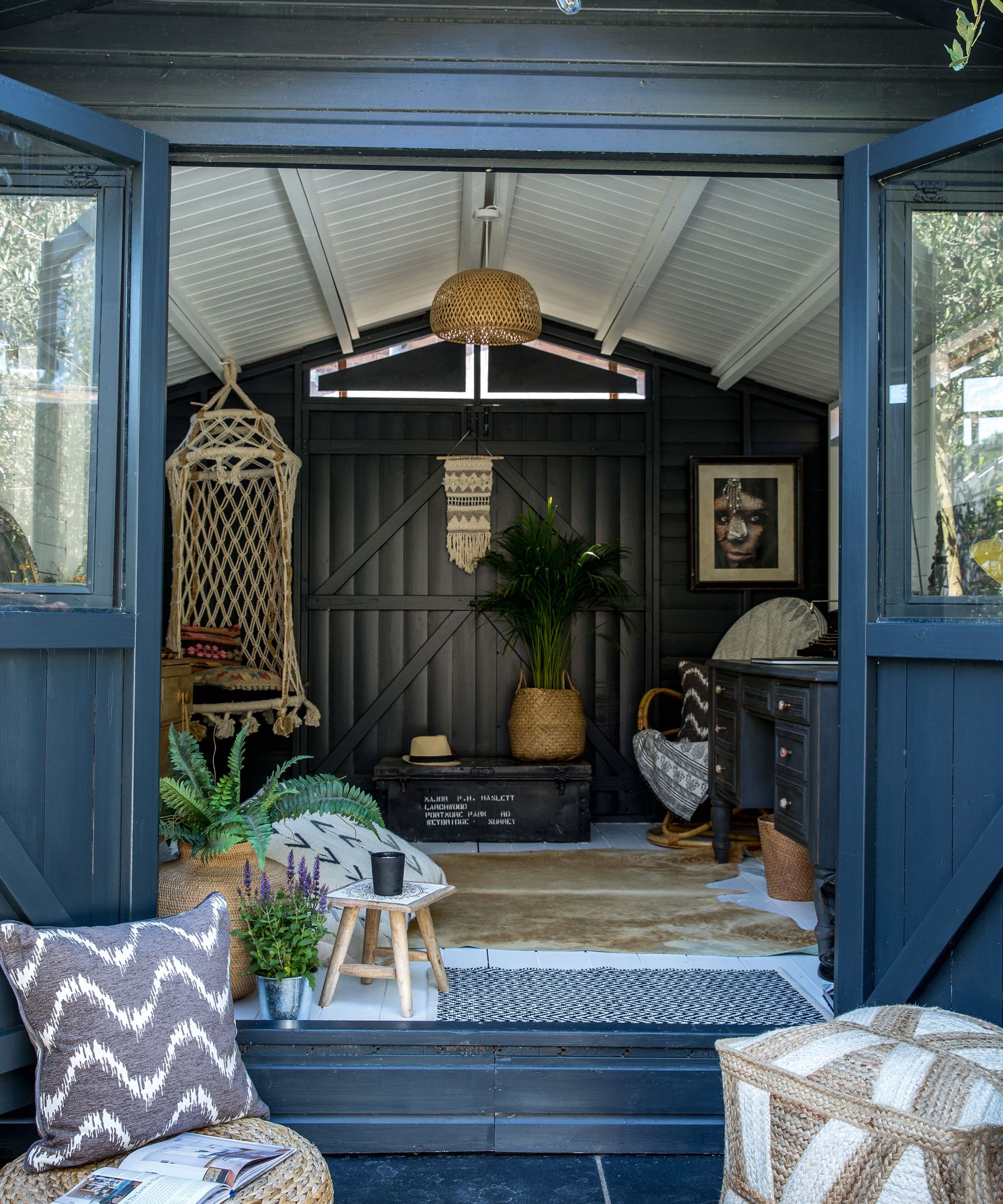 Let your free-spirited imagination run riot with a creative boho-inspired outbuilding, abundant with plants, mixed natural textures, tactile cushions galore, mix and match patterns, and not forgetting the macramé, of course! This is one of our favourite garden room ideas.
For an easy but impactful shed paint idea, as shown here, paint the walls, floor, ceiling, and exterior of your garden room in two contrasting shades. Add a hanging chair for the ultimate floating on-air experience. Hornby says: 'Adding in throws and cushions will create a coziness to the garden room space come day and night. Finally, a selection of  ambient lighting will really help set the mood, and allow the space to really feel like the perfect room to escape to.'
2. Create a games room to let off steam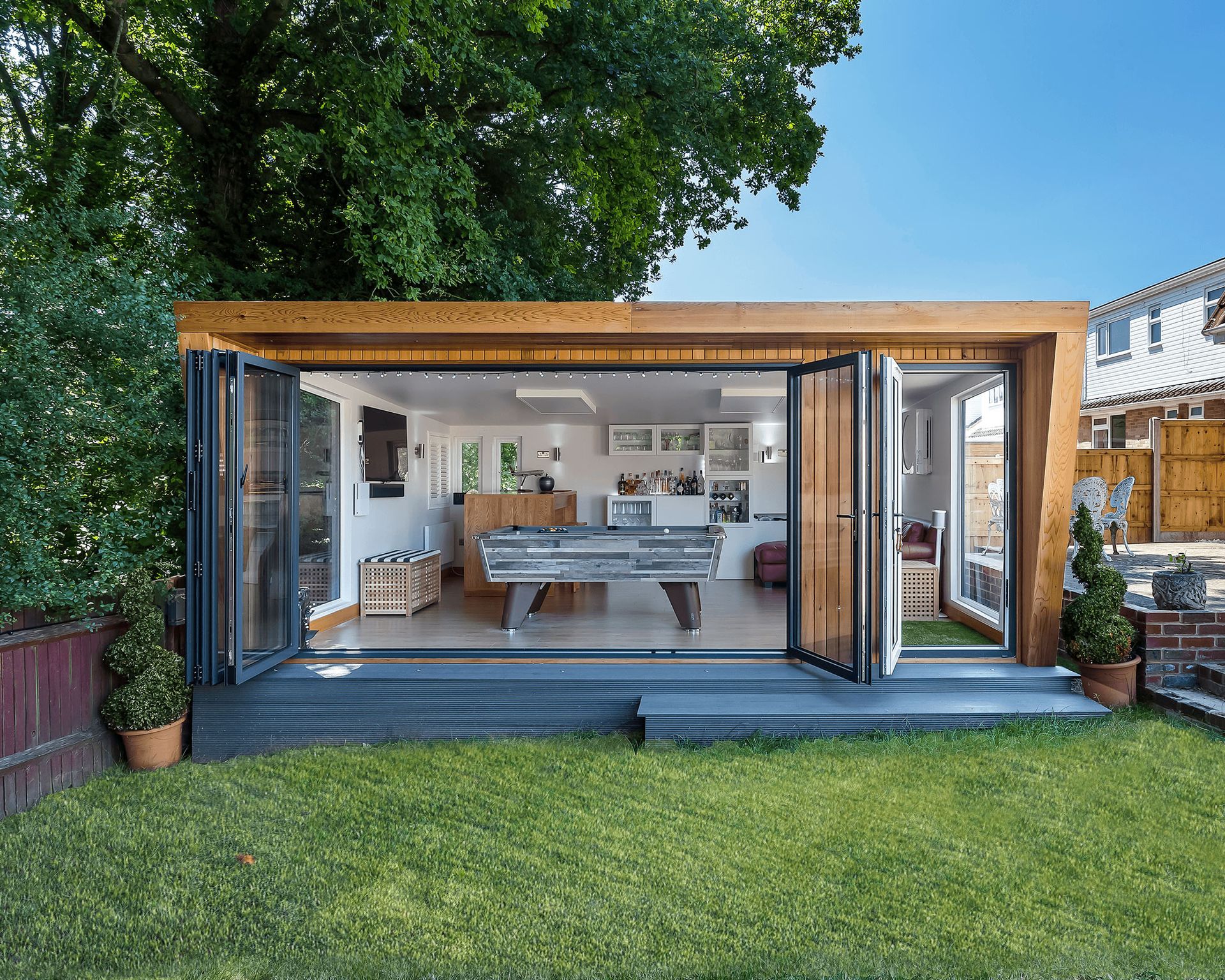 Play games, relax, and host with the most, with an emporium of entertainment options, all under one roof. 
Clark says: 'Design a garden games room for entertaining yourself and your friends/ family. It's your choice what games you want to feature in your games room – maybe a table tennis table, a darts board, or a Ms. Pac-Man machine as a blast from the past? Create a space to blow off steam and have some fun! You deserve it.'
3. Express your personality with a unique interior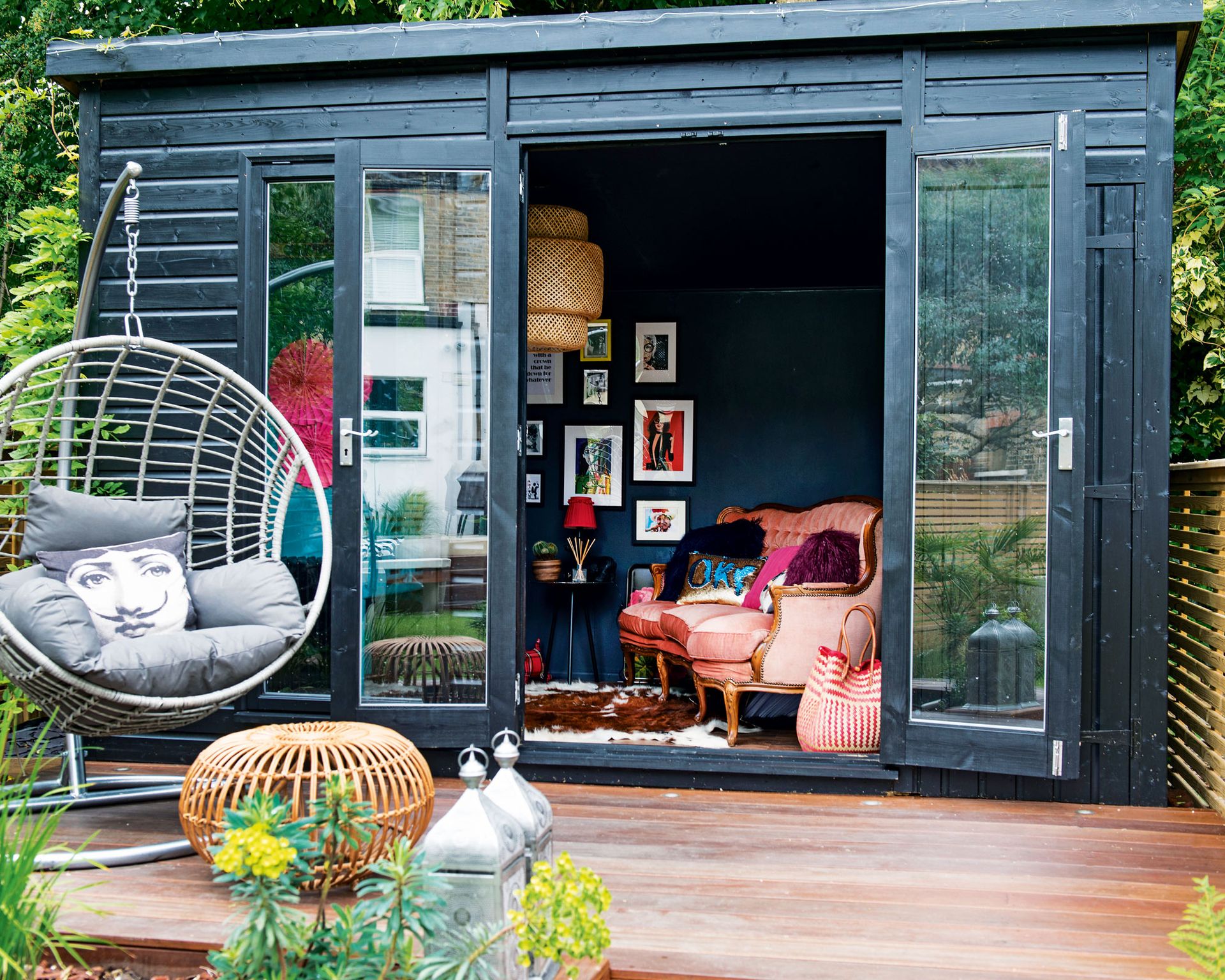 Tap into the mood rooms trend and create a dedicated space to compartmentalise life and escape when the going gets tough. 
Jeremy Yamaguchi, CEO, Lawn Love (opens in new tab), says: 'Design your garden room or summerhouse to be your own personal oasis. This may look different for each person, so think about what you consider to be an "oasis." Maybe you love natural light and a bright open feeling because it makes you feel refreshed. Maybe you love the cozy nature of a hidden nook. Once you know what you want to get out of a garden room, and what would make you feel most happy and at peace, you can design a room that best creates that unique atmosphere.'
4. Rock out with a dedicated music studio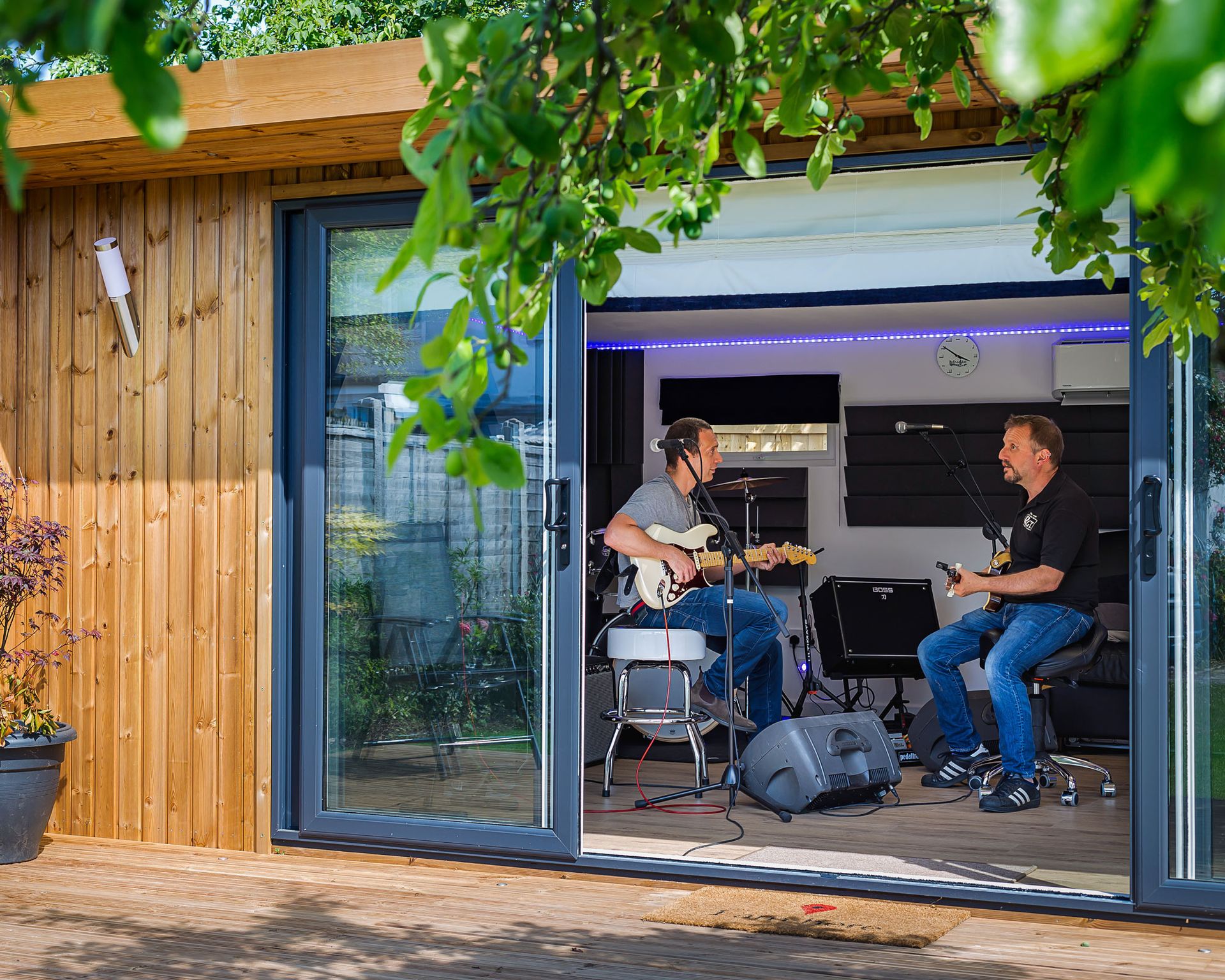 Just as the phrase out of sight, out of mind goes, with a garden room music studio, you can achieve out of sight, out of SOUND tranquility – result! Not that we don't love hearing the same chords played over and over again, or that deafening beat of the drum kit that never wants to end… 
And by getting creative in your backyard, you can free up precious space in your home for that walk-in wardrobe you've always wanted! 
You might be interested to learn how to insulate a summerhouse for use all year round – an important consideration when planning garden room ideas.
5. Find your namaSTAY with a restful yoga space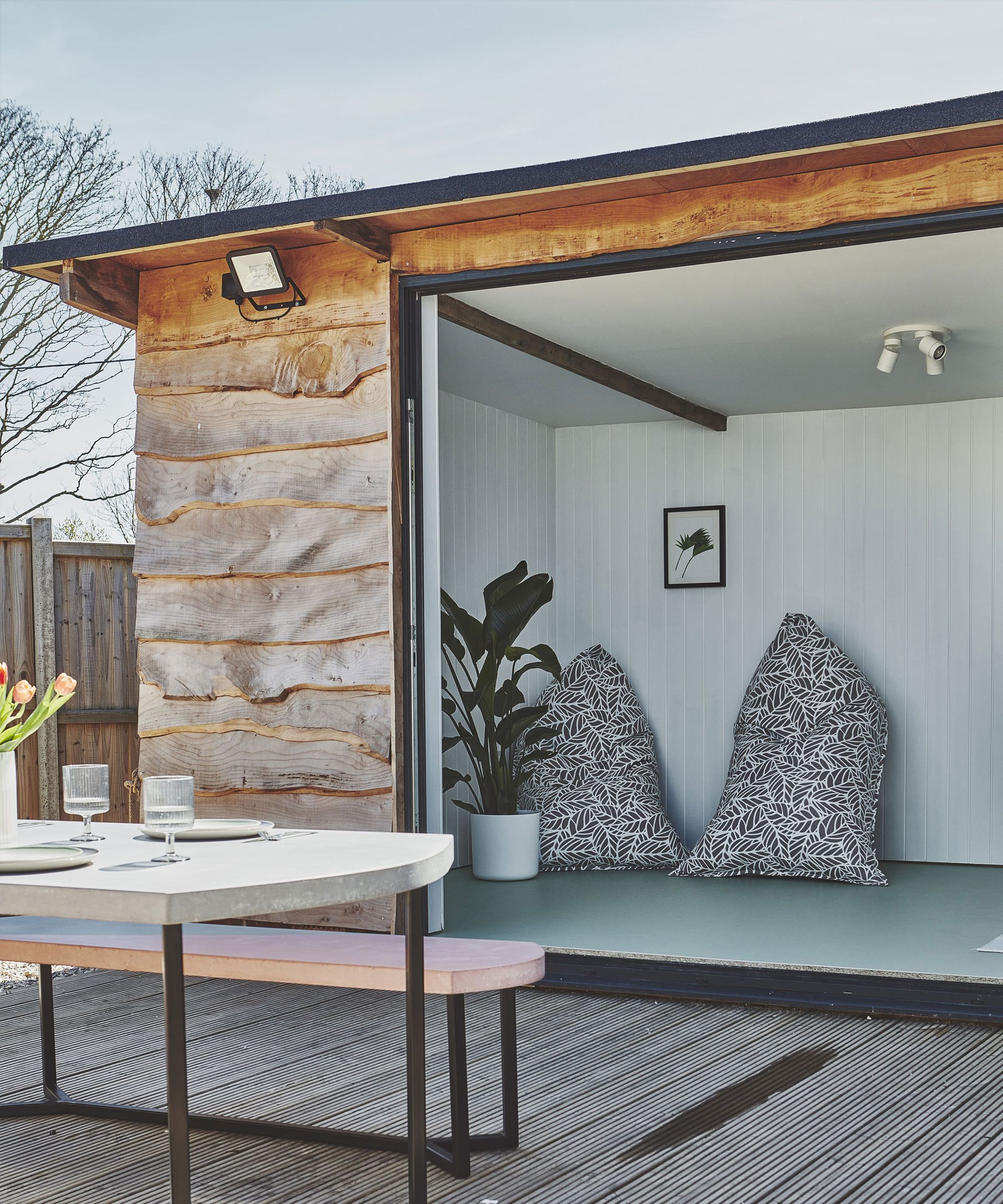 What better place to reconnect with yourself and nature than in your very own garden room yoga studio? From dawn bird stretches to twilight flows, create a safe space and home gym idea on a budget in which to escape everyday stresses and worries whenever you need some time to breathe and restore…
As shown here, choose a calming neutral or mineral inspired palette (we adore the combo of fresh white and soothing mint), keep your space clutter-free, but welcome in sensory-boosting potted houseplants, the best home fragrance in the form of scented candles or incense, and tactile beanbags, as well as blankets, and the best yoga mats of course.
6. Go for Scandi style simplicity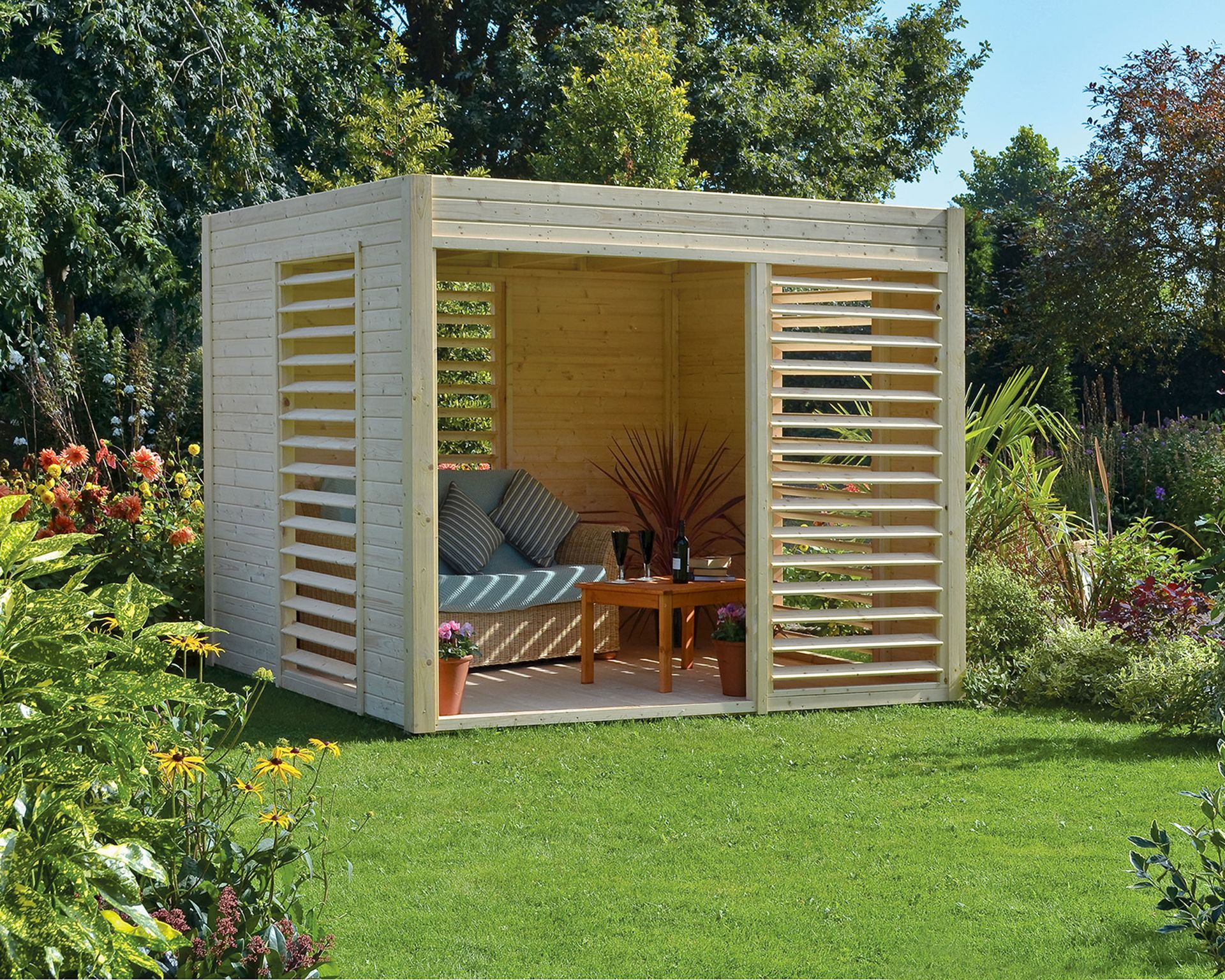 For a textural addition rooted in nature, install a timber backyard room. Go pale and blonde with tongue and groove for a simple Scandi cabin style, or choose an oak frame garden room design that will weather with time and blend beautifully into the gardenscape.  
Robin Antill, director, Leisure Buildings (opens in new tab), says: 'Choosing a garden room made of sustainable materials, such as wood, is a fantastic way to keep the colours of your gardening room in sync with your outside surroundings, while also reducing your environmental impact.'
7. Unwind with movie magic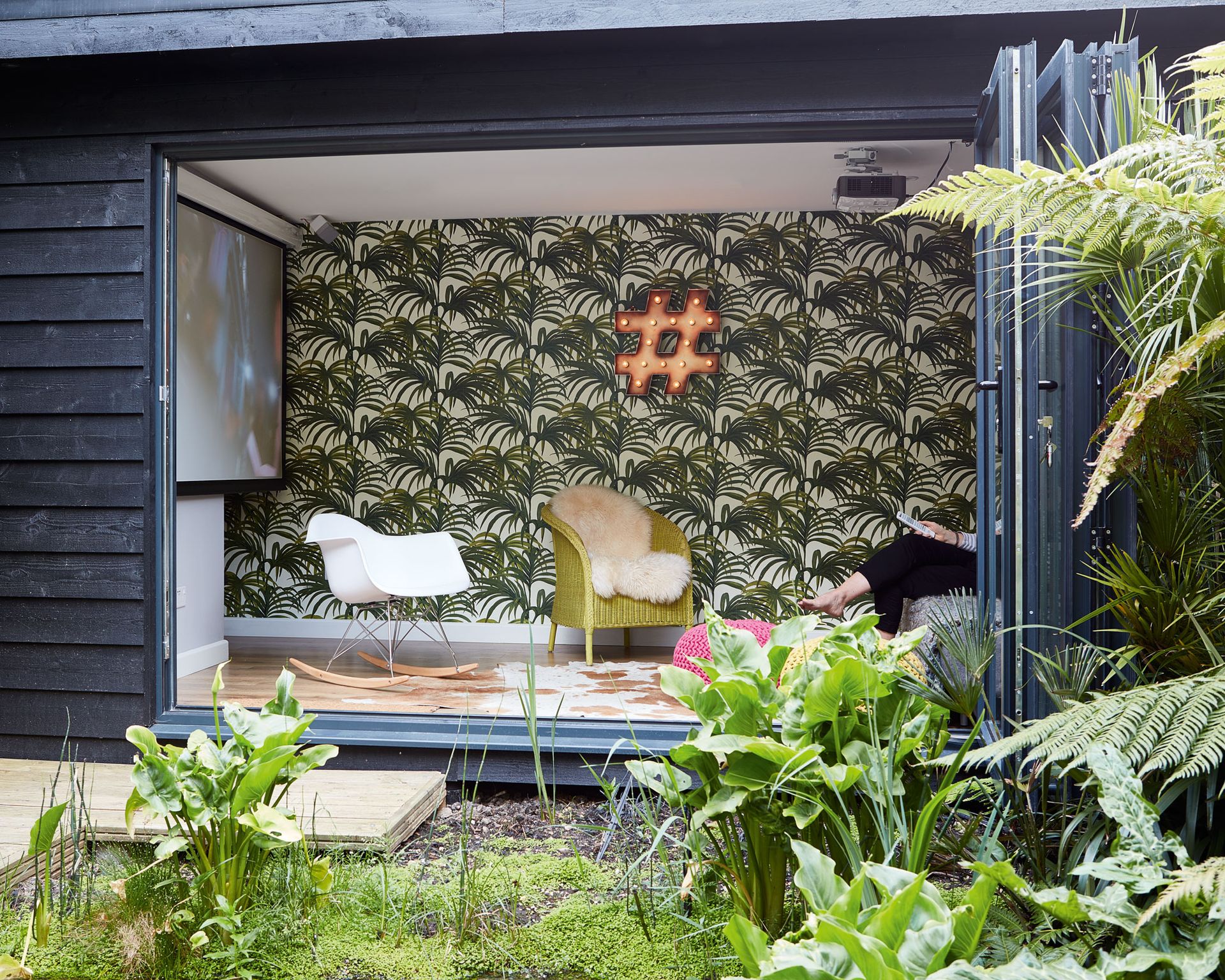 Create an experiential outdoor cinema with a projector and dive into seating galore! To transform your garden room into a boutique screening room as shown here, incorporate a statement wallpaper idea, and pop up a fun DIY neon sign. Get the corn popping, and invite around your crew for summer-loving movie marathons with a unique twist! This is one of those garden room ideas everyone can enjoy.
8. Toast the most with a garden room bar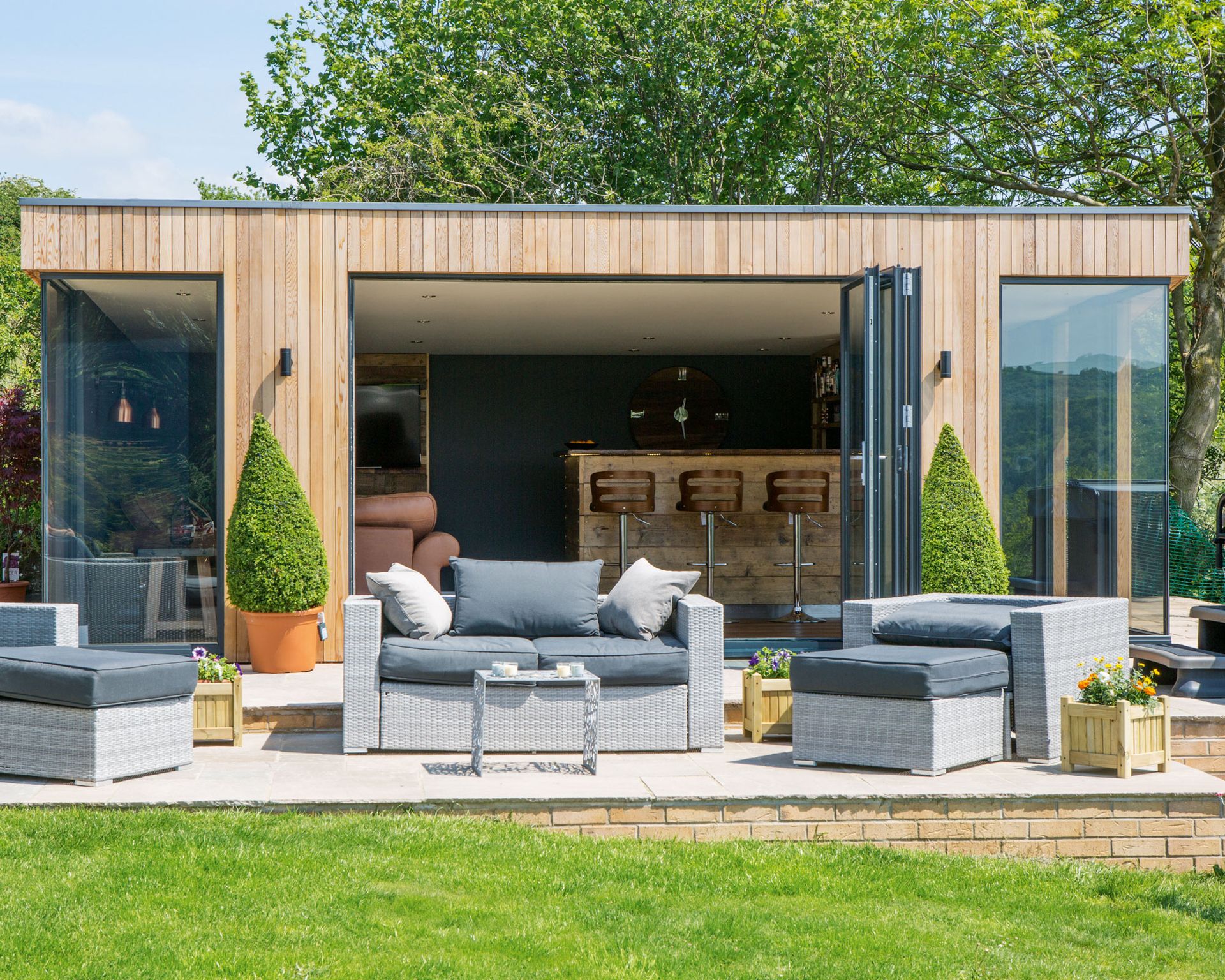 Celebrate clinks and cheers with a sundowner at the best backyard bar in town. A garden room bar idea is the perfect opportunity to create a fun and exciting bolthole, totally detached from the bustling home. Imagine firing up the latest and best gas BBQ on a sizzling afternoon, followed by cooling refreshers served at your very own bar nestled in nature… Just dreamy…
Clark says: 'There are a few things to consider if you want to use your garden room as an outdoor bar. Where should you position the room? Make sure you're within easy distance of the outdoor kitchen for those midnight munchies. How will I make my bar classy? Neon signs might be seen as outdated, but we don't think so! They're essential in bringing joy and happiness to the drinking space.' 
9. Use your garden room as a green therapy potting shed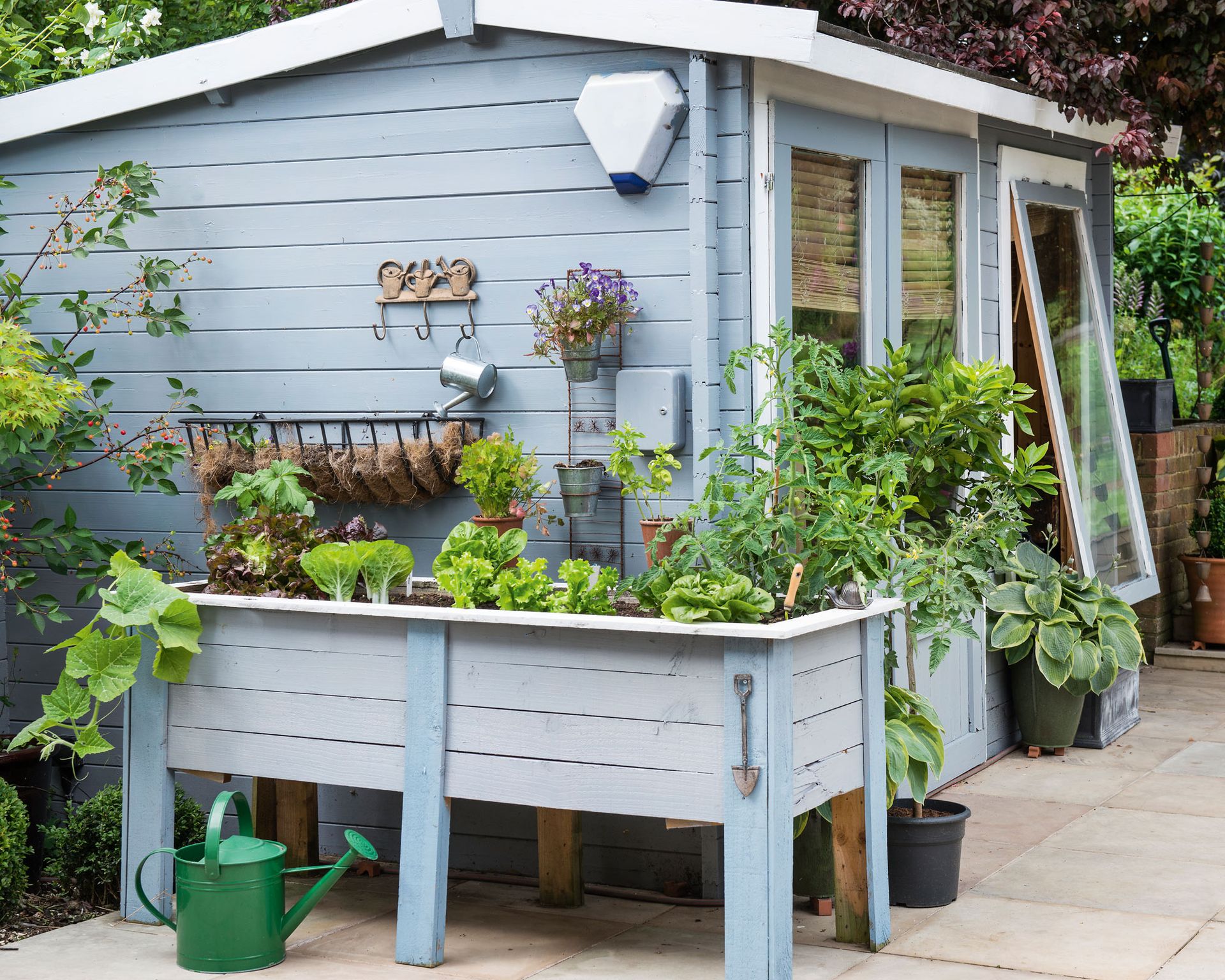 If you're a keen bean for everything green, how about utilising your garden room ideas as a place to potter about, potting-up plants and more until your heart's content? Choose a design that benefits from plenty of natural light, for a greenhouse nod that's good to grow, and treat yourself to a comfy chair, and perhaps a DIY coffee bar idea, for a combination garden room getaway. Blur the boundaries between outside-in with vertical garden ideas around the exterior of your garden room.  
10. Squeeze a small garden room into a lost corner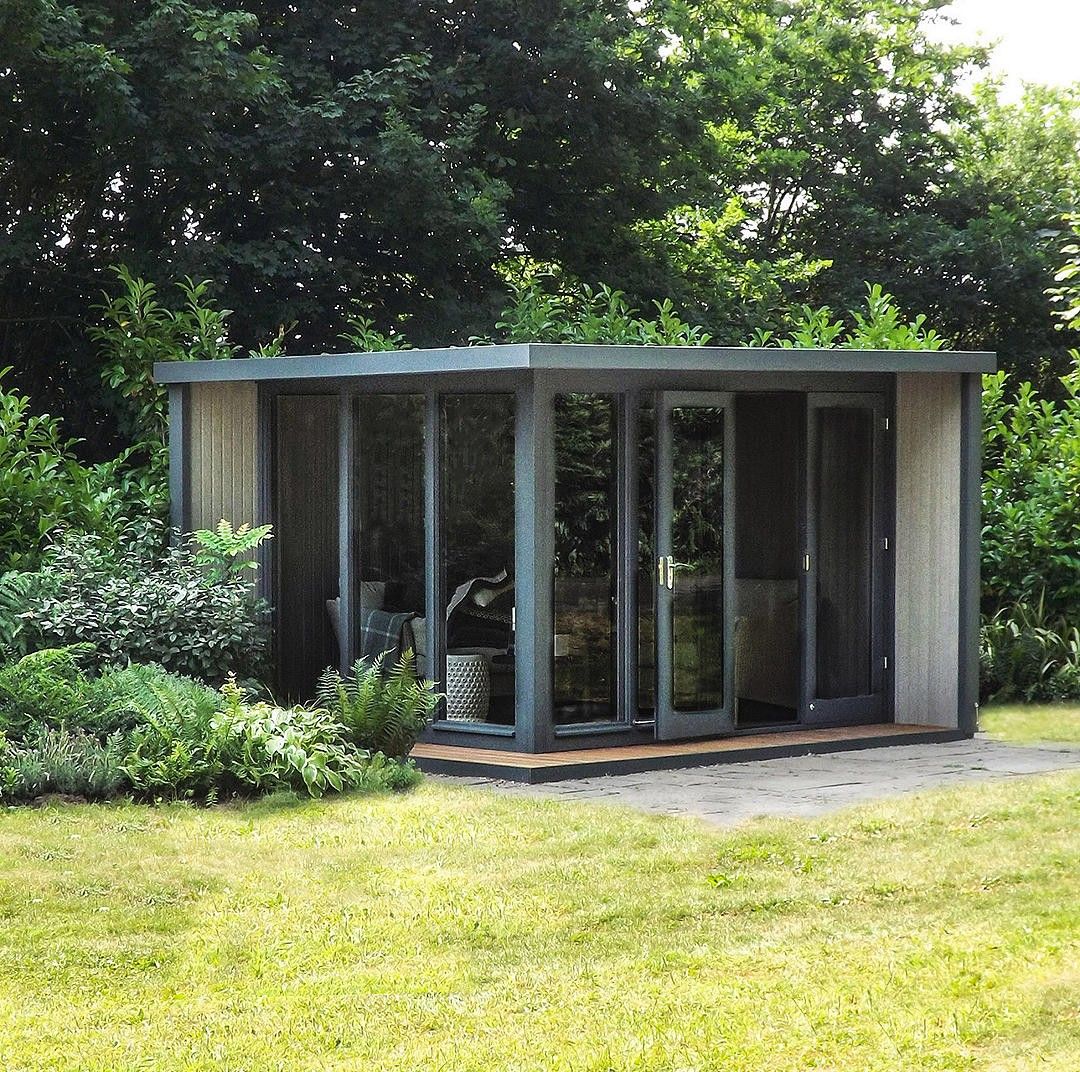 Choosing a small garden room to fit into a corner of your garden design is the perfect way to max out the space you do have. Go for something minimal and modern like The Hub corner studio by John Lewis & Partners (opens in new tab), designed exclusively and in collaboration with Crane Garden Buildings (opens in new tab). Built from FSC-certified northern Scandinavian redwood, finished with a dark micro-porous paint, and complete with floor-to-ceiling glass panels, this model will ensure that you can enjoy views of the garden from a light-filled and modern feeling garden room.
11. Pick a modern garden room pod, that's tinted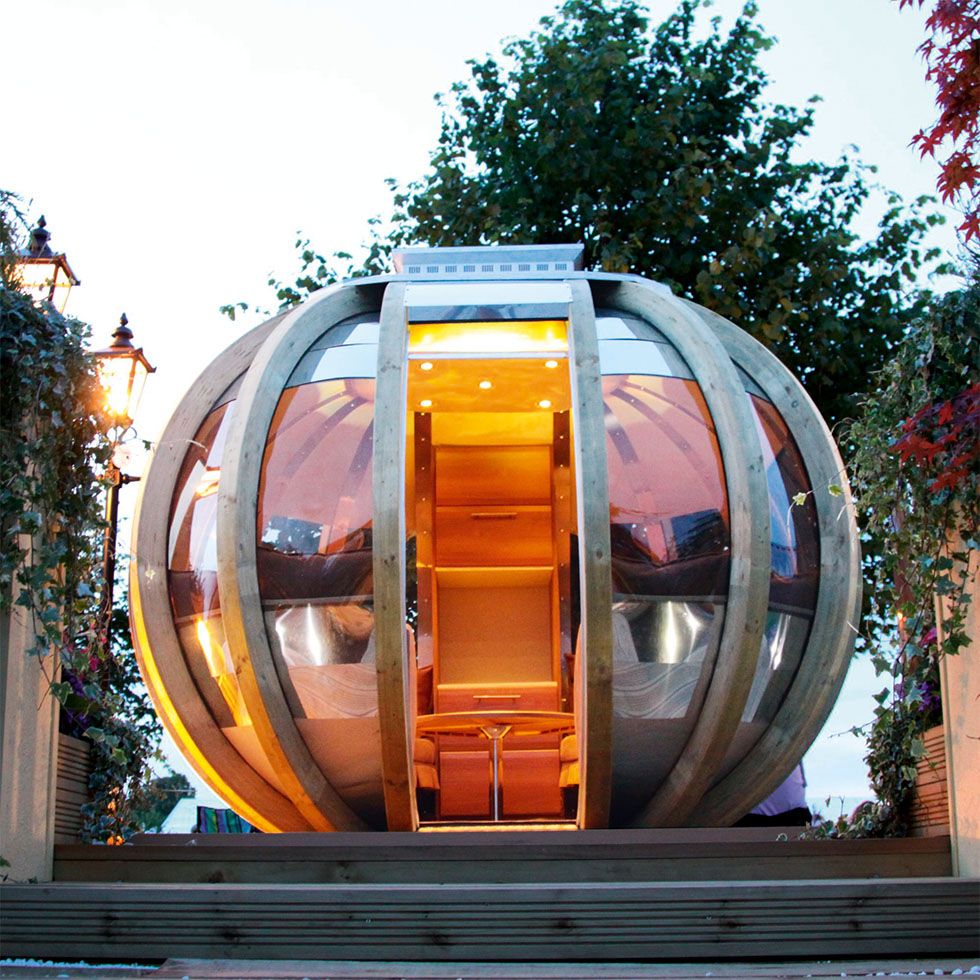 On a par with the granny pod as being quite possibly one of the coolest modern garden rooms going anyhow, make it tinted, and well, that's a pretty grand design statement. This contemporary garden room pod will add a futuristic feel to every garden space from the outside, while inside you'll enjoy panoramic views as you entertain and/or chill out – garden room ideas don't need to be boring!
The Delux Summer House Sphere (opens in new tab) by Farmer's Cottage at John Lewis is made from waterproof laminated pine with bronze-tinted windows to reflect glare, a stainless-steel roof that reflects heat to keep the interior cool, and a sliding door so that the capsule is fully sealed.
12. Install a modern-looking shepherd's hut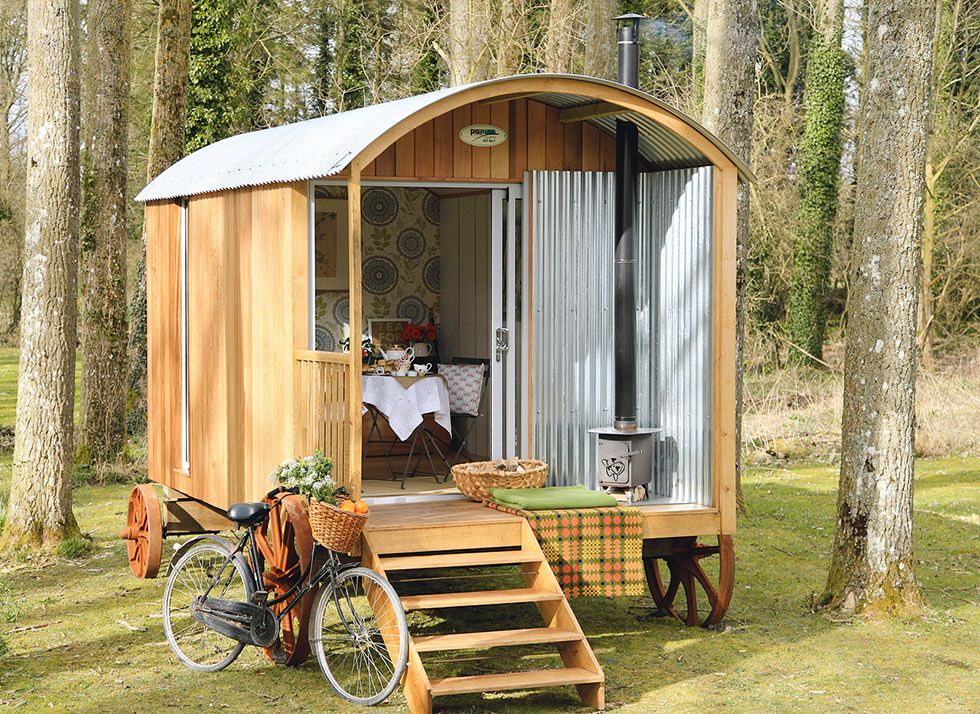 It might have the look of a place to keep stray lambs warm, but this is a sophisticated new take on a shepherd's hut. One of the most unique garden room ideas!
Plain Huts (opens in new tab)are contemporary garden rooms that are snug, waterproof, insulated with closed-cell foil-backed insulation, and clad in cedar. Inside, they're light and airy – just right for curling up with craft projects. Add power via a lead or generator, or the hut can be designed for solar power and leisure batteries or an LPG gas supply.
13. Make a glass garden room a stylish studio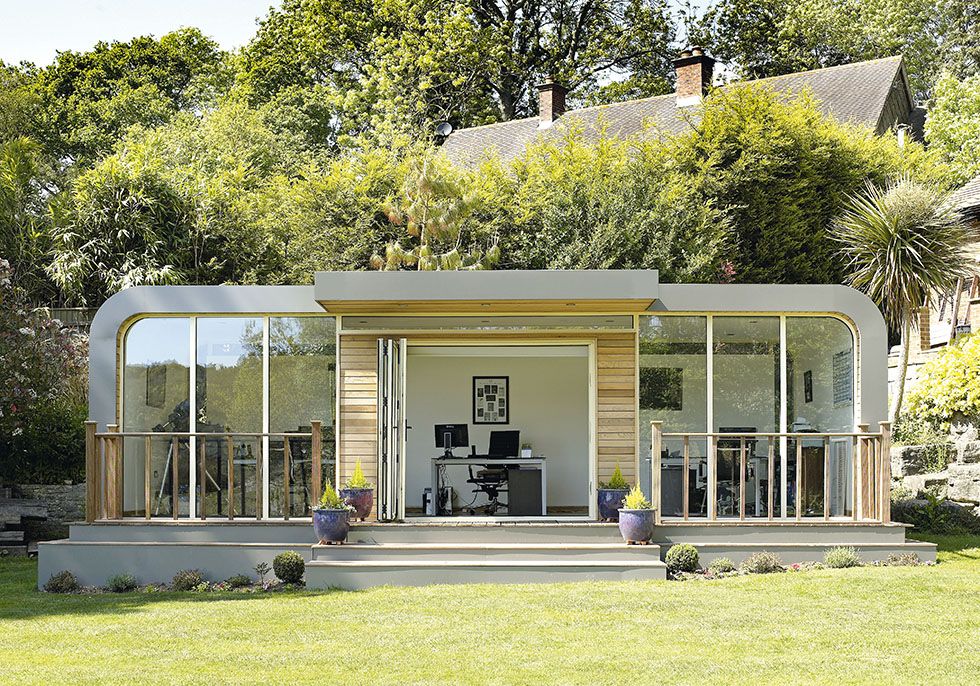 There's nothing quite so chic and studio-esque as a glass garden room. And as working from home doesn't mean cutting yourself off from the outside world, making sure that your contemporary garden room cum garden office takes in all the views of your outside space, with floor-to-ceiling glass a must.
14. Go for a modular and jazzy garden office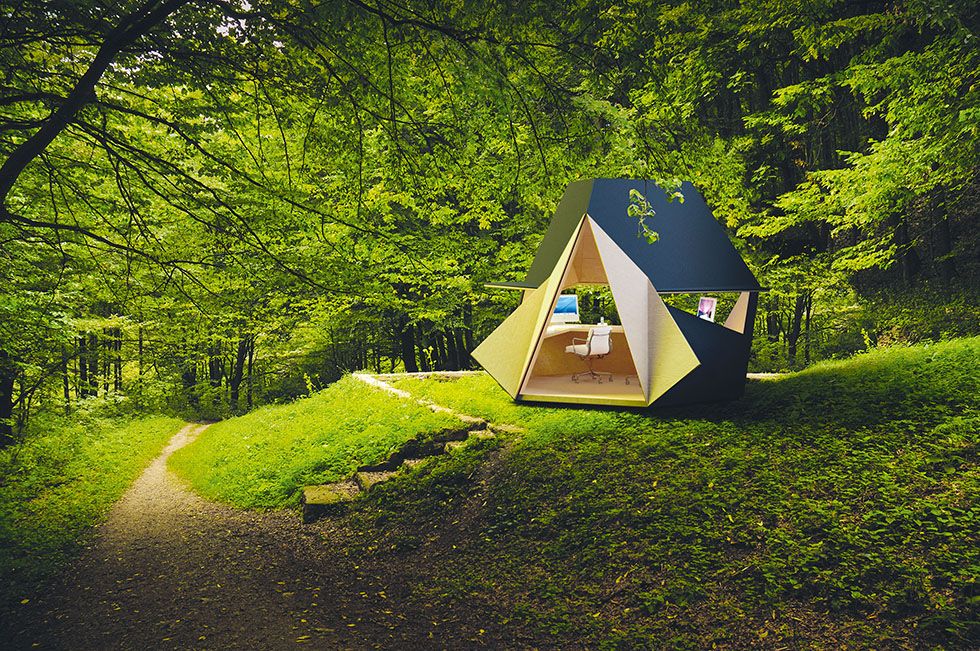 Contemporary garden rooms used as workspaces need not be visually intrusive or even resemble a traditional home office. Choosing a single module like this one with a unique timber structure and cool colour scheme is sure to add energy to your working from the garden day, to every day.
15. Add an artists cabin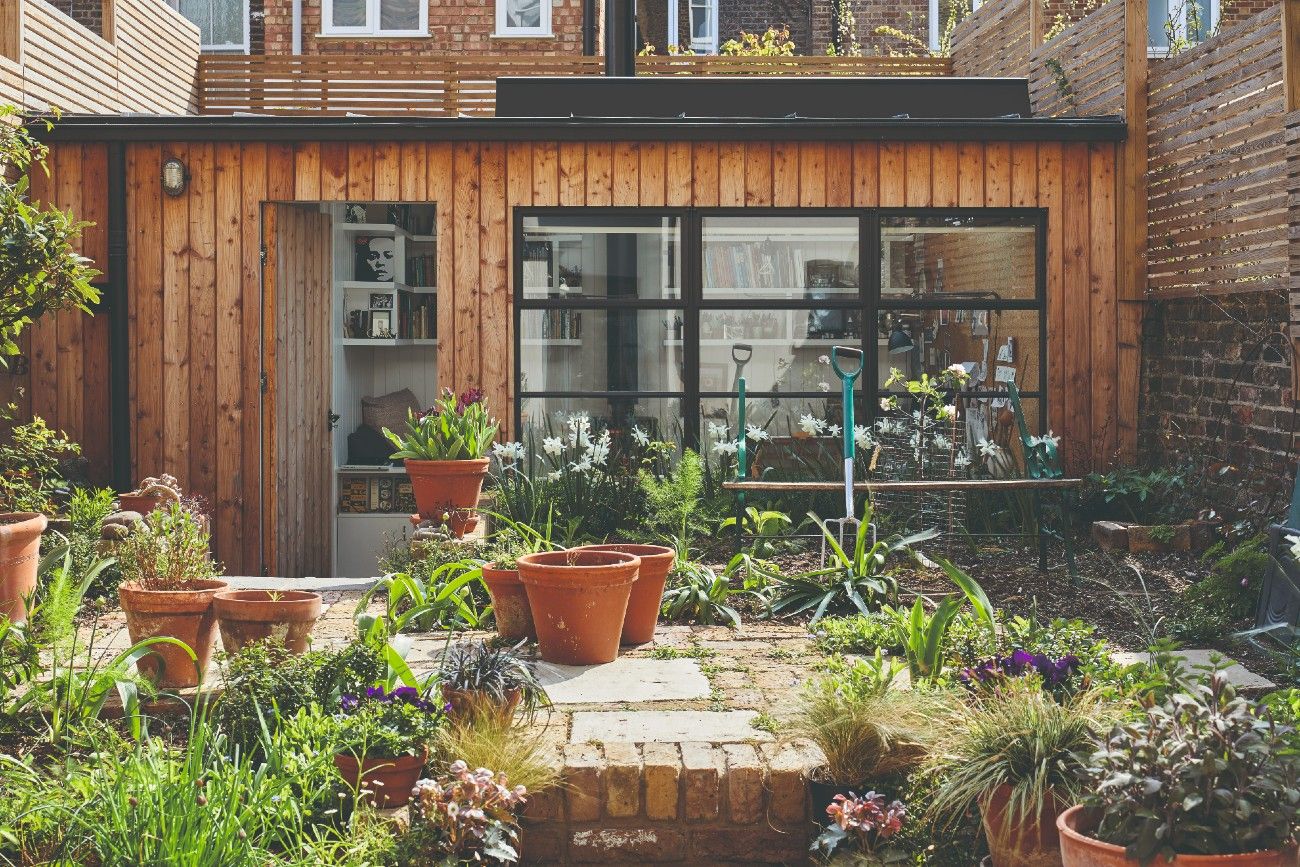 Garden room ideas needn't be practical – they can be fun and inspiring too. Ann Knonhelmer created the perfect artist's hideaway for illustrating, which she would mainly do from home, with this cabin-like garden room. Note the surrounding planting and small kitchen garden also, which not only adds a lovely view from the inside but helps create more privacy too. This was purpose-built with help from an architect in the end after realising that a lot of digging and hard work was going to be involved had Ann built this from scratch alone!
16. Fit out a smart and multi-functional space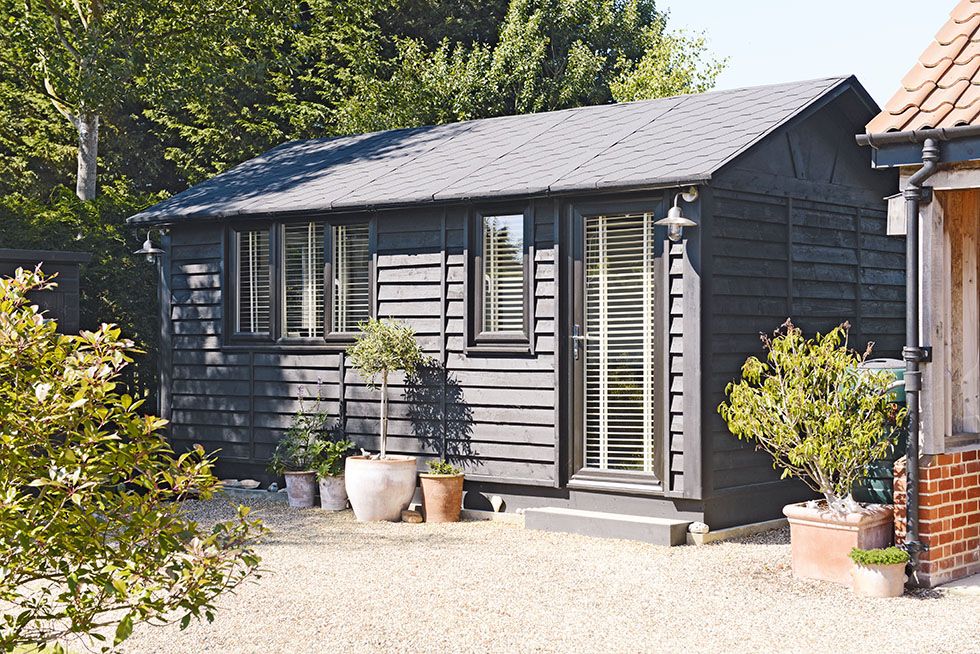 A contemporary garden room or garden office needs adequate space to make it multi-functional, and this insulated Quarto-size Suffolk Barn (opens in new tab) fits four desks, storage, and a meeting area, but it would also make a great yoga space or leisure room.
Ready to connect to the mains for year-round use, this pressure-treated spruce/pinewood barn with weatherboard finish measures H320cm x W433cm x D312cm.
17. Stay close to nature with a timber garden room, built to spec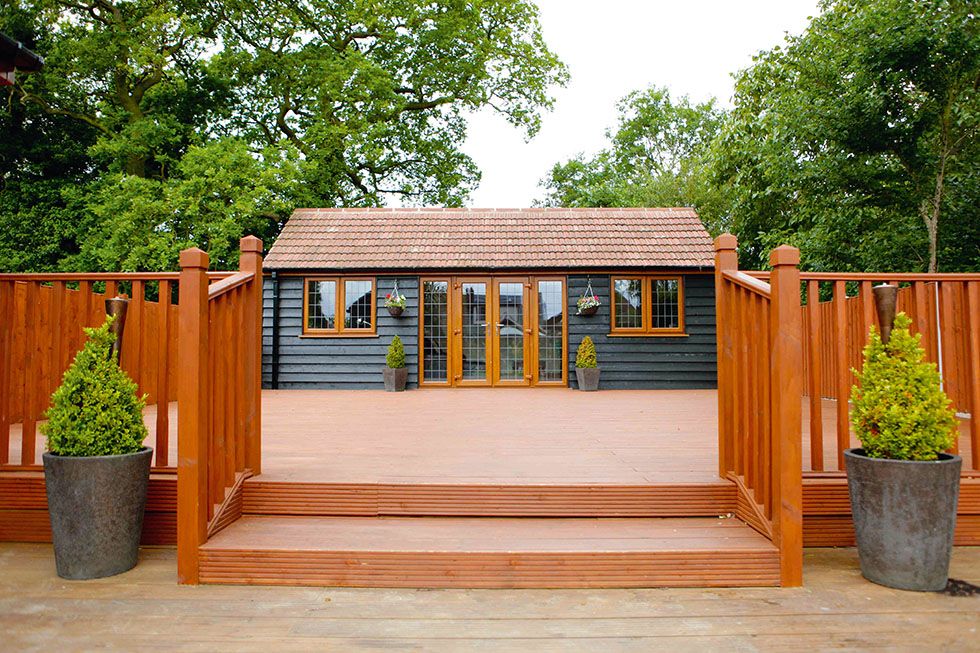 Garden room ideas require you to consider building materials too. Choosing a garden room that is made from sustainable materials, like timber, is a great way to keep the colours of your garden room in tune with your outdoor surroundings, while also minimising your environmental footprint in the process. 
A timber frame garden room that can be constructed in any shape, size, and wood type will allow you to in keeping with your garden's style too. Whether you want French doors and double windows, painted plywood interior walls and a tiled pitched roof – you could have it all.
18. Make yours a kids play space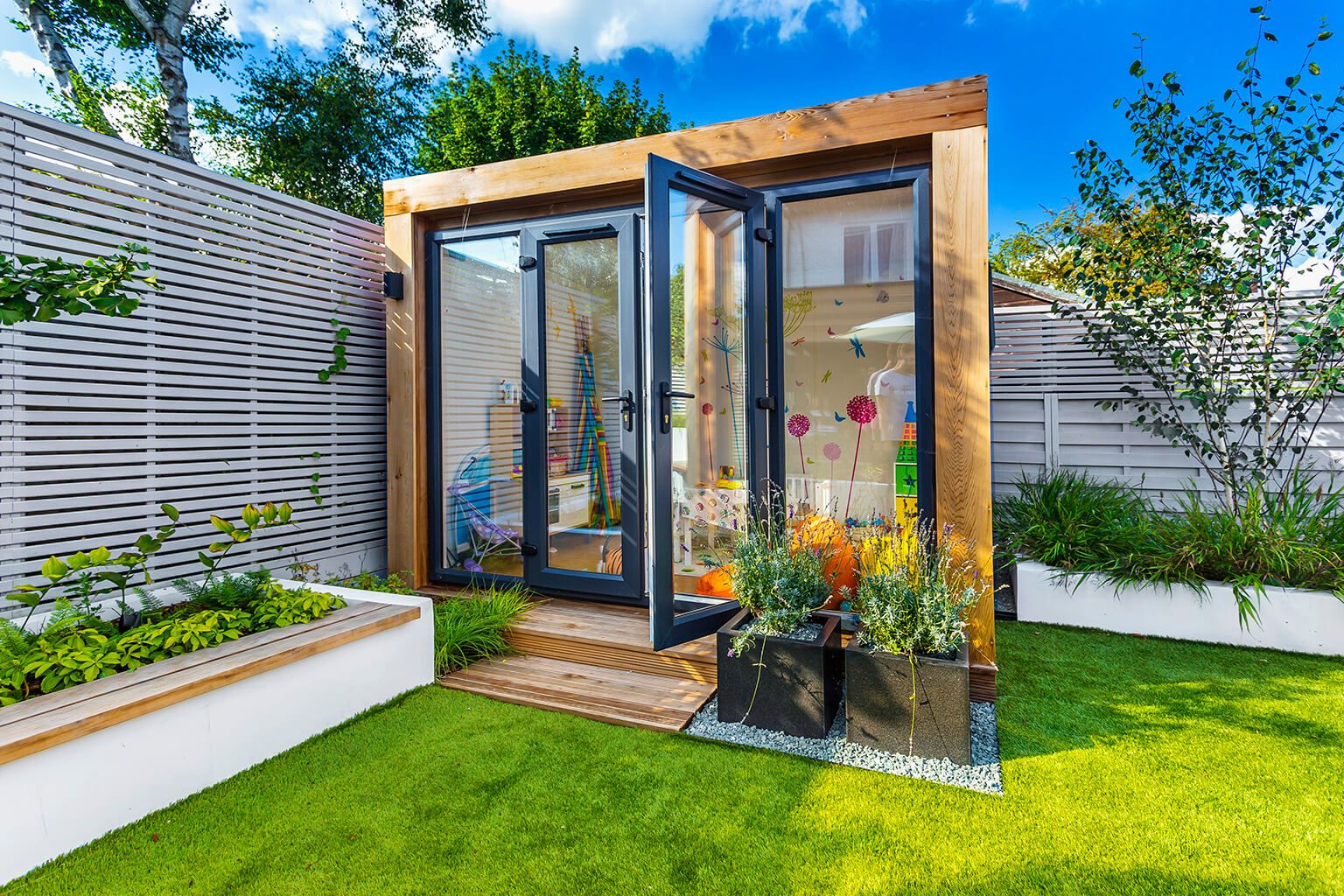 (opens in new tab)
Proof that garden ideas for kids go further than hopscotch! As a mini extension of your home, what better way to use a smaller garden room than to house noisy little rascals and their playmates? This design from Green Retreats makes the perfect addition to smaller outdoor spaces that still could benefit from all the style and practical value that a garden room adds.
19. Make your contemporary garden room a pool house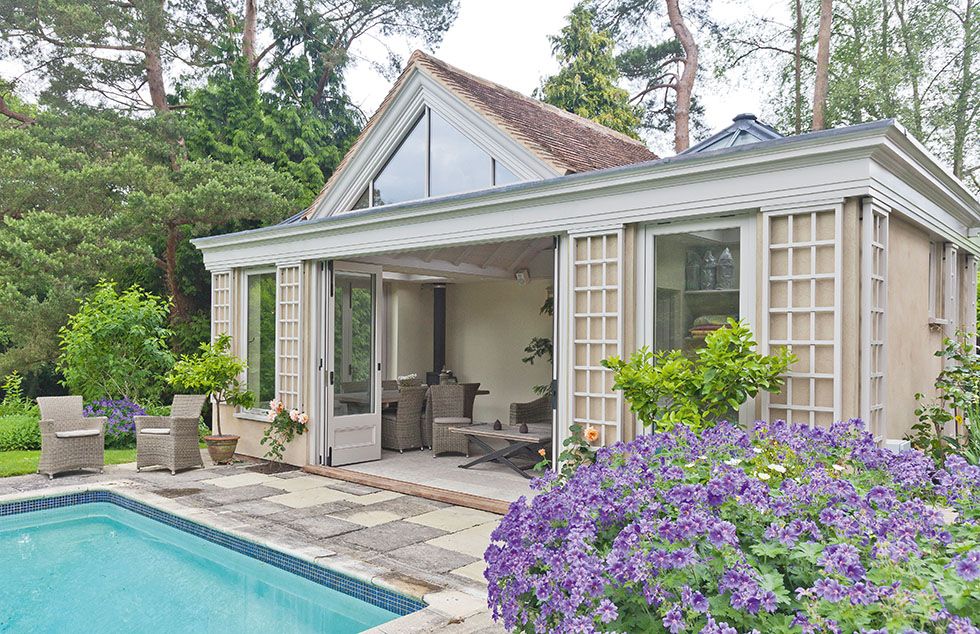 Whether a place to unwind, storage for furniture, or simply a practical above-ground pool space, this contemporary garden room from Vale Garden Houses (opens in new tab) has a gable front, terracotta tiled roof, and inset glazed roof lights, plus bi-fold doors for a wider entrance.
20. Choose sliding doors luxury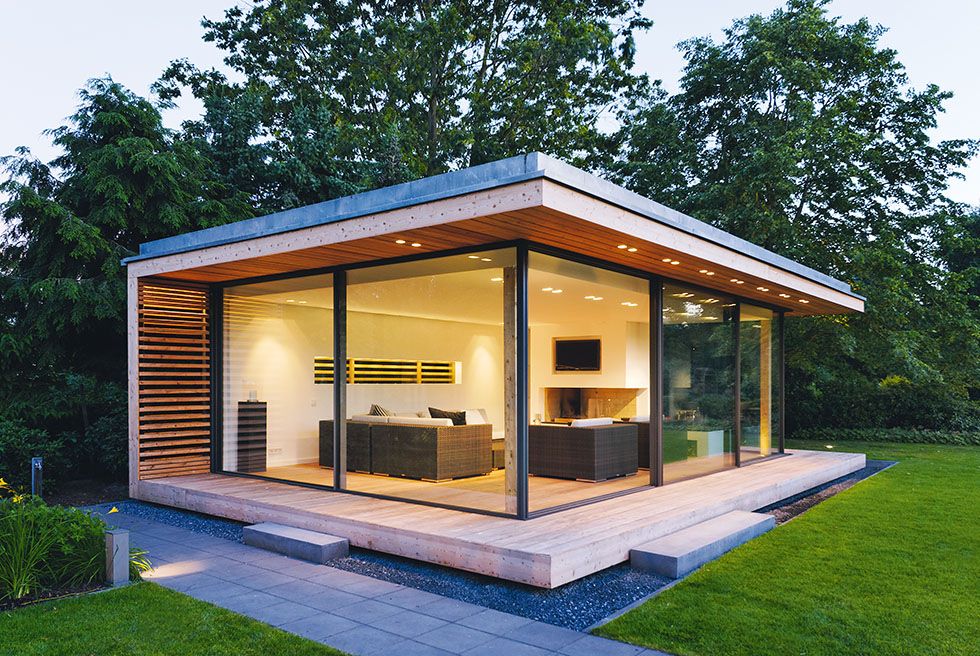 Everything about this contemporary garden room oozes luxury – its one of the best garden room ideas if you love an all-modern finish. From the beautifully refined finish of the landscaping materials used, to the sliding doors and stunning garden room interiors, recreate the look in your modern garden and create the swankiest retreat ever, completely fit for stylish outdoor living.
Inside, the fire and seating area turns a simple glass structure into an inviting garden lounge. Insulated on two-and-a-half sides, this cedar building by IQ Glass (opens in new tab) features slim-framed sliding doors with an almost frameless effect, creating a stunning panorama even when closed.
21. Add structure in small gardens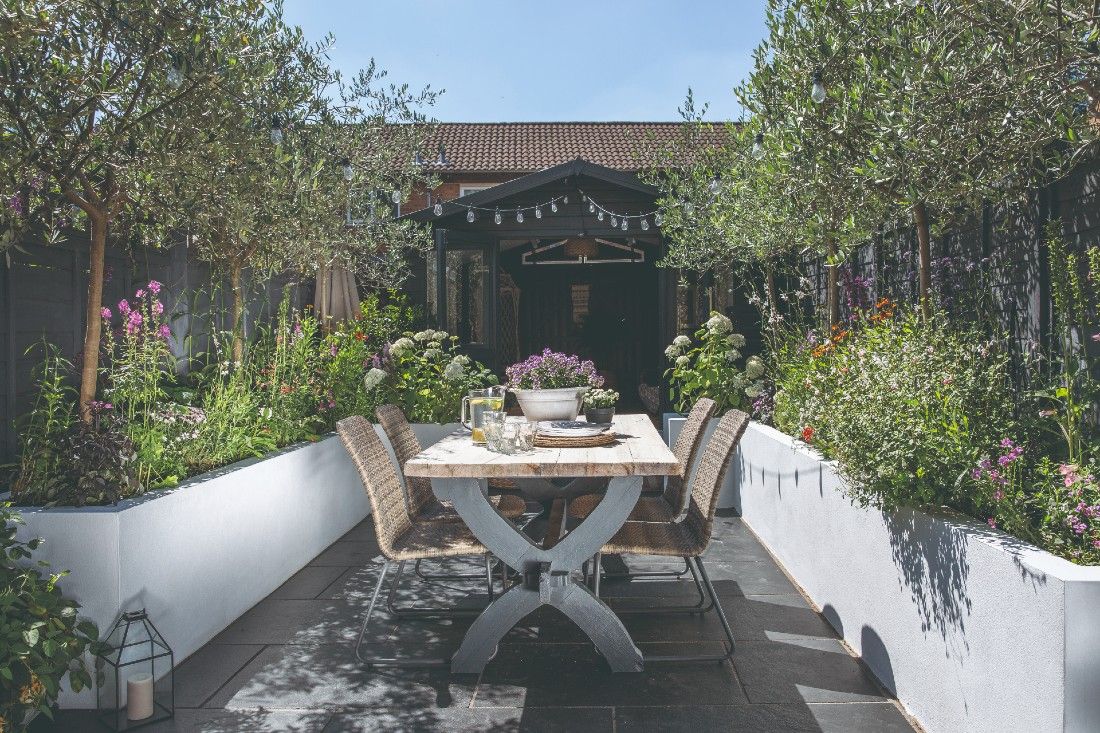 A great way to add impact and frame even small backyards is to keep your garden room central to surrounding raised garden borders. This will help create a refined and inviting structure outdoors. Having the outdoor table almost extending out from the garden room opening gives this fairly small space the perfect amount of drama.
22. Make a garden room gym blend in with your surroundings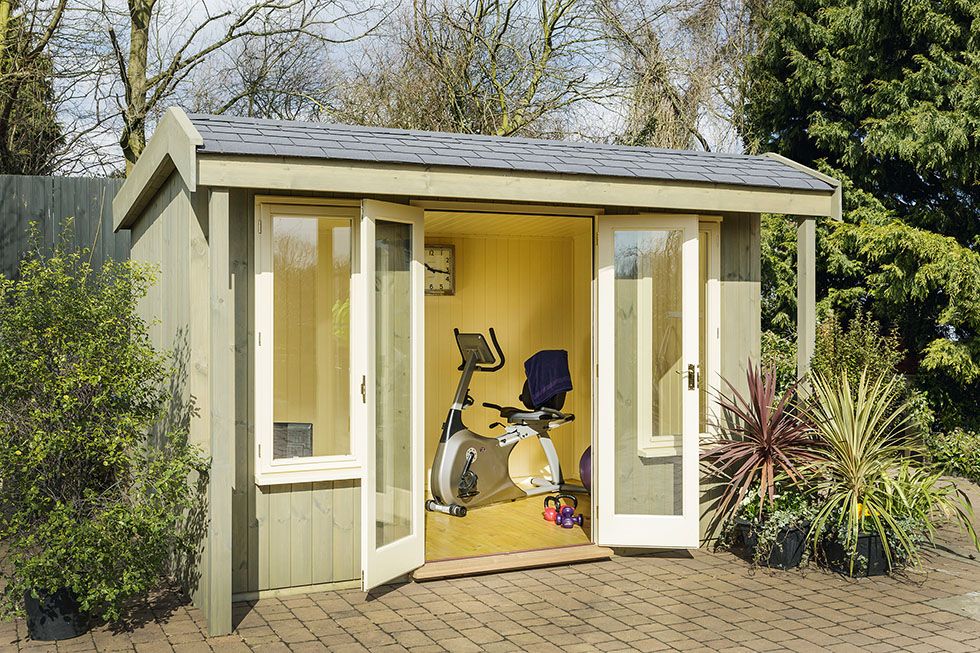 Painting your garden room a shade of green – or another colour that's very present in your garden – to help camouflage it, will help the structure sit more naturally within your surroundings. Perfect for simple garden settings, and especially for those who aren't completely sure about the addition of a garden room in the first place!  
This garden from Scotts of Thrapston (opens in new tab), in pressure-impregnated green-stained European redwood, has double-glazed doors, windows, and a tongue-and-groove interior painted in Buttermilk.
With its hardwearing varnished floor, it's ideal for a DIY home gym. A mineralised felt and felt-tiled roof with a veranda-style overhang keep the weather at bay.
23. Convert your garage into a luxury garden room retreat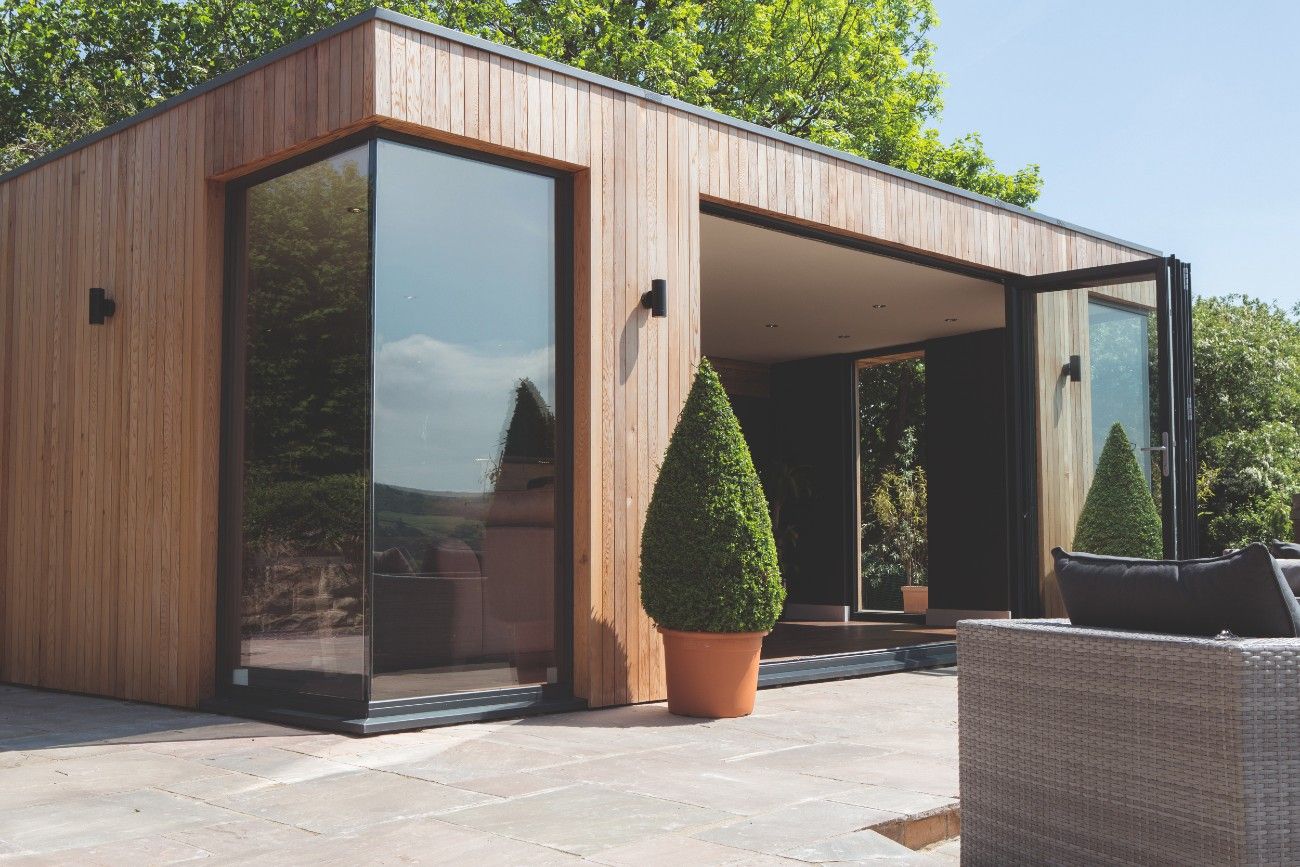 Jane and Martin Peace replaced a dilapidated garage with a very jazzy garden room, complete with a sauna and garden bar. This was an ambitious project, but totally worth it. They chose a large standalone timber structure for a contained building complete with open-plan living space and its other luxe features. 
Feeling inspired to do more with your garage? Check out how this spendthrift blogger turned her garage into an entertaining space on the cheap with her budget garage renovation.
24. Paint your garden room to match your deck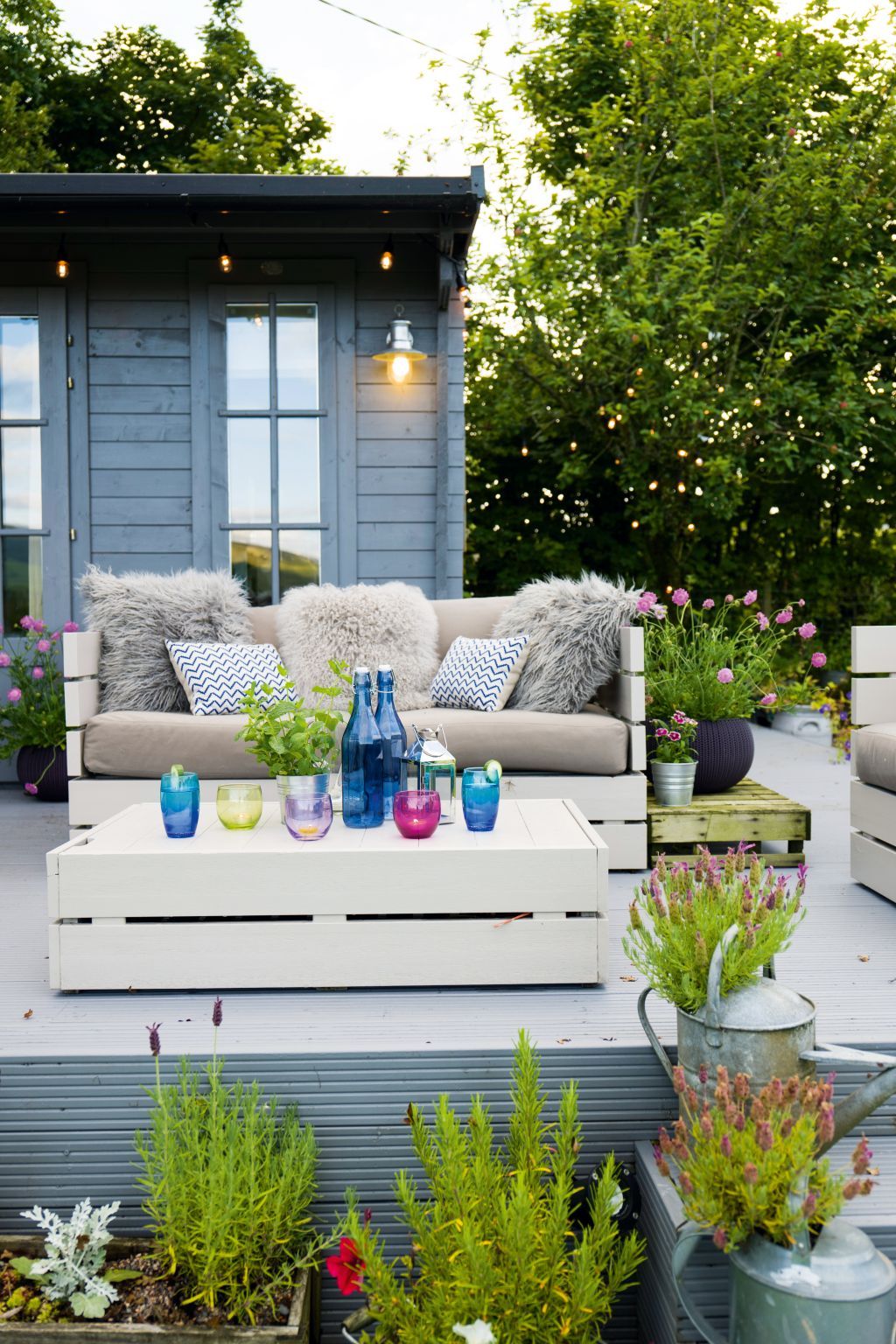 Amelia Wilson has a painted garden room, in blue, which makes it a seamless addition to the decked space. 
Learn how to paint decking like a pro, and decorate the surrounding space with the best outdoor lounge chairs and plush accessories, to extend your garden room's space further to create a cosy outdoor living area.
25. Line it with your garden's walkway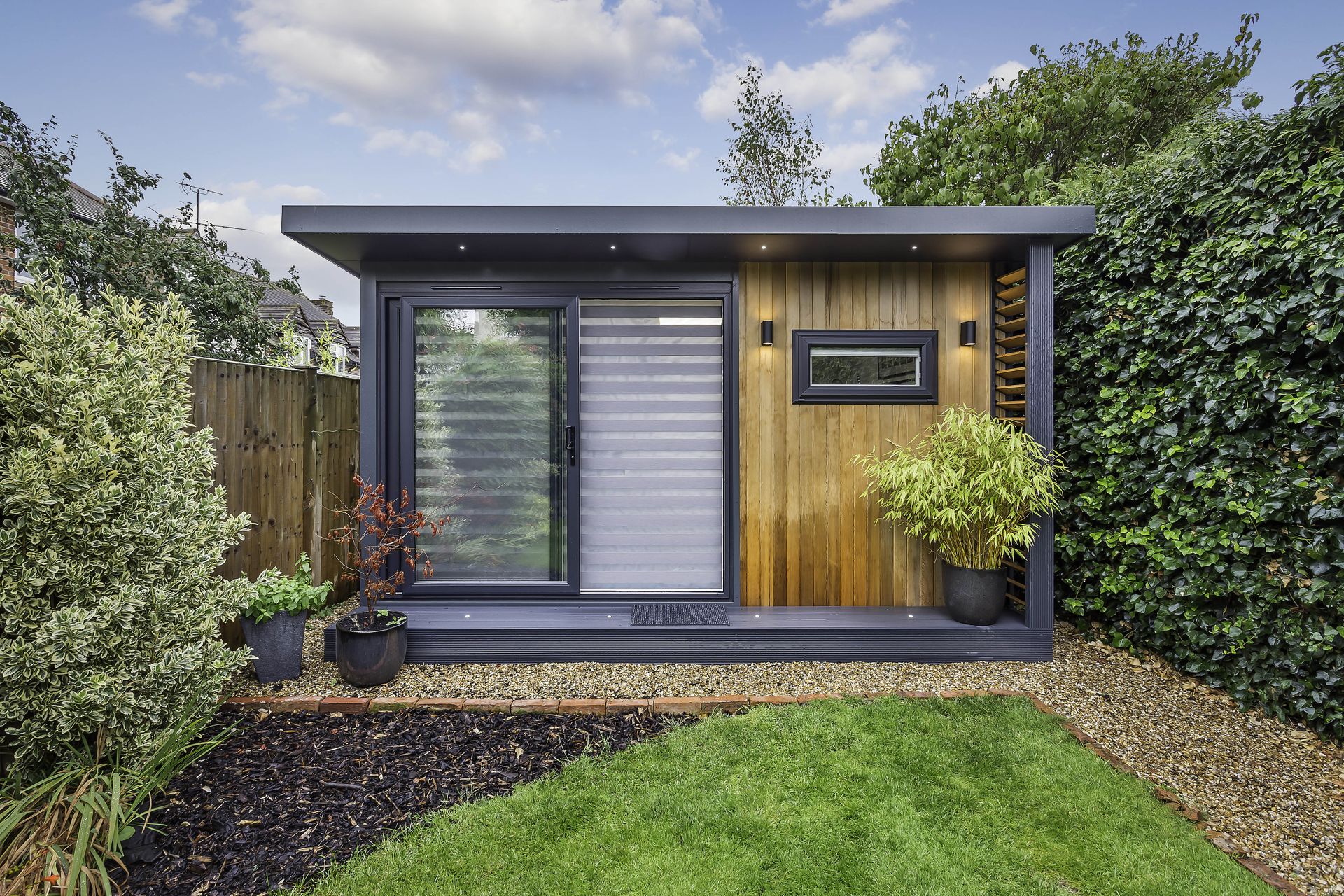 When planning garden room ideas, it's important to consider the path up to them from your house. To make your garden room even more accessible, line it with a gravel or other type of garden path idea. Marrying both style and function again, this garden room has a sloping roof and extends from all sides. Plus, the wrap-around door and window set naturally enhance the look of this gorgeous structure. 
26. Keep your garden room on wheels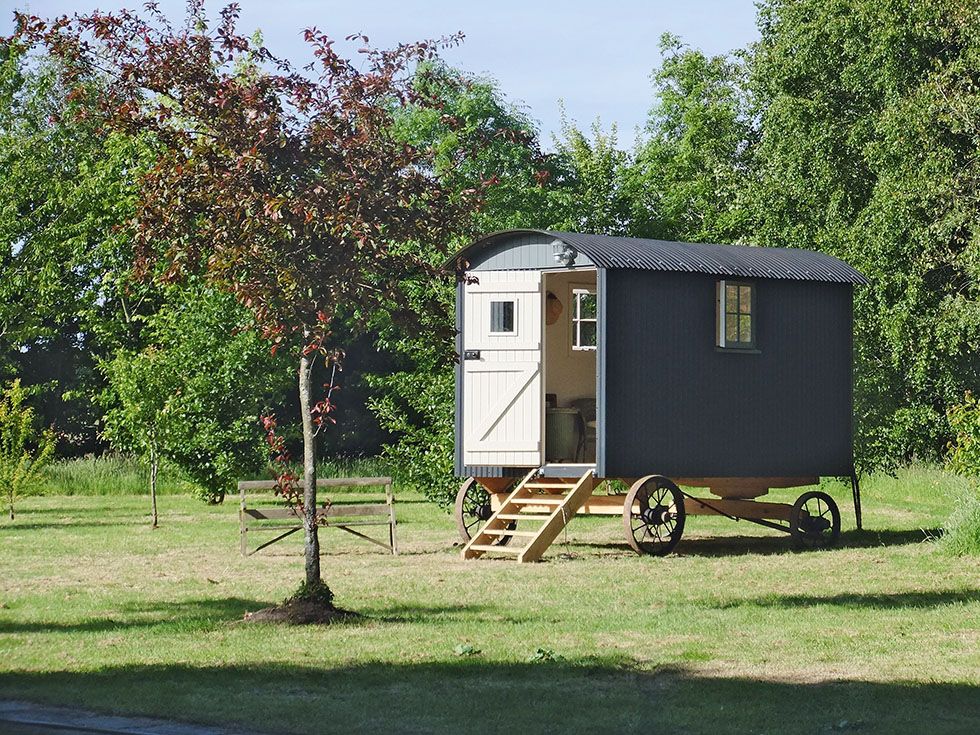 A great garden room idea for renters, or for those who envisage moving house in the coming few years, having a garden room (hut in this particular case) that is portable, is not only very charming and 'Little House on the Prairie'-esque, but also, just really functional. 
This new-build, rustic-style contemporary garden room makes a striking addition to a garden and still has a traditional touch about it – but with all the mod cons. With a pine tongue-and-groove interior, and finished in a corrugated tin or cedarwood, huts from Cotswold Shepherds Huts (opens in new tab) have us all a swoon to embrace the country living idyll. 
27. Add concertina windows for zero distractions in a garden office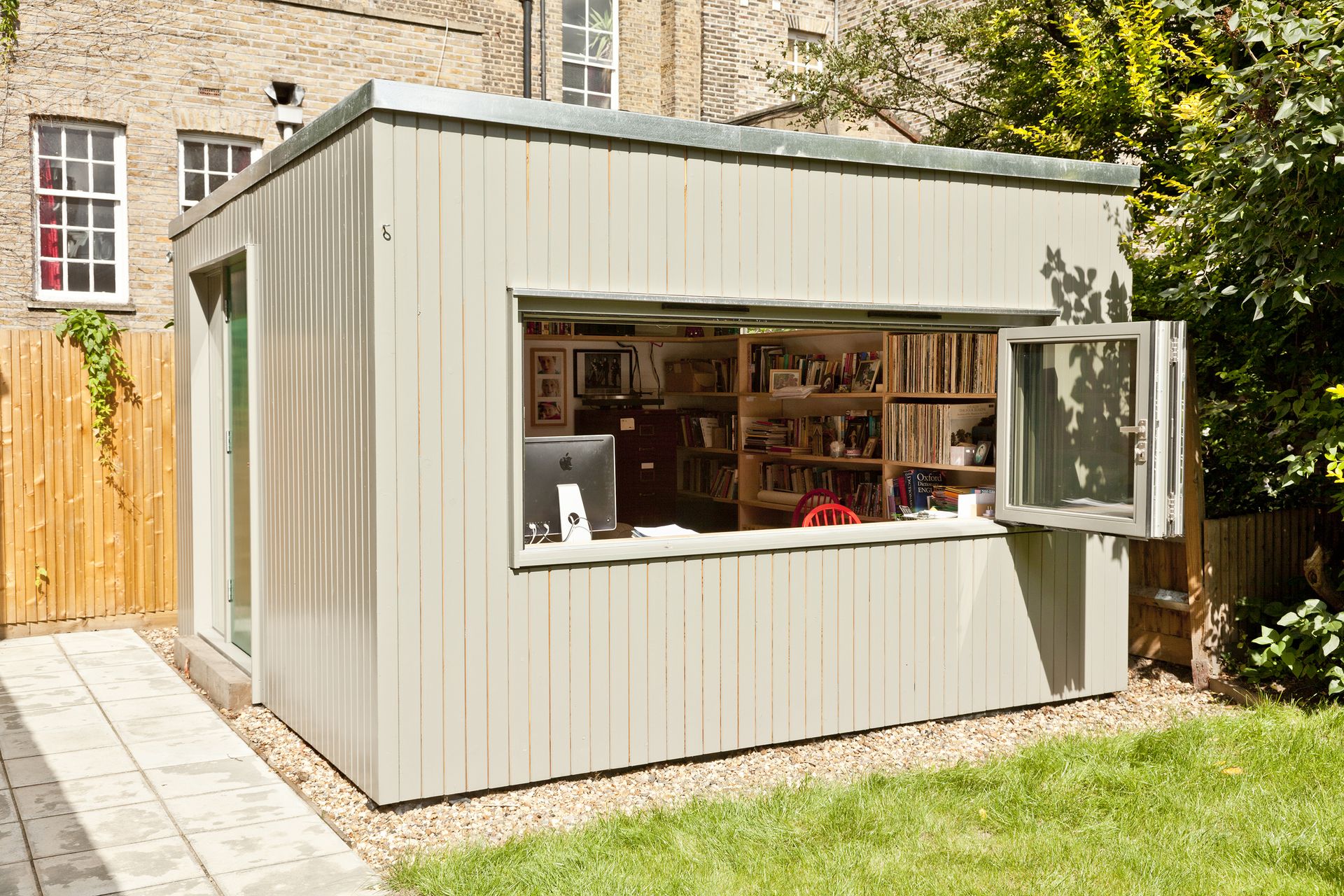 When you're designing a garden office you need to think about how to make the best use of the space. It's likely that you'll need storage, a couple of shelves, and more to make your garden room inviting and functional on the inside, so one of the best garden room ideas is choosing concertina windows rather than floor-to-ceiling windows – a wise (and stylish) move. David Nossiter Architects (opens in new tab) created this modern garden room as a peaceful space for an author, so if you need to concentrate, this is the garden room for you!
See all our home office storage ideas for more inspiration.
28. Zone in a big garden room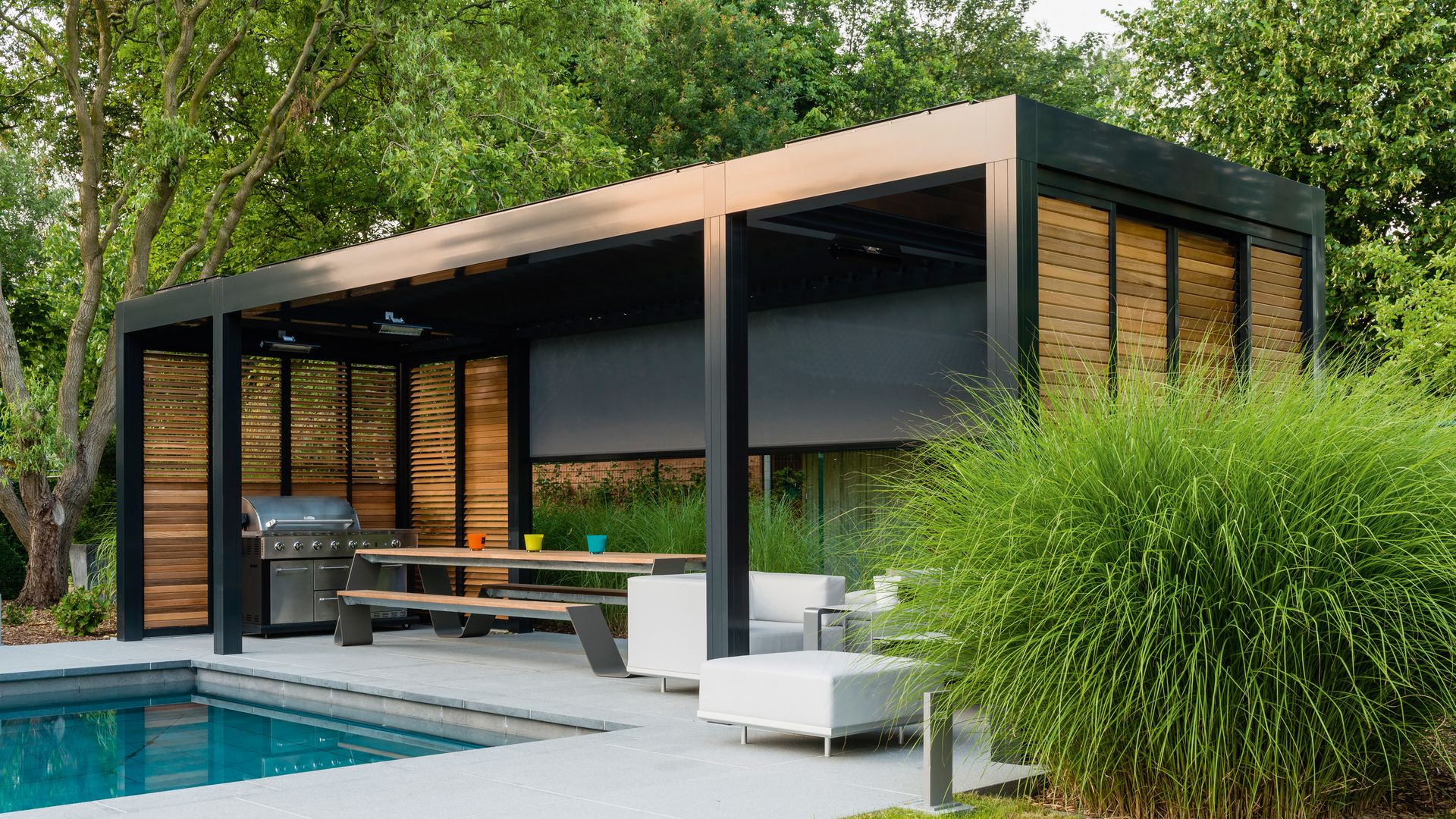 If you've got the room, use it! Having a garden room large enough to zone an outdoor kitchen area, seating spot, and more, is the ultimate dream. And, as we know how unpredictable the weather can be, adding a BBQ is a fine way to make use of the shelter, while you'll still get to enjoy an open plan and airy setting.
The clever Camargue Louvered Canopy (opens in new tab) by Garden House Design will be a joy to have in summer, and will still perform just as well in cooler months.
29. Go industrial chic with a converted shipping container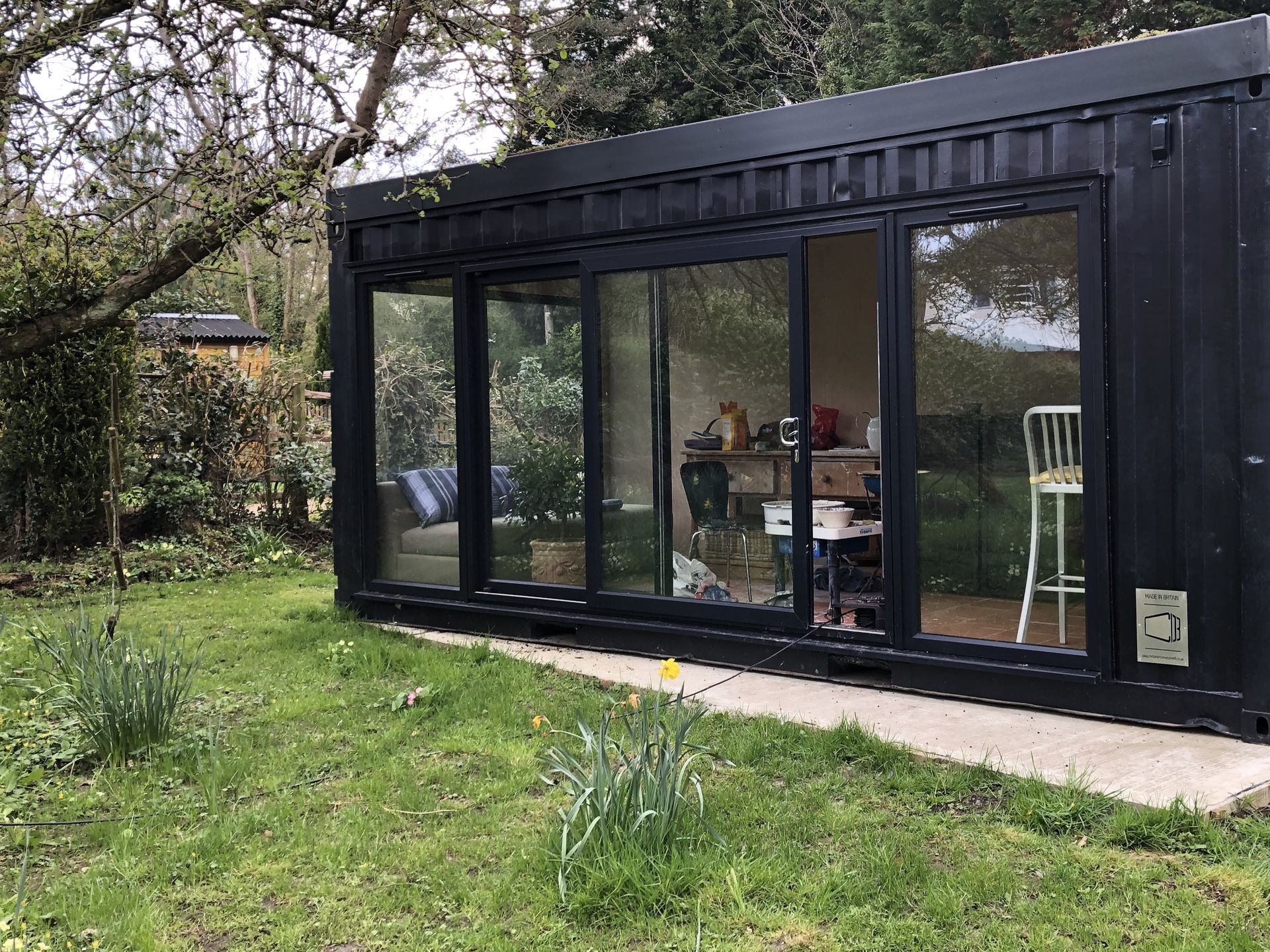 Like the industrial trend? Used in everything from extending a house to living room decor, industrial chic is defined by strong, graphic lines and the use of heavy-duty materials. The contrast against the green of the garden provides the perfect amount of drama to make this space really cool and inviting. And now there's a way to bring some of that edgy style to your garden, with a garden room made from a converted shipping container.
30. Invest in a tailor-made outdoor kitchen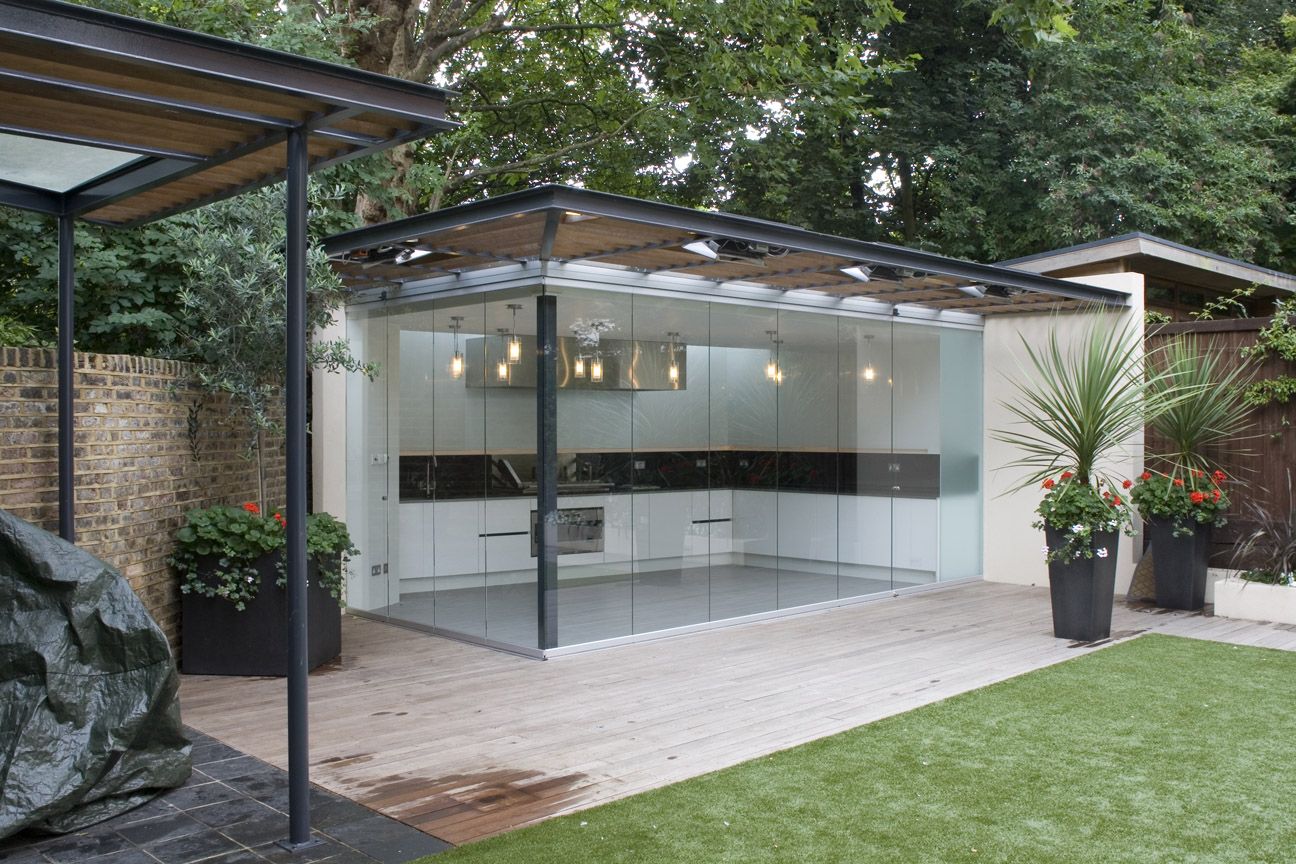 Garden room ideas don't come much chicer than this! If you have a passion for feasting al fresco, push the barbecue aside and go for a full-on kitchen in the garden. Kitted out with a grill, fridge, and sink, it will be a godsend when the heavens cloud over. Install heating and it will get good use in the cooler months, too. 
Ar'Chic (opens in new tab)designed this garden room for a homeowner who is obsessed with Mediterranean cooking. Glazed panels open entirely, revealing a kitchen that doubles as a games room, reading room, or office. 
31. Add a green roof to a garden room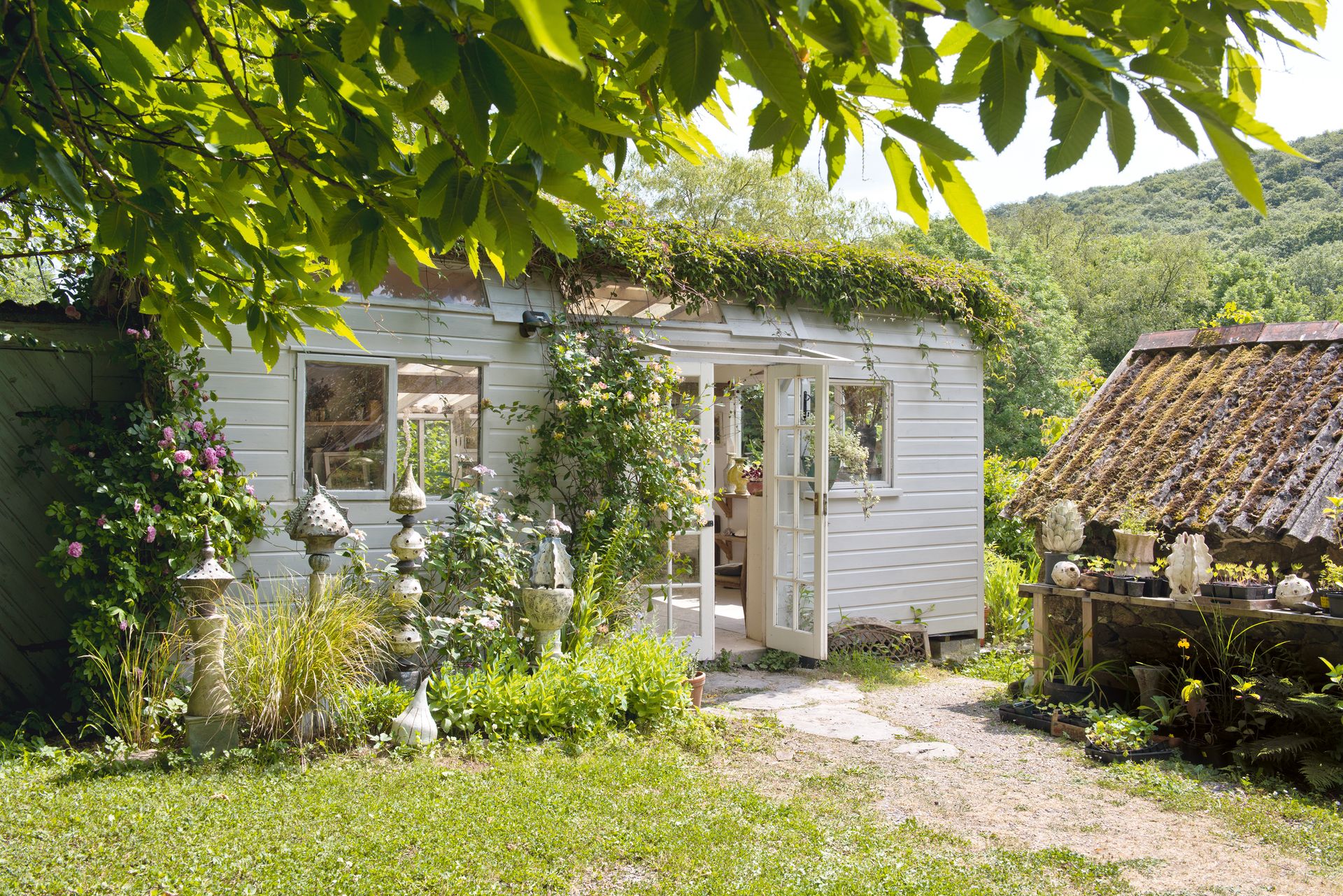 In general, the overall design of your garden room should complement that of your home (and garden). If it isn't practical to mimic the gradient and angles of your home's roof, exactly, and if you want a bohemian and wildlife-friendly finish to your structure instead, then you might consider a lush living roof and even a DIY living wall idea. Build it so that it slopes gently towards the house and you'll be able to enjoy the foliage, flowers, and wildlife from indoors too.
if you're going through a supplier, ask if they can create this as part of the package – if not, there are plenty of specialist companies who can; all you'll need is a watertight roof construction that can take the weight.
32. Or, bring the outside in to your garden room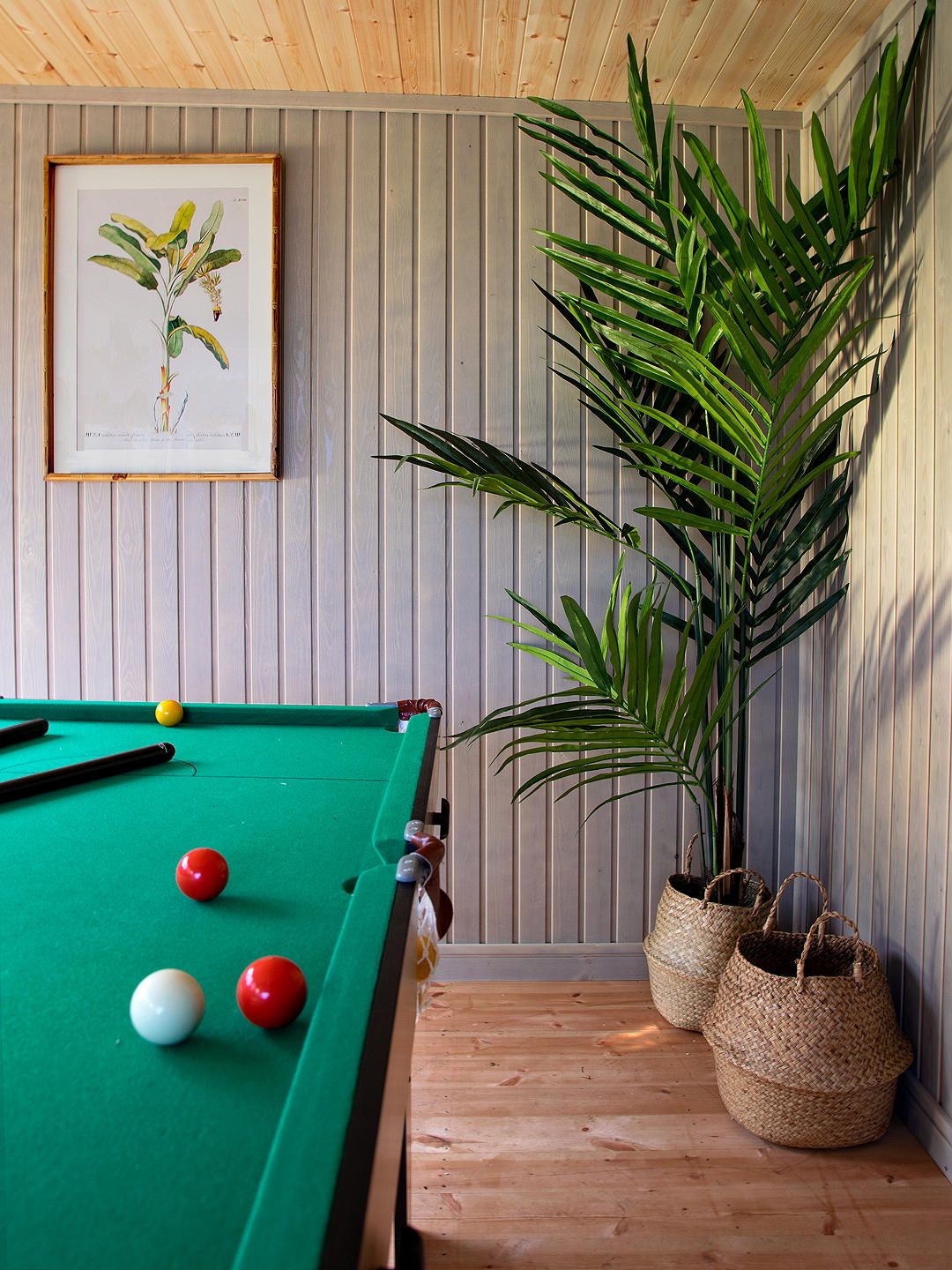 Your garden room interior design is mightily important and choosing a style that complements your garden and even your main home will help make the transition seamless and stylish. We love the tall indoor plant inside this garden room, alongside the tongue-in-groove paneling (try a DIY shiplap wall) which continues onto the garden room's decking area, as it creates continuity and a really contemporary feel. The Hub Garden Studio by John Lewis (opens in new tab) is the perfect spot for entertaining.
33. Consider garden room plans and installation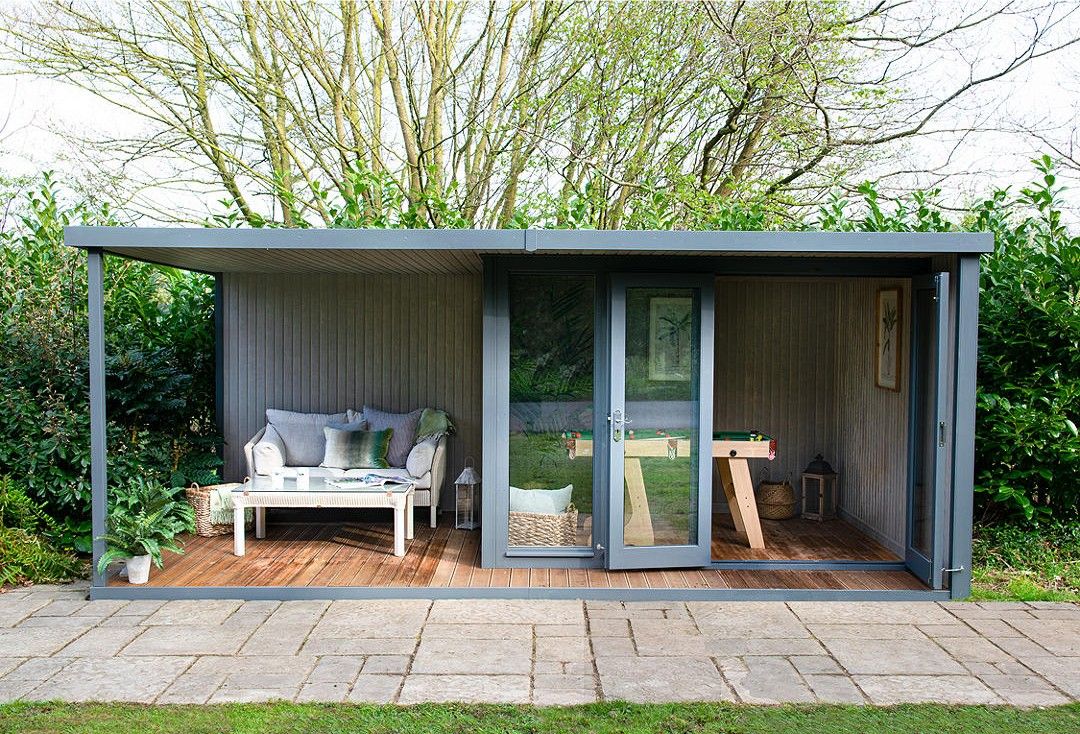 Contemporary garden rooms are usually sourced via specialist companies that tend to offer a full installation service, but you may need to find a reputable tradesperson to build an off-the-peg design. Having a power supply fitted will enable you to install lighting and run appliances – perfect when the sun goes down. Route power from your home or consider solar roof panels to provide electricity without the expense of cabling being installed around the garden.
Ask your supplier to discuss any changes in the build, and associated costs, before going ahead. Finally, if your garden room will store items through the winter, remember to include security measures, such as casement windows and sturdy lockable doors.
Does a garden room add value?
We spoke with industry experts Green Retreats (opens in new tab) who recently carried out a Q&A with some property specialists to understand whether garden rooms actually add value to a property, and the short answer is yes – garden rooms do add value: 'Garden rooms can add 1.5x their value to a home depending on the quality of the build, therefore covering the cost of the installation.'
Luke Jackson, from Micheal Graham (opens in new tab) estate agents has found that: 'Not only does a garden room attract more buyers to your property, but a high-quality garden room can also boost the value of your home by 5% to 15%".'
Robert Ellis, from Nutbrook Property (opens in new tab) says: 'I would estimate that the value-added would be about 1.5x the cost of the building installation. The convenience value is also significant and must be considered for homeowners.'
Can you use a garden room as a bedroom?
'A garden room used as a permanent bedroom would need planning permission approval and building regulation sign off. The beauty of garden rooms as an extension to your home is that they are cost-effective and hassle-free to have installed at your home. Planning permission is generally not required for a garden room because by design they fall within your permitted development rights (should you have them). The use of the building is a factor into your permitted development rights, and many councils state that using an outbuilding as accommodation is not allowed – unless planning permission and building regulations are passed.' 
The modern way to update a garden 🙌
Related Posts