There are myriad options for landscaping with evergreens within your garden design. Whether providing year-round lush foliage, seasonal color from flowers and berries, privacy for a corner of your outdoor retreat, or vitality and structure to see your backyard through the coldest months, these hardworking members of the planting palette should be a key element of your garden ideas.
Often low maintenance and resilient additions that will grace your garden for decades, evergreen shrubs are among the most versatile plants, which can either take center stage as dramatic focal points in the garden, or offer a complementary backdrop to seasonal blooms. 
Experts share their advice on ways to make the best use of evergreens when you are deciding how to plan a garden.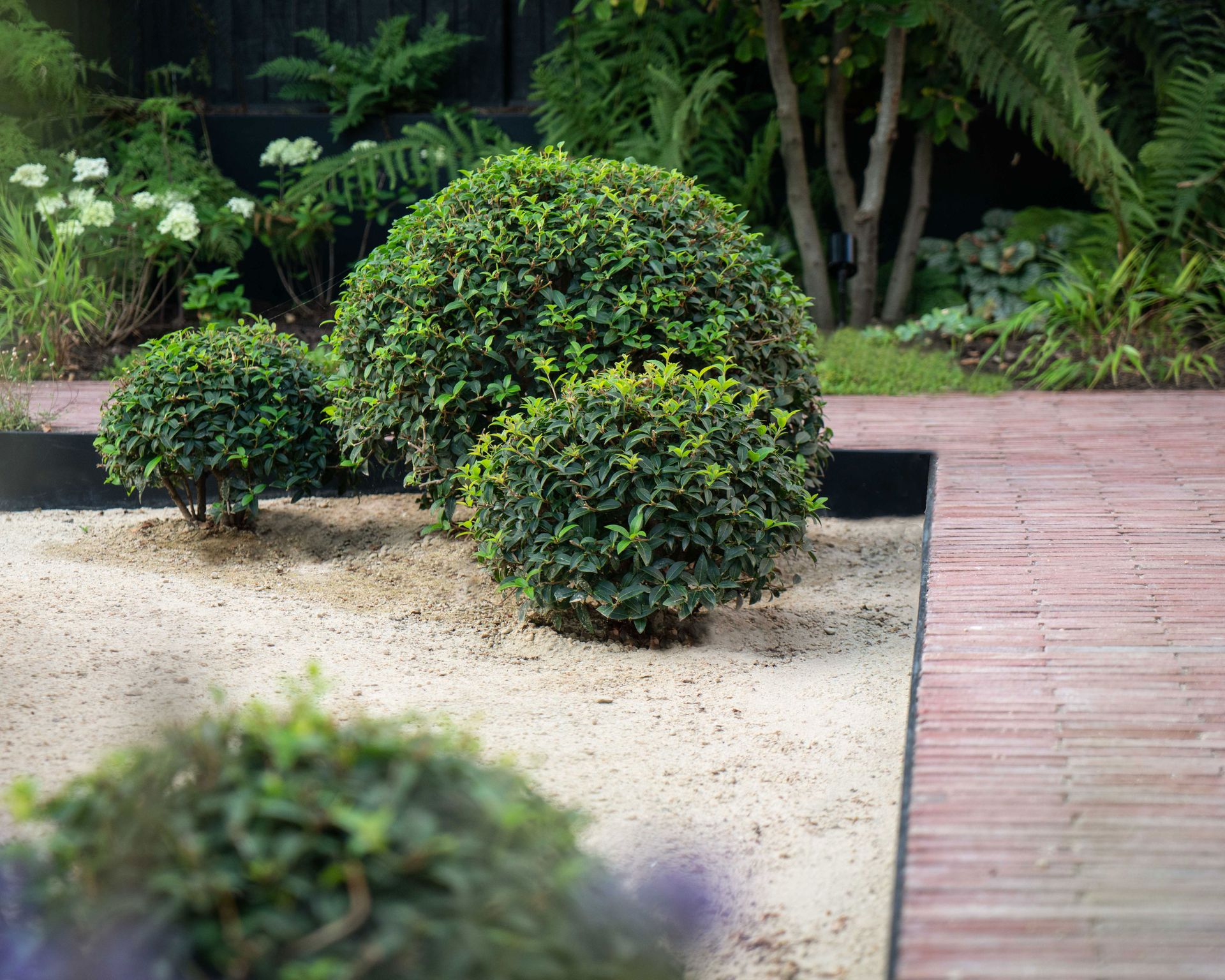 Landscaping with evergreens
'Evergreen plants are a structural essential,' explains garden designer Jo Alderson (opens in new tab). With many of us aspiring to use and enjoy our gardens through the seasons, an evergreen planting scheme works year round. 
'It is important when planning your garden to consider structure and year-round interest. Landscaping with evergreens will provide other plants in the garden with a solid anchor,' adds garden designer Claudia de Yong (opens in new tab). 
There are many pretty evergreen plants to choose from. Flowering shrubs can also offer seasonal color, and if you want to enhance the curb appeal of your home year round, there are lots of options of evergreen shrubs for the front of the house.
'When landscaping with evergreens, as with any shrub, it is key to think about the purpose that the plant will play within the scheme of the garden. Are you using it to block something unsightly or perhaps to create a visual stop and focal point? Do you want to light up a dark corner or create interest at a time of year when other plants have died down. These are all things you should consider when choosing evergreens,' explains garden designer Fi Boyle (opens in new tab).
1. Use evergreens for screening and privacy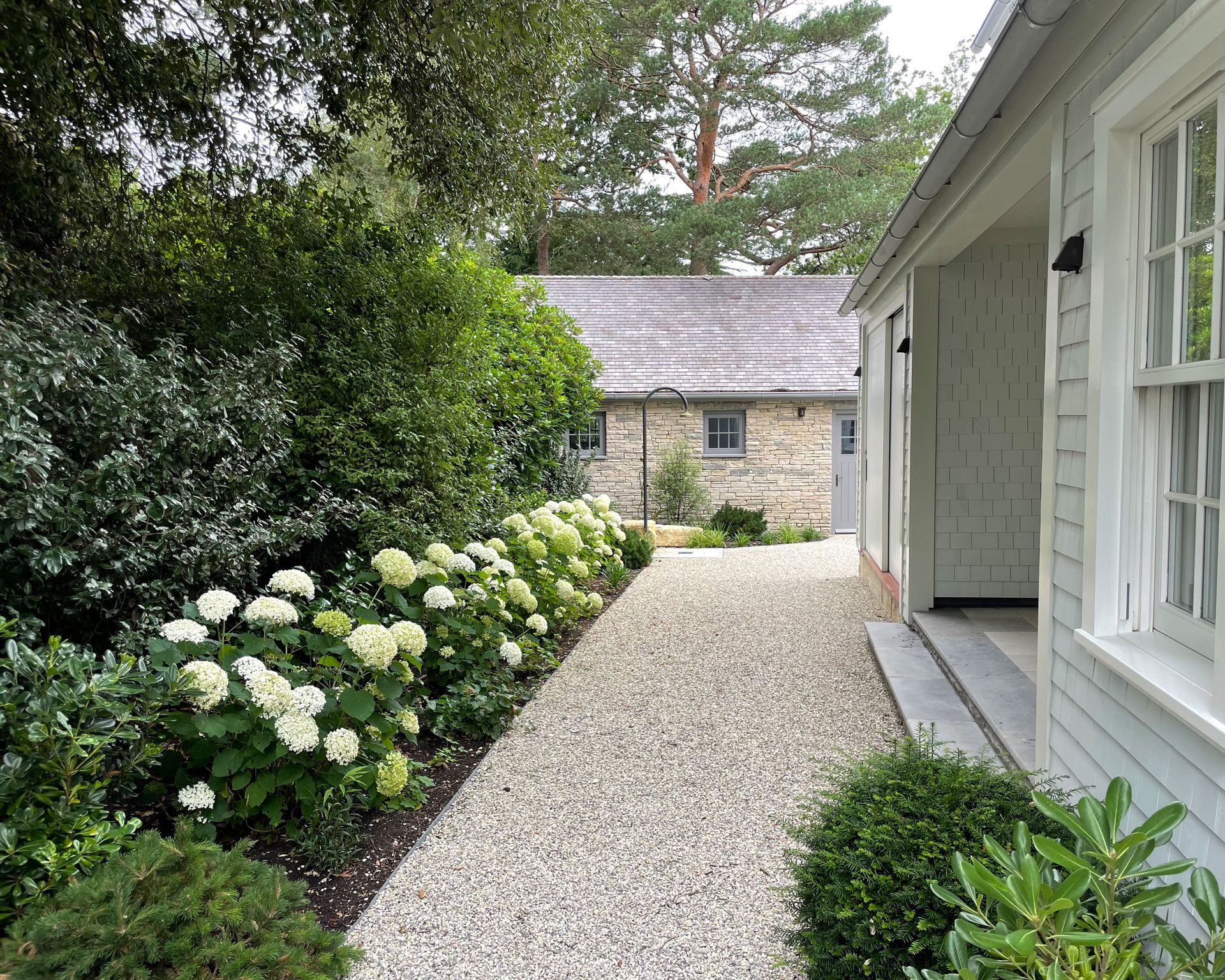 A key potential when landscaping with evergreens is their use to screen your garden from a road or neighboring houses. They can filter out noise and pollution, while also improving air quality and provide a place for birds to nest, even in the winter months, for a wildlife garden idea.
Most of the best shrubs for privacy are evergreens due to their year round foliage cover, and by planting a mix of varieties in leaf form, color and texture you can achieve dramatic results. 'You can choose variegated varieties of evergreen shrub, which can help to light up a dark corner, or ones that have colorful foliage,' advises Claudia. And with many fast growing shrubs, you can achieve results quickly.
A useful way of dividing up a garden naturally is by landscaping with evergreens, whether this is to create a private area for sitting and dining, or subtly delineate 'rooms' when garden zoning.
Make sure you know how to plant shrubs and the best time to do so for healthy, long lasting plants.
2. Add blissful scent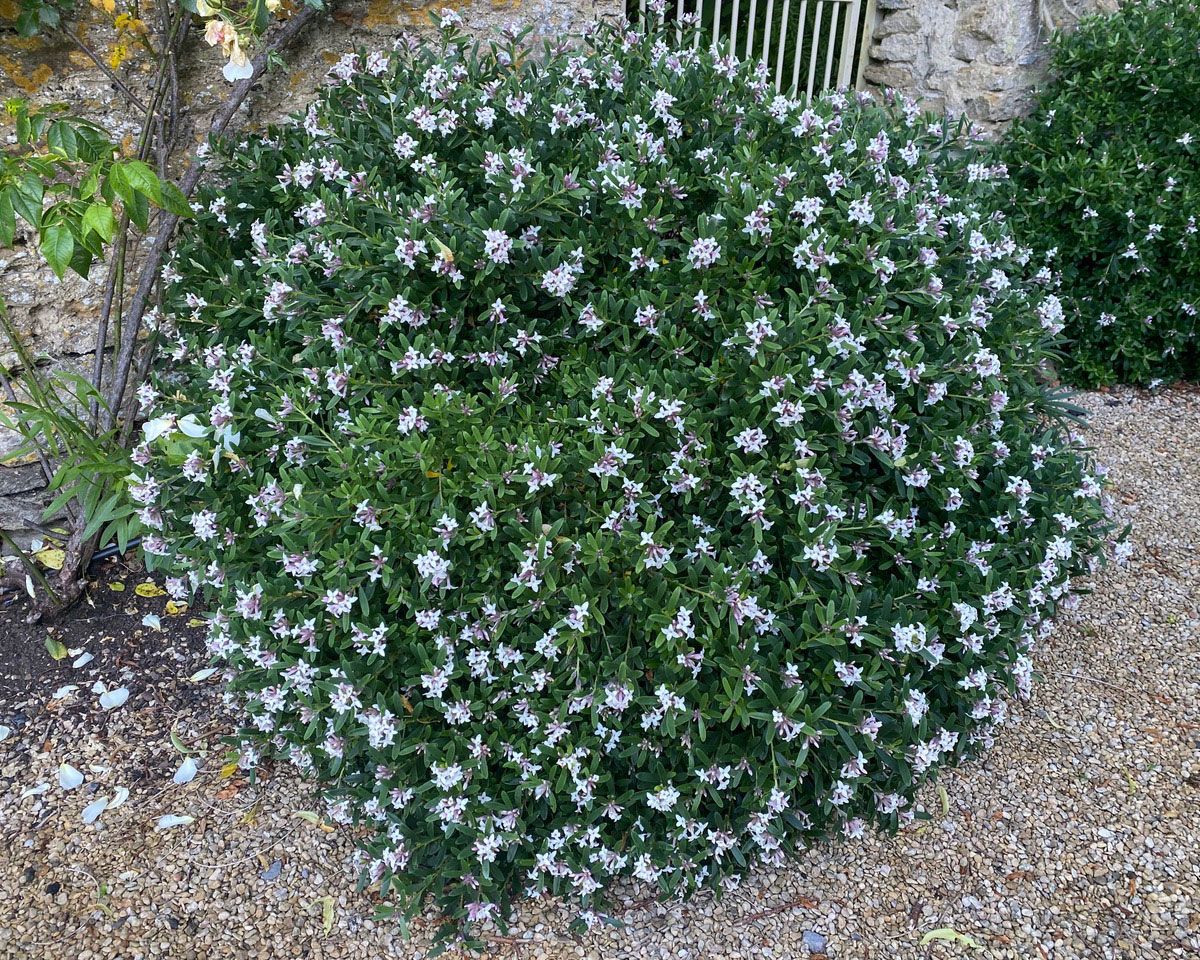 'Many evergreen shrubs have wonderfully scented flowers, an essential element of any garden,' explains garden designer Helen Elks-Smith (opens in new tab). These are important to incorporate when looking at how to design a fragrant garden.
'A combination of just three plants will provide scent from December right through to October. I often choose the perfectly named Sarcococca hookeriana 'Purple Stem'  for a slightly more relaxed look but that combines well with the wider foliage of one of the best fragrant flowers, Daphne odora 'Aureomarginata', and for a slightly sunnier spot, Daphne  x transatlantica 'Eternal Fragrance' to run through the summer,' she adds.
Scented evergreen shrubs really come into play as winter garden ideas when other plants are bare, agrees garden designer Harriet Farlam of Farlam & Chandler (opens in new tab). 'Plant an evergreen specimen shrub such as Daphne bholua 'Jacqueline Postill' close to a door to bring wonderful scent in the darkest months,' and create a sensory garden feel.
Elaeagnus × ebbingei is another scented recommendation from Fi Boyle, which has 'insignificant flowers that you could be forgiven for missing, but the scent is fabulous in the fall so an usual time for scent,' she explains; while Claudia de Yong sings the praises of Choisya ternata, Mexican orange blossom, 'with its aromatic white flowers which is easy to grow in full sun, and happy to be pruned hard after flowering.' This is also a good choice for low maintenance border ideas as it is looks after itself.
3. Use evergreens for form and rhythm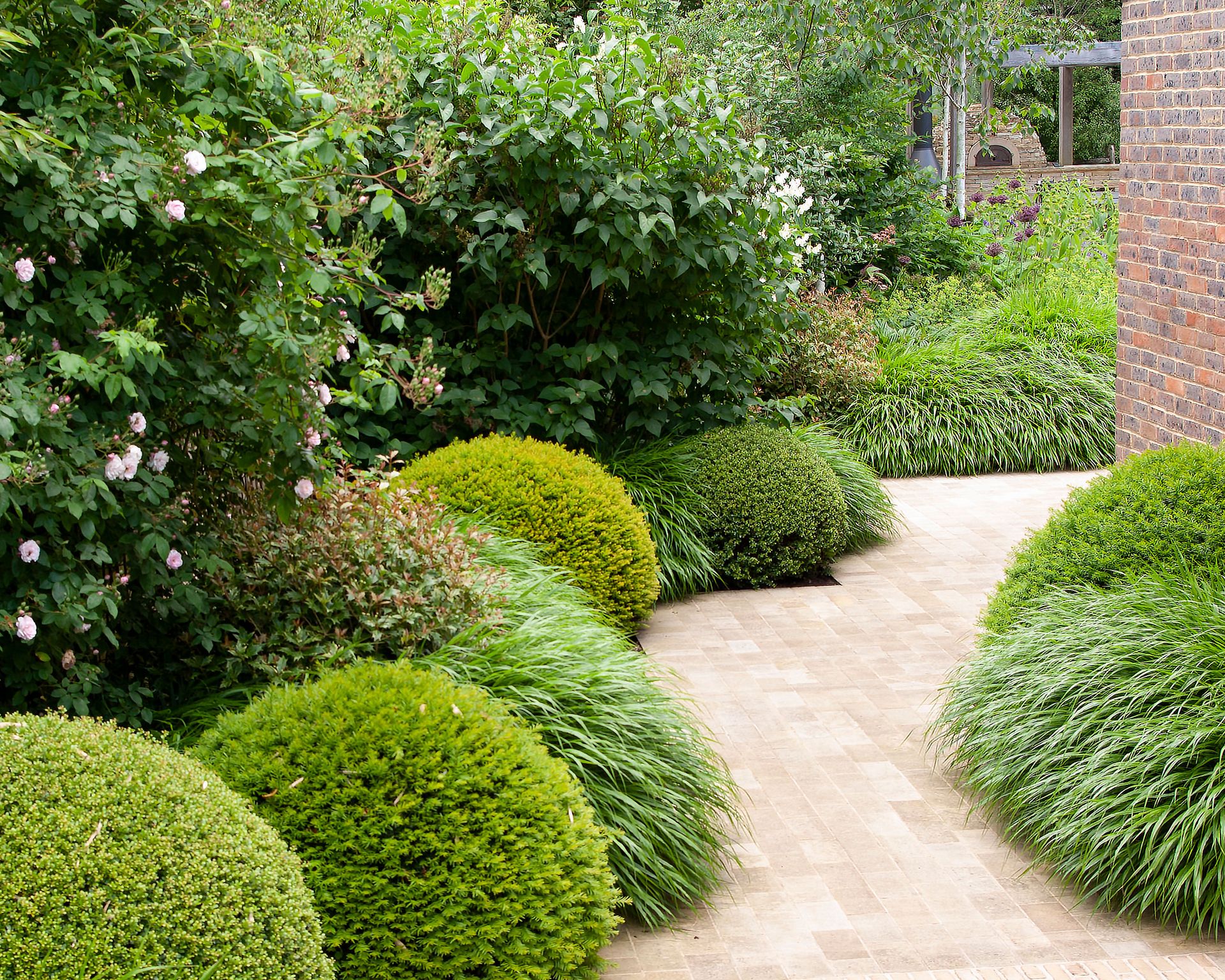 When landscaping with evergreens start with form. 'To ensure a well-balanced scheme, I will often look at a combination of mounding and arching forms,' says Helen Elks-Smith. 'Placed symmetrically, mounding forms will lend a more traditional look and feel to a scheme, but can also be combined loosely to give a more relaxed feel. Mounding forms are excellent for adding all important rhythm, and in combination provide movement especially useful along pathways.'  
'Evergreen structure through a large border as a flower bed idea can be used to frame the corners or to create structure and rhythm through the perennial planting,' agrees Fi Boyle. My go to option for balls would be Pittosporum tenuifolium 'Golf Ball' as it forms a lovely natural ball shape and is easily clipped. Another alternative, with a darker and larger leaf, would be winter box, Sarcococca confusa. These can be clipped neatly and still produce wonderfully scented flowers within the shape in winter,' she adds.
'Some evergreen shrubs can, however, get out of control, become too big and overbearing if they are not cut back, so choose ones that can tolerate a good prune,' advises Claudia. 
4. Plant an evergreen backdrop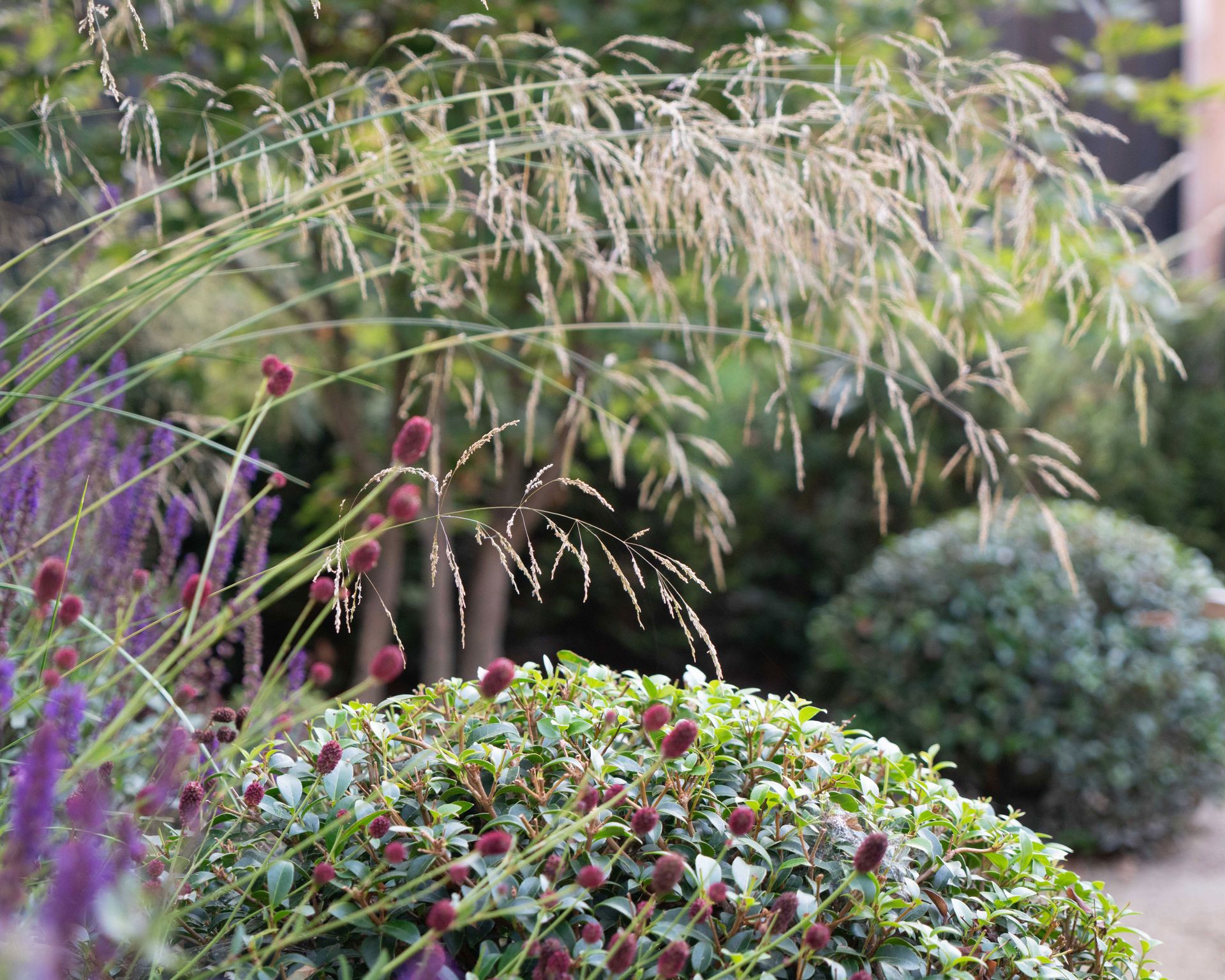 Evergreen shrubs can form the backbone to a garden and provide contrast to more ephemeral perennial planting in the summer months, which is particularly effective in white garden ideas.
'Along with growing lavenders, rosemary and ballota, Pittosporum tenuifolium and tobira will cope with drought and salt exposure, so we often plant these in exposed coastal locations. Pittosporum lends itself well to tight clipping similar to English yew, which is a great choice for creating a darker and more dramatic backdrop. For something looser and more resilient, try Osmanthus x burkwoodii, which will also reward you with highly perfumed white flowers in spring,' advises Harriet Farlam.
5. Landscape with evergreen hedges and borders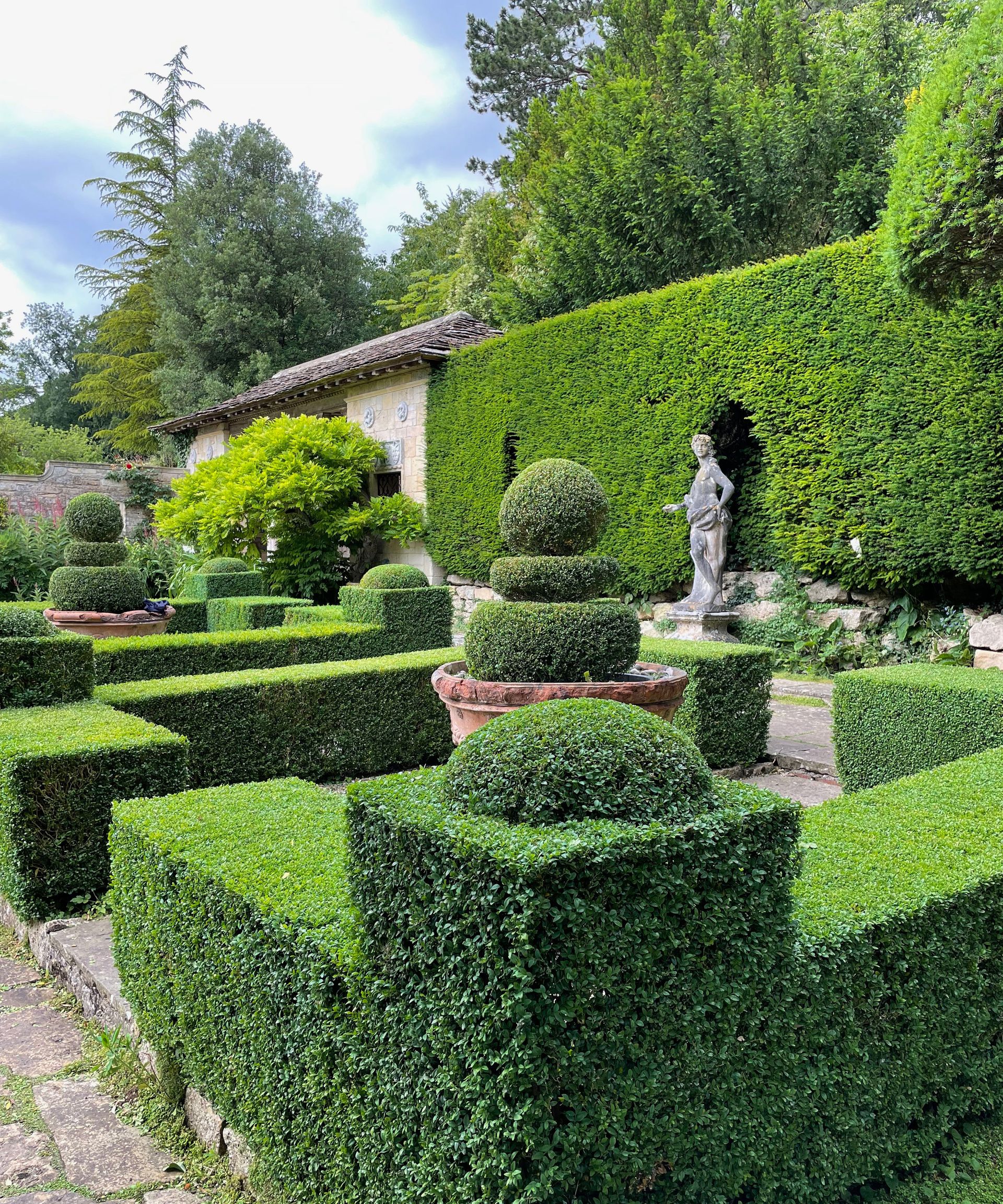 The most environmentally friendly material for borders and boundaries is natural privacy hedging, which will also form the skeleton structure to the garden throughout the year. There are many options for fast growing hedges.
'Yew, Taxus baccata, creates a wonderful dense hedge that can be kept well pruned and neat,' advises Fi Boyle. 'For around the outside of a vegetable garden, you might consider using Viburnum tinus, as this produces both flowers and berries, which is good for insects and pollination as well as being pretty and a little less formal than some other hedges,' she adds. 
Claudia de Yong also recommends Prunus lusitanica or Portuguese laurel, jasmine scented Osmanthus x burkwoodii, Ligustrum ovalifolium 'Aureum' or Elaeagnus pungens 'Maculata'. 'For a large leaf and bright red evergreen foliage, choose Photinia 'Red Robin' which requires minimal pruning.'
6. Create structure with topiary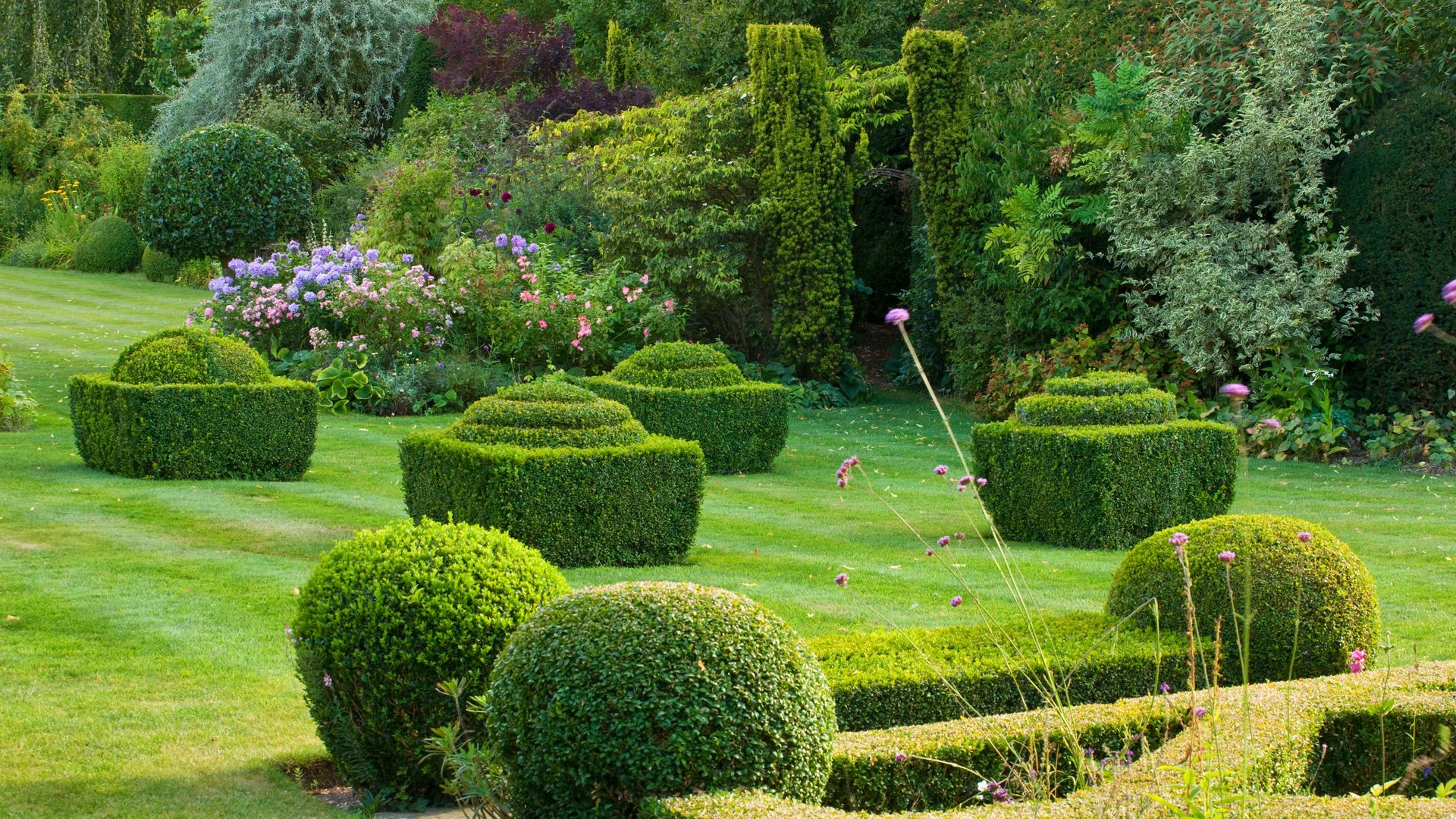 Topiary shapes can add form and contrast to all styles of gardens, from traditional country gardens to a more contemporary gravel or courtyard gardens idea.
'Taxus baccata is the historic evergreen shrub used for topiary when landscaping with evergreens as it is extremely dense and can be pruned into perfect topiary form in a variety of shapes, and tolerates dry shade, chalk and acidic soils. However, other plants, such as Viburnum tinus work being shaped either in the ground or in pots as standards, while bay trees are among the best trees to grow in pots as a popular evergreen choice and can be neatly clipped into formal shapes,' says Claudia de Yong.
Other shrubs suitable for topiary are Buxus sempervirens, Osmanthus burkwoodii, Ilex crenata, Sarcococca confusa, Phillyrea angustifolia and Hebe 'Green Globe', suggests Fi Boyle.
7. Bring color or interest to shady spots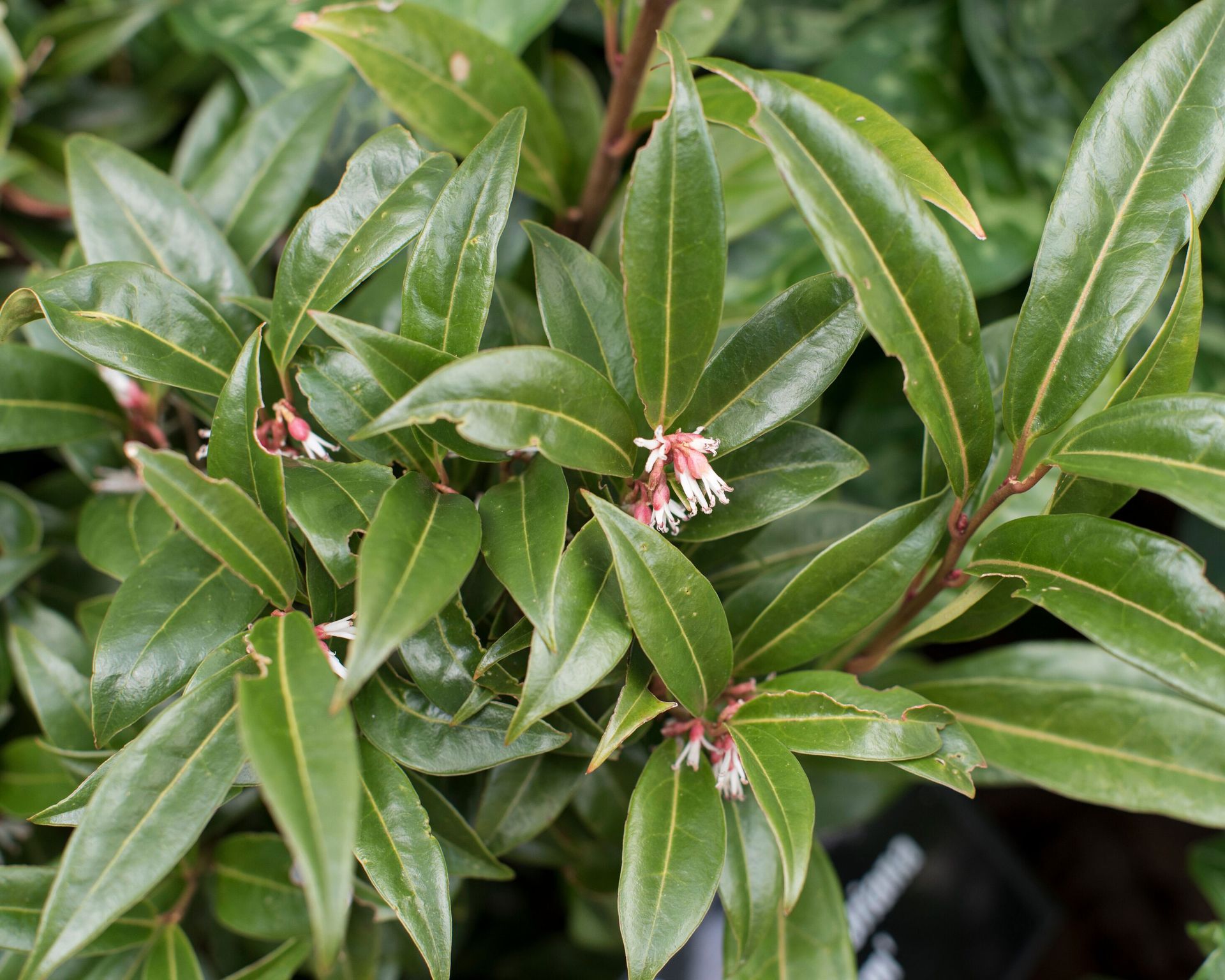 There are many evergreen shrubs for shade that will provide interest throughout the year and help to light up dark corners with flower and foliage color.
Claudia de Yong suggests Daphne pontica or Daphne laureola for landscaping in areas of dense shade. 'Daphnes are slow to start, but once established there are plain evergreen or variegated forms which produce highly scented blooms. They dislike being pruned so choose the site carefully and they prefer free draining soils,' she advises. 
For a good natural shape that requires little maintenance, Fi Boyle champions Viburnum davidii, 'which is much maligned but a useful plant which bears white flowers followed by deep purple/bluish berries, while Aucuba japonica 'Rozannie' is a good back stop and filler where other shrubs will not thrive,' she explains.
'Sarcococca is a more compact shrub and will cope with difficult areas of dry shade, but is also nice used for path edging as a garden path idea, where you'll brush past the sweetly scented flowers from December through to March,' says Harriet Farlam.
8. Add symmetry and shapes with an evergreen parterre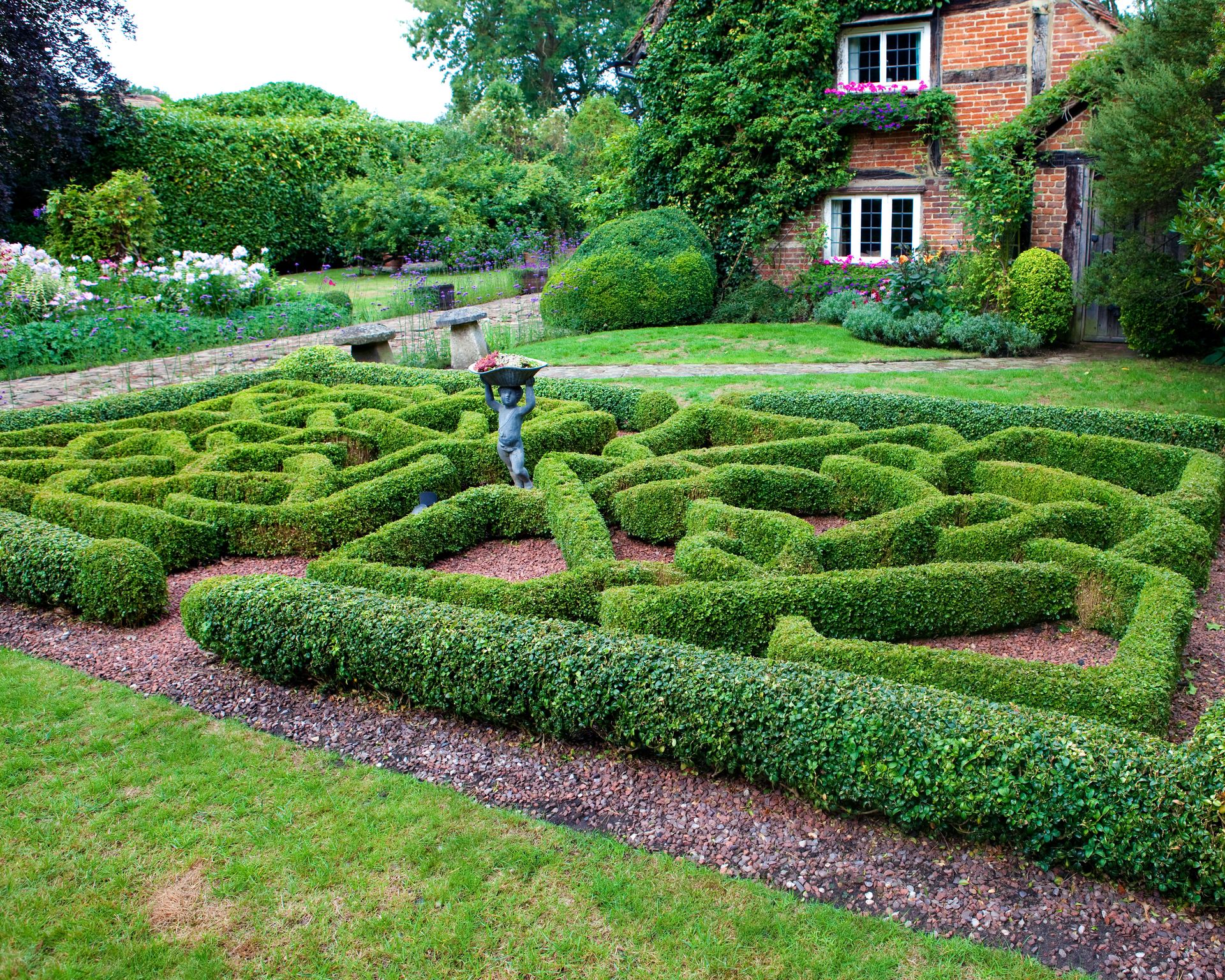 An evergreen parterre garden is a classic way to use evergreens for landscaping.
For creating the hedging for a parterre, buxus is not always a recommended choice due to problems of box blight, but there are plenty of alternatives. 'Try clipped forms such as Taxus baccata, to the more fluid forms of some of the hebes, including Hebe rakaiensis. Ilex x meserveae Blue Maid is another good alternative – bearing small white flowers, which are often smothered in bees and the attractive berries are much loved by blackbirds and thrushes later in the year,' says Helen Elks-Smith.
'Pittosporum makes a good replacement for buxus – P. 'fastigiata' has a good columnar shape and can be used as a specimen in a flower bed; Ilex crenata, Japanese holly grows well in the shade and tolerates clipping tightly into any shape,  while for a low maintenance evergreen shrub, the Euonymus fortunei  cultivars tolerate poor soils, shade and due to their prostrate habit also work well on a north facing wall,' advises Claudia de Yong.
9. Create an exotic feel with evergreen landscaping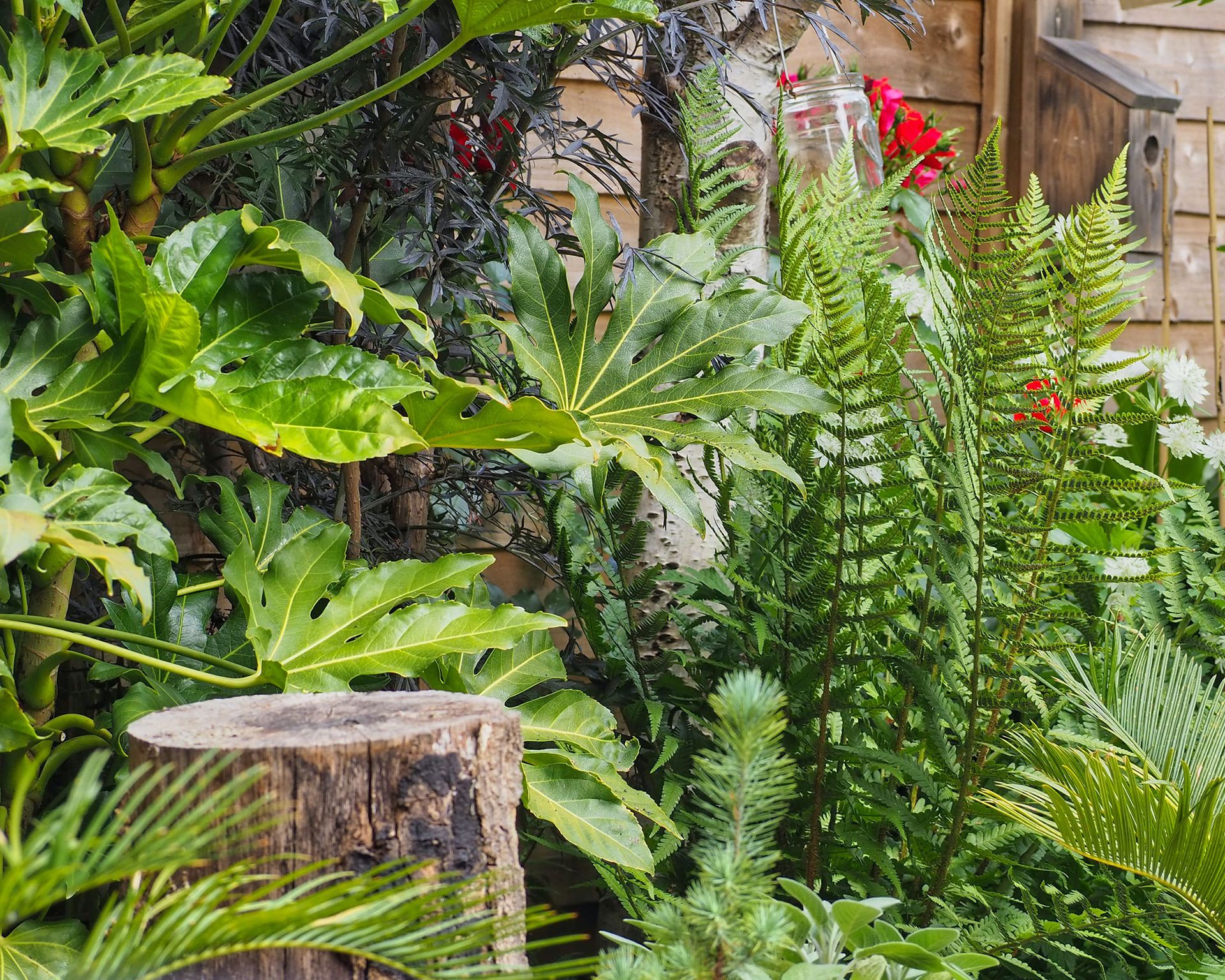 For large leaf coverage and a jungle or tropical garden idea, consider using the open spreading habit of Fatsia japonica for landscaping with evergreens suggests Claudia de Yong. As fatsia copes well in shade, it is also a good choice for a north-facing garden. 'Other evergreen shrubs for an exotic garden scheme include Nandina domestica, which has fiery bamboo like pink/ red leaves that turn green to purple throughout the season, and Pieris japonica 'Forest Flame', with its fiery red new growth in the spring turning a soft pink and eventually green. Make sure you select the right variety as they can grow very large. They are best for lighting up a shady corner,' she adds.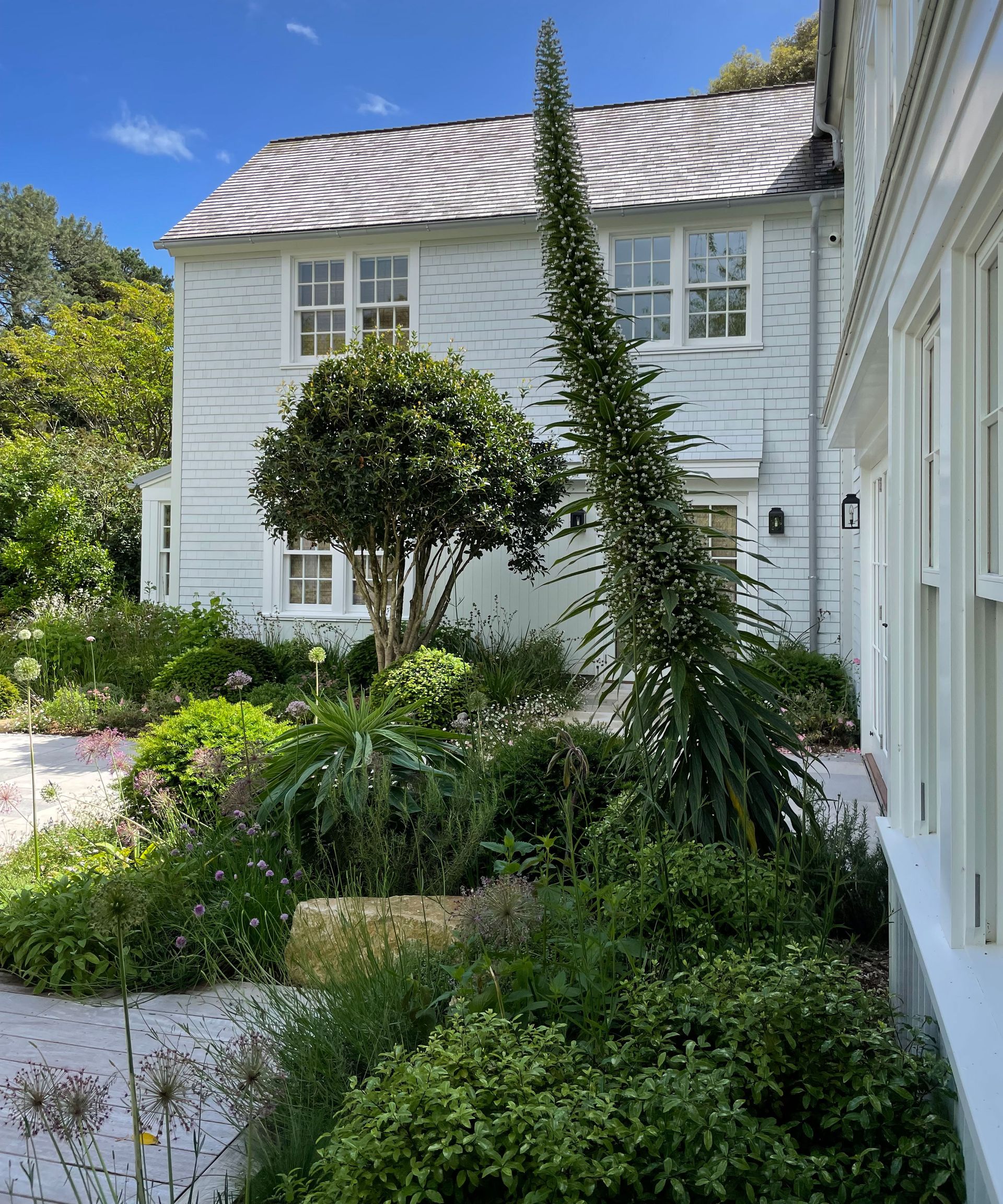 How do you make an evergreen garden?
To make an evergreen garden you need to consider the purpose that each of the plants will serve, and create a well-balanced scheme with a combination of forms.
Mix in a range of shapes, sizes, leaf color and texture, along with flowering and scented evergreens to add different dimensions to areas of the garden throughout the seasons.
Along with evergreen shrubs, there are a host of evergreen climbers that can clothe walls and structures, as well as evergreen trees for height.
As with all planting, ensure you match the right plant to the right place, taking into account the conditions that they prefer. With care and planning, landscaping with evergreens can result in a wonderful and varied garden that will last through the seasons.
Related Posts