bentley home opens first atelier in milan
Located within a palatial, neoclassic architectural masterpiece in Milan, Bentley inaugurates its first furniture showroom – the Bentley Home Atelier – during the city's Design Week 2022. The 500 square meter space, located on Corso Venezia, sets the perfect scene to debut its two new furniture collections. The contemporary setting takes Bentley enthusiasts beyond the car on a sensorial, experiential journey into the future of customizable luxury.
'To have the Atelier in the heart of Milan, which, of course, is the focal point for design, is very special. It is an insanely cool space – just inspirational! It is a reflection of Luxury Living Group's investment in Bentley Home and a testament to what we can achieve together,' begins Brett Boydell, Bentley Head of Design Collaborations, in an interview with designboom at the Bentley Home Atelier.
furniture collections" width="818″ height="545″ src="https://static.designboom.com/wp-content/uploads/2022/06/interview-bentley-home-atelier-milan-furniture-collections-designboom02.jpg" srcset="https://static.designboom.com/wp-content/uploads/2022/06/interview-bentley-home-atelier-milan-furniture-collections-designboom02.jpg 818w, https://static.designboom.com/wp-content/uploads/2022/06/interview-bentley-home-atelier-milan-furniture-collections-designboom02-768×512.jpg 768w" data-sizes="auto"/>
The Bentley Home Atelier debuts an experiential showroom for new furniture collections
All images courtesy of Bentley
'For some time now, there has been a demand from our customers for the elements, quality, and materiality of a Bentley to go beyond the car,' continues the designer. 'Our clients love their cars so much that they want the same interior in their yacht or plane, for example. It became natural to start to seek out how we, at Bentley, could transition to more of a luxury brand rather than solely an automotive manufacturer.'
Stepping from car to showroom, the Bentley Home Atelier in Milan extends the renowned luxurious experience of the brand. Its opening coincides with the debut of two exquisite furniture collections, which add to the portfolio of Bentley Home started in 2013 when founded with Luxury Living Group. The 2022 collection comprises various indoor furniture pieces, each revealing a blend of precious and customizable materials, architectural shapes, and futuristic compositions. Its first ever outdoor furniture range, called Solstice, takes the same dedication for high quality finishes outside. Elegant yet weather-resistant materials celebrate the Bentley experience in open-air living.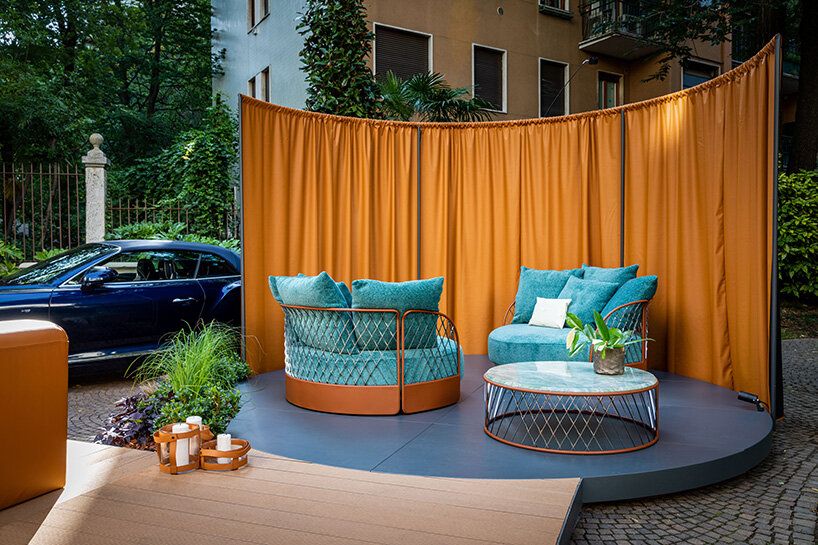 The loveseat and coffee table of the outdoor Solstice collection infuse the matrix grille of Bentley cars
All pieces are co-designed by Bentley Motors' designers in Crewe and Italian craftspeople of Bentley Home. Collaborations continue further as the Solstice collection was created with architect and designer Carlo Colombo. The teams work closely, internally and externally, to beautifully translate the brand's design DNA for furniture that lives at home. Materials, motifs and shapes found in Bentley Motors are present in the products. Solstice christens a 'super-mirror' steel detail that is inspired by the front matrix grille of the cars. It wraps around the sofa, armchair and pouf, and doubles as a decorative structure for the coffee and side tables.
'We are combining the worlds of automotive, furniture, product and fashion design, and the results are unique and at the forefront of possibilities. Together with Bentley designers, I am introducing expertise from 3D development and surfacing to furniture, which, for us, is completely normal when designing the complex exterior of a car but is new to the furniture field. In reverse, Bentley Home is able to tap into a pool of different innovators, engineers, and materials, especially in Italy as the design studio is located in Forlì, Italy. They experiment and realize radical ideas that then pushes our automotive designs. This works both ways between Bentley Home and cars. It is the power of collaboration,' remarks Brett.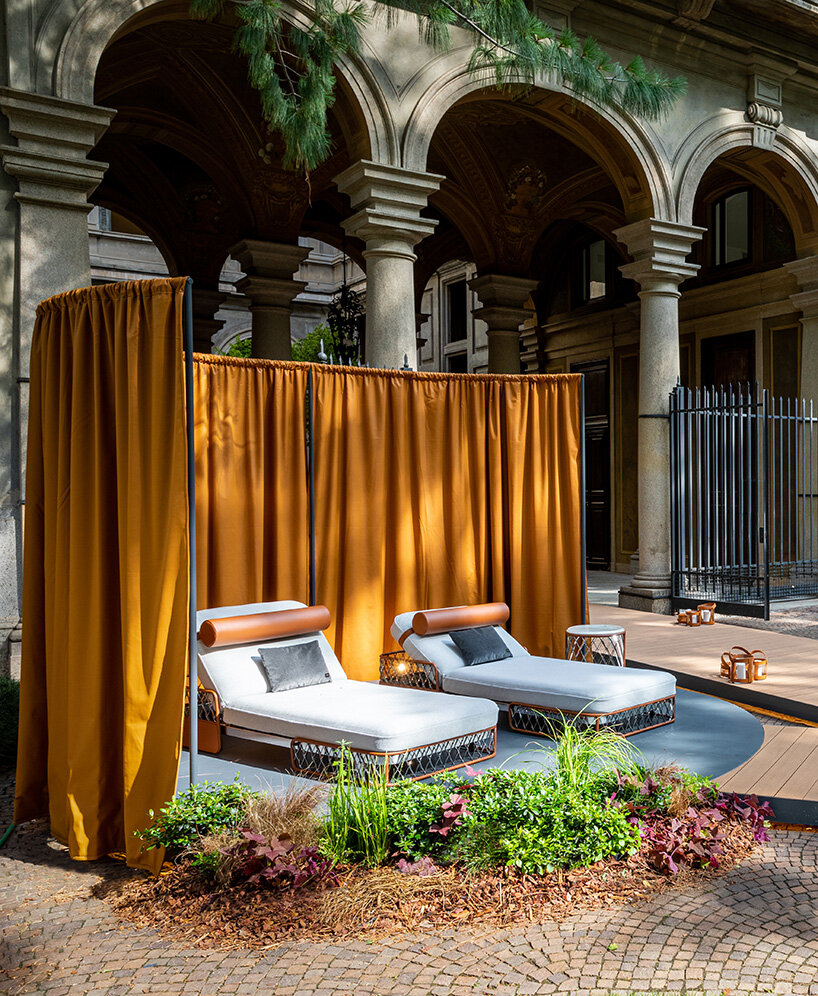 Solstice sunbed layers high quality, luxurious yet durable material choices
'Bentley Home is connected to our automotive side but is much more agile than the cautious and complicated process of developing cars. It is five years in the future. Our new furniture is almost revealing some design cues that people will see in our motors in the years ahead,' hints the designer. 'We still design the furniture with the same ethos: timeless in style, high in quality, and longevity for materials. It is definitely not quick and fashionable, but the products allow us to experiment, gage clients' response, and translate and feed back into our cars. For instance, materials like the outdoor hemp or the recycled marble textile are being tested for applications in our cars.'
The layering of high quality materials is synonymous to Bentley. Its exclusive MARM MORE ® fabric, which is made from waste marble powder, exemplifies this as well as Home's ability to experiment. It pushes the possibilities of sustainable material innovation whilst still evoking a sense of luxury. Similarly in the Solstice collection, the new Colwyn hemp fabric takes elegance to the extreme outside with durability and weather resistance. The boundaries of their design is stretched further through collaborations with new designers, artisans, and engineers. The Ramsey lighting pieces take the diamond motif from the quilting inside the cars to be engraved into Murano glasswork, for instance. The pattern continues through to the sculptural Stirling mirror, designed with Francesco Forcellini, where the silver alloy option is processed by hand as if glassworkers from the mid-20th century.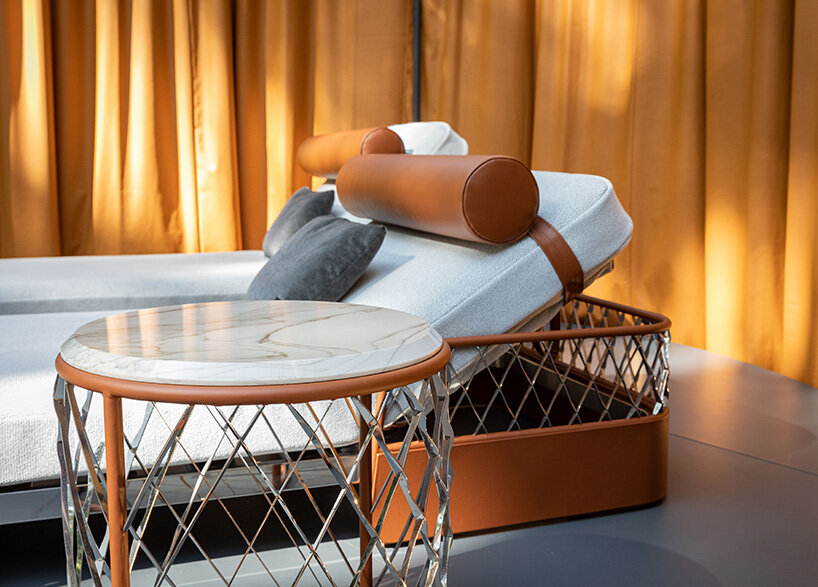 Customers can personalize pieces with a choice of materials, finishes and colors, such as the marble tops for the Solstice side table
The Bentley Home Atelier also showcases the focus on personalization within the collections. Clients are able to customize the furnishings to fit their homes, in a similar process as the cabin of a car: choice of fabrics, finishes and colors. Each design facilitates a wide range of options, even the use of velvet, chenille and satin treated especially for outdoor use. The expansion of not only the different furniture collections but customizable options will strengthen as Bentley Home continues to collaborate with Luxury Living Group, external designers, and even architectural firms. Together with Dezer Development and Sieger Suarez Architects, the brand is scheduled to build, furnish and tailor a 70-story, 216-apartment Bentley Residences tower in Miami, Florida by 2026. Like the furniture pieces in Bentley Home's new collections and Atelier, it is an extension of the luxurious Bentley experience beyond the car.
'The Bentley Home products will furnish Bentley Residences like the tower we are designing in Miami. This project will have its own specific range of furniture. Our pieces can work in commercial spaces but our focus is much more on the home of our customers. We want the Bentley experience to continue once they have driven and stepped into their home. The future of luxury is the extension of experiences. Bentley's derives from all senses, tactility, and therefore materials. The future of Bentley is as a luxury brand rather than just a car manufacturer,' concludes Brett Boydell, Bentley Head of Design Collaborations, to designboom during Milan Design Week 2022.
Related Posts