Bright Custom Homes brings its high-end design style to The Island in Rock Lake Estates
Newest Island builder joins luxurious northwest estate community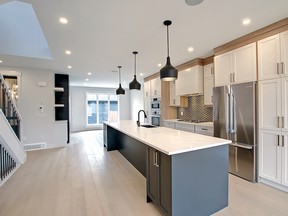 Article content
Recognized as one of Calgary's most luxurious estate communities, Rock Lake Estates boasts an idyllic landscape of 32.5 hectares teeming with lakes, natural spaces and wildlife. Nestled in the city's northwest near Country Hills Boulevard and Rocky Ridge Road N.W., the broader community is made up of The Summit and Five Lakes — the latter of which is excited to introduce its newest Island builder, Bright Custom Homes.
Article content
"Moving from inner-city development to Rock Lake Estates means we can bring the versatility and high-end finishes we're known for to the suburbs," says Sukhman Mahal, builder representative at Bright Custom Homes.
Nearly 80 percent of the homes in Rock Lake Estates border one of the area's lakes, whereas the bank of 14 Island homes — ranging in size from 2,000 square feet to 3,200 square feet, excluding basements — are contained within the community of Five Lakes itself. Of these 14, Bright Custom Homes has four lots available, and they'll soon be starting a spec home on one.
And since the team at Bright Custom Homes has predominantly built in Calgary's inner city, they're familiar with maximizing every corner of space available. Taking advantage of the minimum 2,000 square feet, plus the optional legal suite in the basement or above the garage that's unique to these Island homes, gives them plenty of room to create beautiful, customizable homes without any wasted space.
Article content
"The more compact homes have taught us how to use every square foot and determine where we need more space and where we might have too much, helping us to not leave any functionality on the table," explains Mahal. "The same goes for finishes. With our experience, we've narrowed in on where it makes sense to splurge versus what parts of a home can be finished with more basic materials while still maintaining design integrity and quality."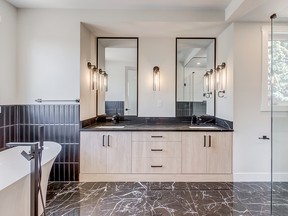 All of the Island homes in Five Lakes are built with a detached three-car garage, which allows for an above-garage 800-square-foot legal suite containing up to two bedrooms and one bathroom. Both the garage and basement suites are optional, but the supplemental income that they can bring in — while still maintaining privacy and adequate parking space — is what makes them so desirable, says Mahal.
Article content
Moreover, Bright Custom Homes can design a breezeway to connect the home and garage at ground level, thus creating a courtyard of sorts that offers plenty of privacy.
"The breezeway adds the accessibility advantages of an attached garage but with the functionality and open front elevation of a detached garage," says Mahal. "Plus, it can be heated and up to eight feet wide, allowing for tons of storage options, a built-in mudroom and more."
Bright Custom Homes is known for not just their incredible design capabilities, but also their ability to simplify the process so that customers can receive first-hand advice.
"Design is a big puzzle where everything from wall colour to lighting fixtures needs to complement each other, therefore we always recommend that each client works with one of our experienced interior designers to make their unique vision come together," says Mahal. "It can make the selection process less stressful and ensure the home finishes are timeless for years to come."
Pricing for these Island homes in Five Lakes starts in the $850,000s.
Additionally, the final phase of estate lots in The Summit at Rock Lake Estates are in the pre-sale stage, meaning now is the best time to lock in price and interest rates. Lots range from 0.20 acres to 1/3-acre, and homes start at $1.3 million.
For more information about both the Island homes at Five Lakes and the pre-sale at The Summit, visit RockLakeEstates.ca.
This story was created by Content Works, Postmedia's commercial content division, on behalf of Decker Management.
Related Posts