More and more people are getting into gardening these days, and who can blame them? Gardening as a hobby lets us get more vitamin D and helps with our mental and emotional wellbeing. It's also a form of exercise and can be a bonding activity between loved ones. There's no better time to start one than right now.
We're all familiar with traditional gardens: they are awesome spaces to stay in and perhaps remind us of our childhood homes. But if you want to create something slightly different – specifically contemporary garden designs – you've come to the right place! 
What is a contemporary garden?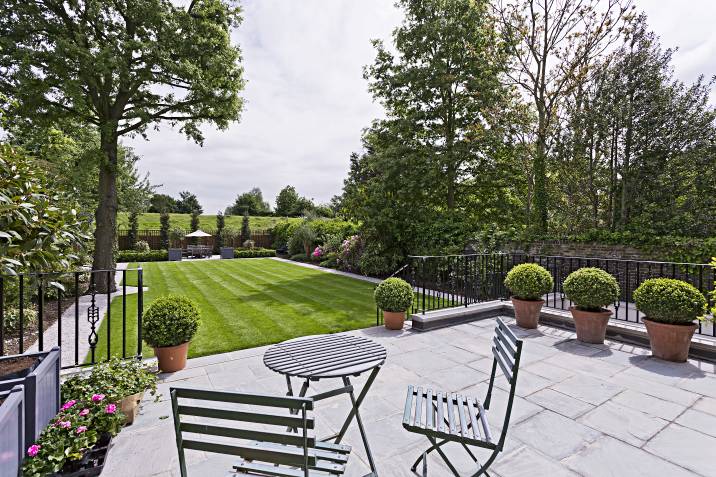 When discussing contemporary gardens, think less is more: minimalist and low maintenance. Contemporary gardens usually feature stone, hardwood, or steel materials. They also employ the use of sleek planting patterns and geometric shapes. 
Contemporary gardens have fewer plants, colors, and accessories than traditional gardens. A contemporary garden design is best suited for residential properties. It tends to be confused with modern garden designs, which are similar but more suited to commercial properties and businesses. 
How do you create a contemporary garden?
The materials you'll need for contemporary gardening are largely similar to when you want to go into traditional gardening. You'll need seeds, soil, pots, a water source, and more. 
But the most important thing to remember for contemporary gardens is this: Planning your landscape is key. Every planter, piece of furniture, and decoration should all work together to create a sleek, minimalist space that you and your loved ones can enjoy. Scroll down for some aesthetic ideas! 
Contemporary garden design ideas
1. Opt for a contemporary, sloped garden design. 
This is applicable for gardens on uneven landscapes such as hills or slopes. Designing sloped gardens can be a bit tricky. Still, you can embrace this unique feature of your space by building a retaining wall, creating a terrace for your garden, or adding some stone steps.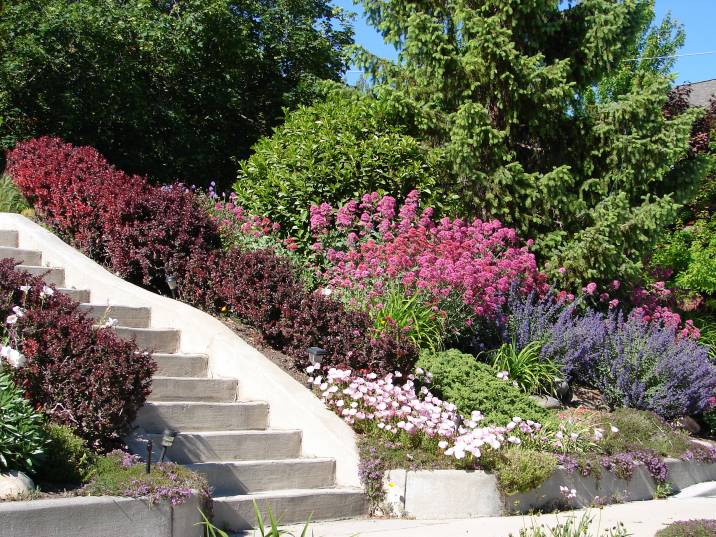 2. Use a few large containers instead of small, mismatched ones.
Everything must look organized, in line with contemporary gardens' sleek style. No room for clutter here! Trade your quirky plant pots for more toned-down, structured, and geometric styles.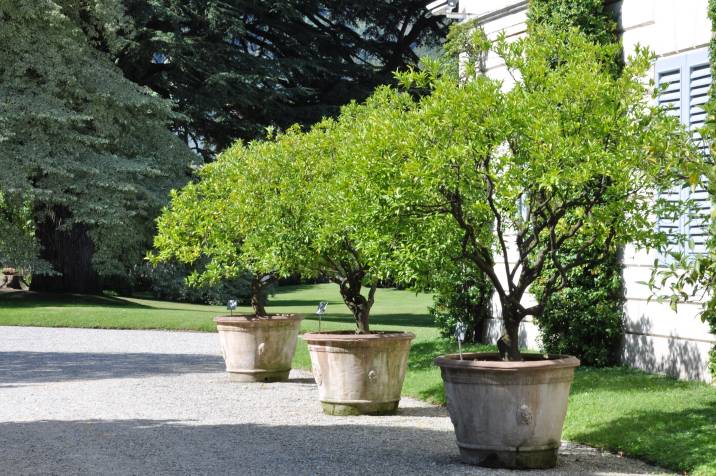 3. Use white plant pots. 
Looking for more minimalist contemporary garden designs? A white and green color scheme is the key to getting that fresh, inviting atmosphere. For an added touch, you could also choose all-white furniture.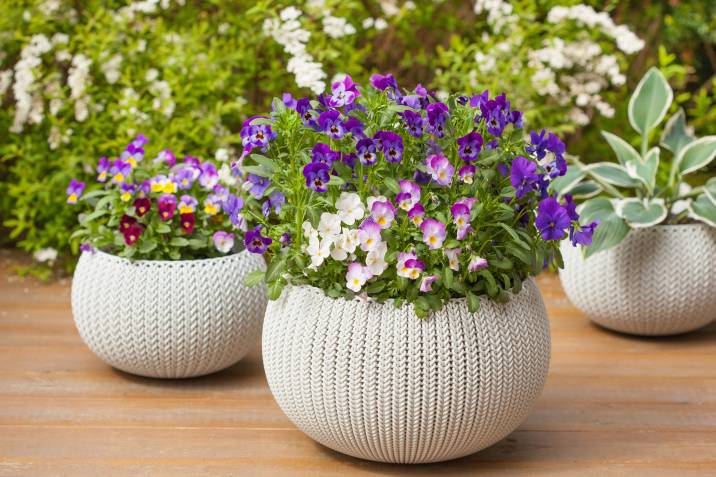 4. Use natural materials. 
Make use of wood and stone for that polished look!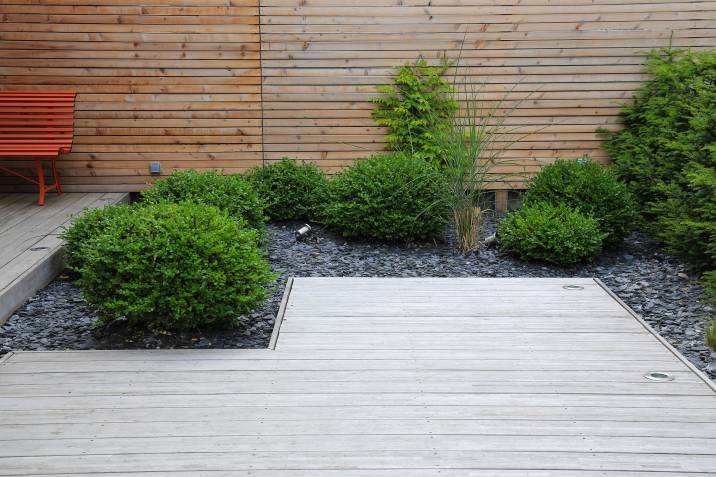 5. Choose architectural plants. 
If you're wondering what plants to grow in your contemporary garden, architectural plants, also known as "structural plants," can help add focal points to your space. Some contemporary garden plants that fall under this category are: 
Ornamental grasses 

Elephant Ear 

Horsetail Reed

Yucca

New Zealand Flax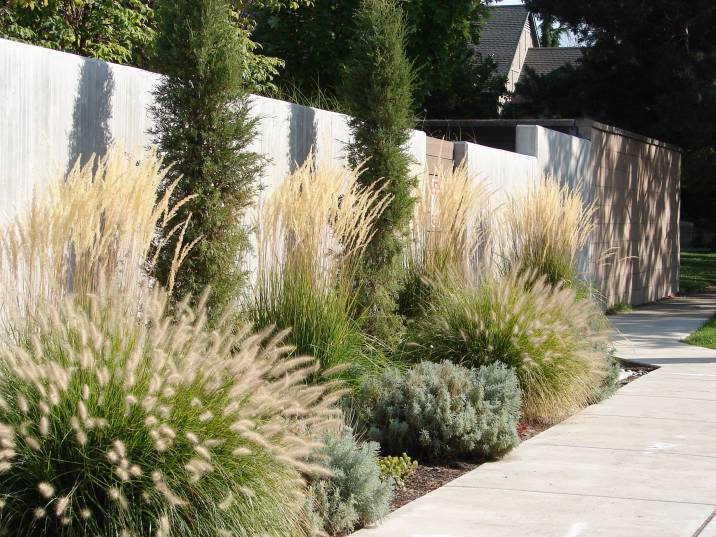 6. Decorate your garden with topiary. 
Topiary in your lawn adds an artistic feel to your contemporary garden. These shrubs or trees are clipped into clearly defined shapes for that contemporary look!  
Plants commonly used in topiary include:
Boxwood Bushes 

Lavender Trees 

Ivy 

Privet Shrubs 

Laurel Plant 

Rosemary Bushes 

Yew Bushes 

Cypress Bushes 

Japanese Holly Plant 

Dwarf Alberta Spruce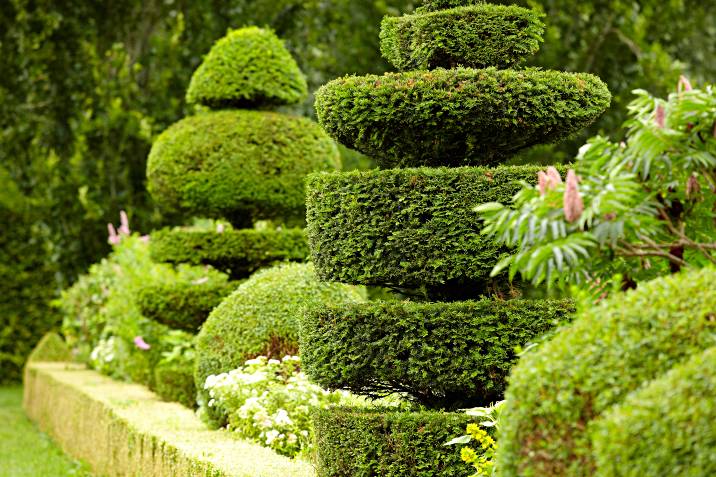 A garden hedging specialist can trim your hedges into intricate shapes and help you achieve elegant topiary in your very own garden.  
7. Incorporate evergreen screening.  
Want some privacy in your contemporary garden? Bamboo is an ideal plant for just this purpose! They can be used as hedges or barriers for your garden because of their height. Bamboo varieties commonly found in gardens include: 
Alphonse Karr

Giant Buddha's Belly

Chinese Dwarf Bamboo

Timor Black Bamboo

Golden Goddess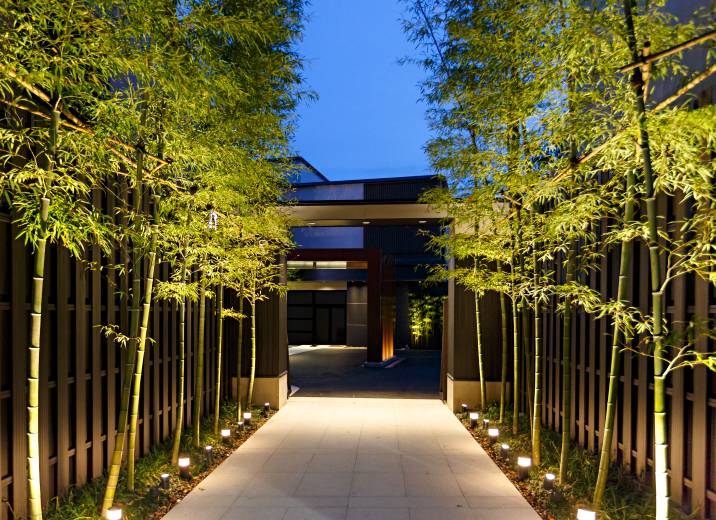 8. Make use of clean lines and shapes.  
You'll want your contemporary garden to be clean, understated, and uncluttered. Garden borders, furniture, and pathways should fit this description, too.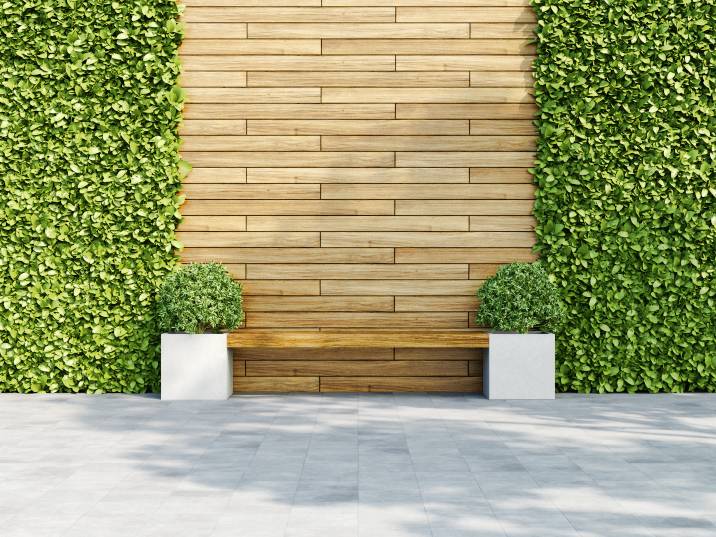 9. Add in a sculpture or two. 
Since every aspect of your contemporary garden should have a purpose, select your decorations and sculptures carefully! Your chosen sculpture should have a story and can even become a conversation starter for when guests come over.   
10. Set up a water feature. 
How do you make a boring garden interesting? Add a water feature! It could be a small pond, a fountain, or a decorative pool. Water features also help make your space more relaxing and inviting.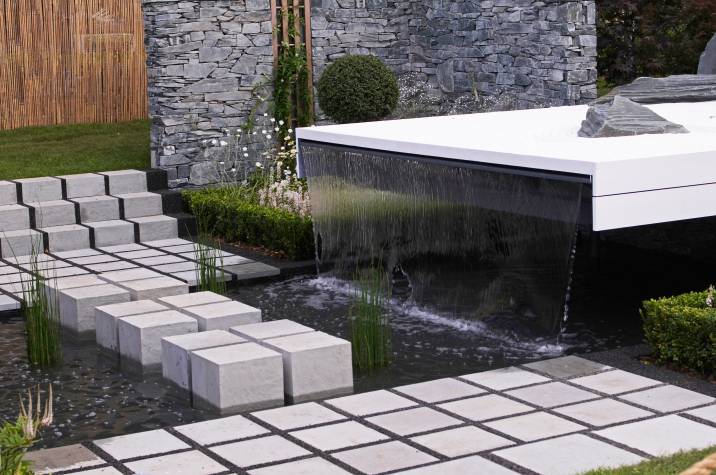 11. Put up outdoor lighting. 
Outdoor lighting highlights structures in your garden, such as your water features and sculptures. Lights will also help you navigate your way through the garden at night. You could pick between motion sensor lights, accent lights, pathway lights, spotlights, and wall sconces.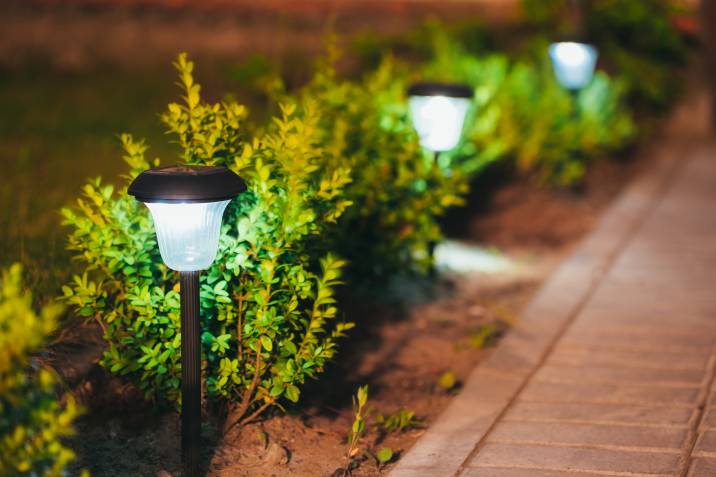 12. Install a fire pit. 
If you'll be spending more time in your contemporary garden during the evenings, why not select a fire pit as the center structure? It could be the perfect space for you to entertain guests and hold special family events.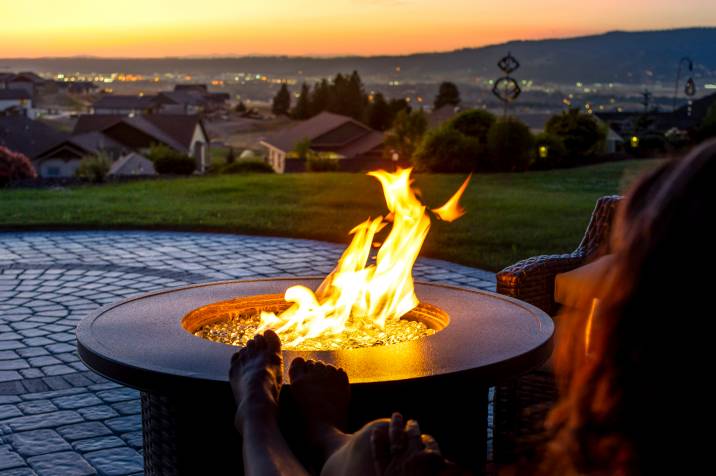 13. Build a gazebo. 
Speaking of having people to entertain, you could set up a gazebo at the heart of your contemporary garden! It could be large enough for a couch and table or just small enough for a person to rest from walking and get some shade. Structures similar to gazebos include pavilions, pergolas, and pagodas.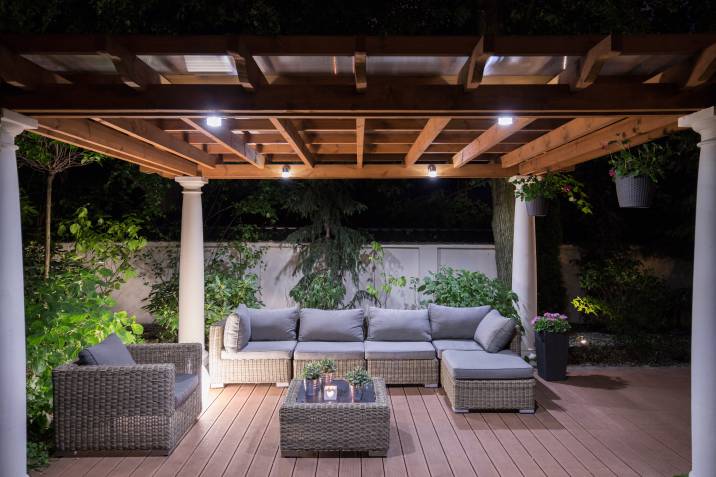 14. Add a wooden deck. 
Looking to upgrade your contemporary garden? A wooden deck can serve as the focal point of your garden, an al fresco dining area, or a pathway to get from one point of the garden to another. 
15. Incorporate pebbles.
Depending on your planned landscape, pebbles could be used as a border between your garden's flower bed and grass. You could also add pebbles to your garden's pathway.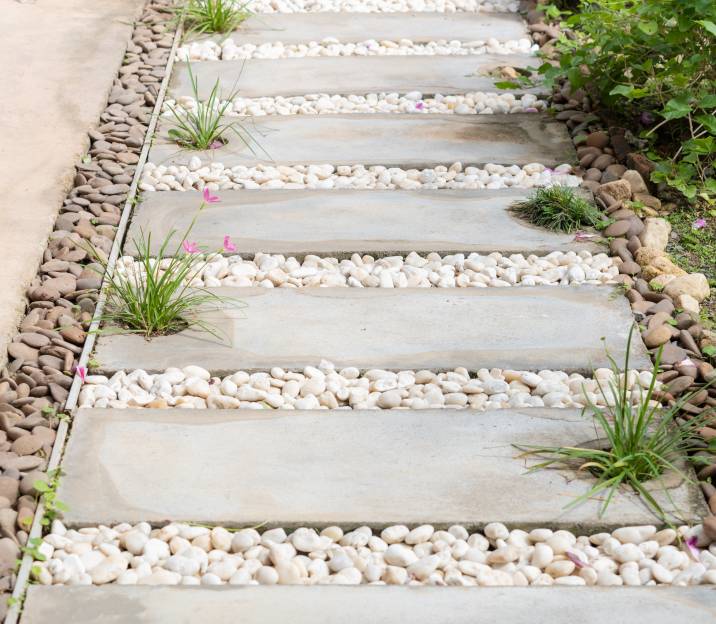 16. Make use of decorative mirrors.  
Mirrors are useful for making small contemporary gardens seem bigger, brighter, and airier. Just ensure that your garden mirror's location is not somewhere birds are likely to fly towards, as mirrors can confuse them.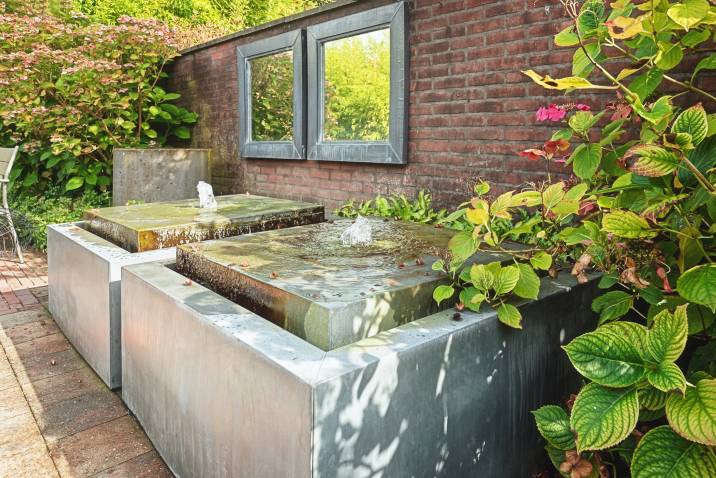 17. Set up an outdoor cinema. 
Since your contemporary garden is already a relaxing part of your home, why not set up your own outdoor movie nights every once in a while? Invest in a portable projector, spread some blankets and cushions around, prepare some snacks, and be all set.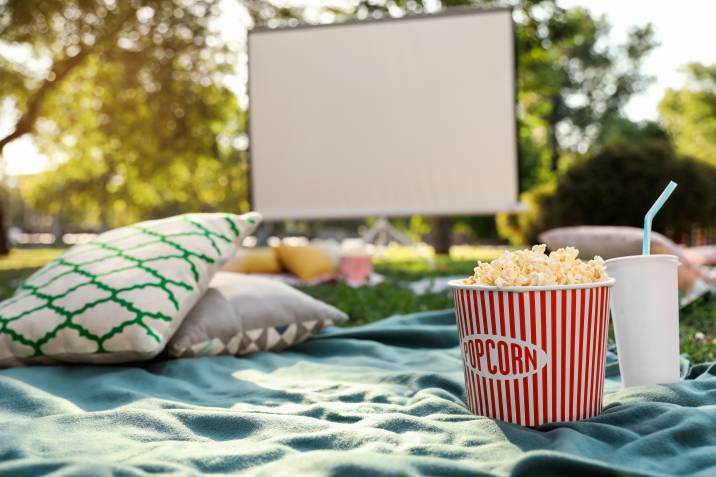 We hope these contemporary garden ideas have inspired you to revamp your own outdoor space. The possibilities are endless! Setting up your contemporary garden can be less intimidating and arduous with the help of a garden designer. Simply prepare inspiration photos of your contemporary garden and let your gardening professional do the rest. 
Related Posts