Let us show you how to plant yourself happy with sensory garden ideas that will stimulate all the senses.
Sensory gardens are intimate outdoor spaces filled with enticing sounds, scents and textures, designed to delight. All gardens provide sensory experiences, but garden ideas with sensory at their heart will have a concentration of different elements that stimulate the five basic senses of sight, sound, touch, smell and taste. 
These gardens are sometimes stimulating, sometimes calming, and offer tangible, visceral experiences that can evoke emotions and aid relaxation.
While sensory garden plants are for everyone, they are particularly beneficial to children, and those who are disabled or suffering with mental health problems.
Sensory garden ideas
Be inspired by these ways to design a sensory garden – and advice from the experts –  create a yard that both soothes and captivates.
1. Turn your space into a wildlife garden
A cleverly planted border can create a stunning focal point as well as a magnet for wildlife. If you find something you like, repeat the planting to create a sense of uniformity. Avoid planting in rigid layers by mixing things up, such as trying tall airy plants at the front of the border to create a veil-like effect. 
Even the smallest terrace or courtyard can be transformed into a wildlife-rich garden. Plant foxgloves and lavender in borders as they are a magnet for nectar-seeking bees. The inclusion of natural rustic elements like wood piles and bird baths, plus choosing the right plants, will help to attract birds, butterflies and bees to your yard. 
'I'm passionate about feeding garden birds and even more so when I can grow plants and seeds which they feast on directly,' says plant expert Sarah Raven (opens in new tab). 'The ornamental grass panicum is a new-found favourite of mine. It looks good all summer and provides an endless feast for goldfinches and blue tits.'
2. Add the sound of water for tranquility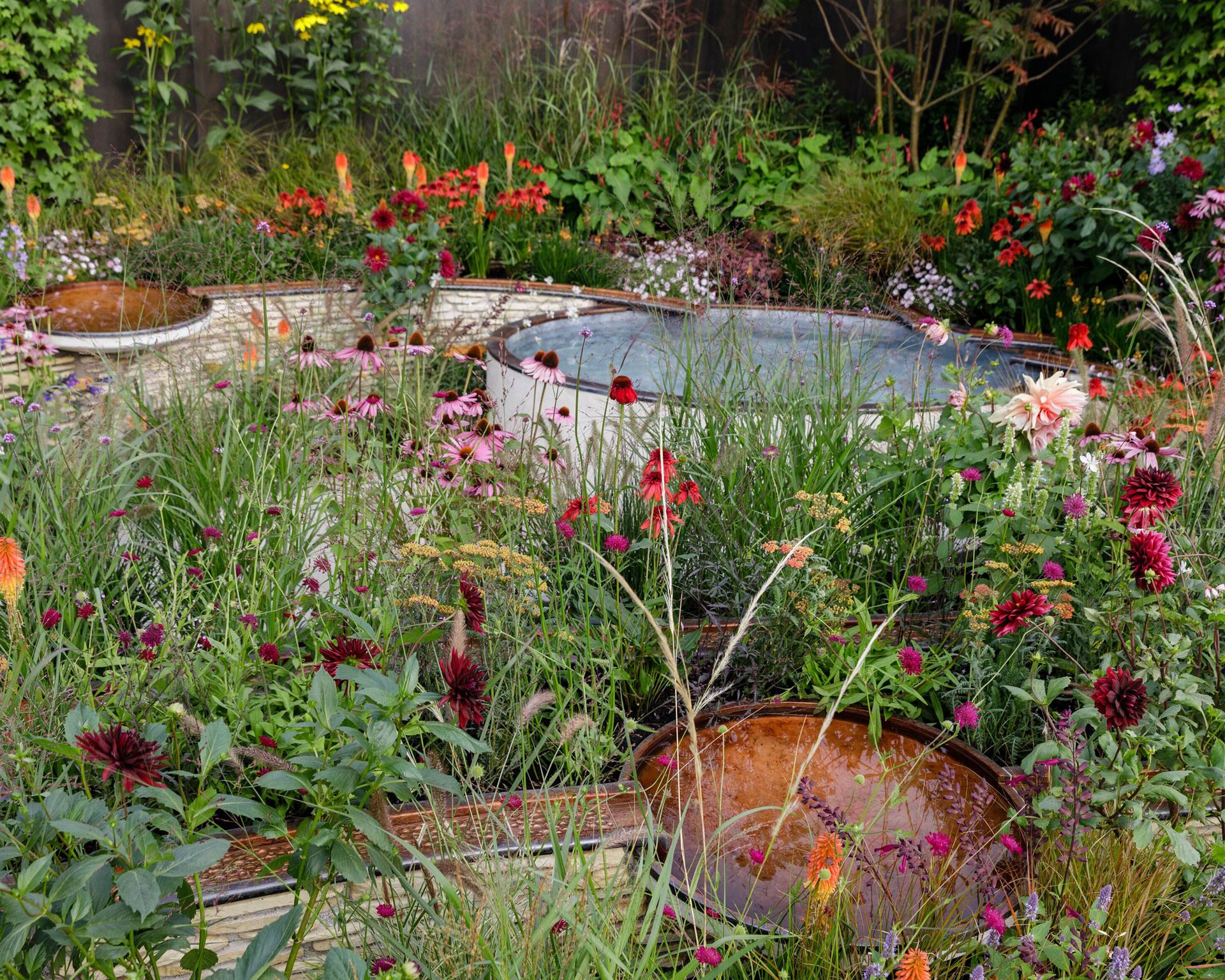 If you love the idea of creating a sensory garden, a pond is a must as it's one of the best places to immerse yourself in the soothing sights and sounds of nature. Introduce a garden pond and it will soon become a favored spot for quiet contemplation. 
The design doesn't have to be complicated. A modern reflection pool, often accompanied by a water blade or rill, will work well. For small yards something smaller like a freestanding stone or concrete basin is a good choice. If informal backyards are more your thing, a natural pond will sit well in the space. 
In this design the sounds of the water work in tandem with the warm palette and soft textures of the planting to create a truly immersive experience. 'It was really important to ensure that the sound of water was relaxing, so that you could hear the calming sound from anywhere in the garden,' says designer Naomi Ferrett-Cohen (opens in new tab). 'I wanted to make sure the rest of the garden was designed to fit in with the water feature, setting it into an area of planting for a feeling of tranquility.'
3. Get the planting mix right 
Plants with interesting textures and shapes are key. Try including a mix of contrasting forms to create visual interest. Towering spires of flowers work well juxtaposed with low mounds of feathery ornamental grass, for example. Although opposites in terms of texture and shape they knit together well.
'In this design Mexican feather grass (Stipa tenuissima) works well along the front of the border and is so tactile you want to bend down and stroke it,' says Åsa Gregers-Warg, head gardener at Beth Chatto's Plants & Gardens (opens in new tab). 'The muted tones and hair-fine foliage provides the ideal foil for taller perennials. Here it's teamed with the burnt-orange spires of Eremurus 'Cleopatra' (foxtail lily).' 
Hazy blue eryngium (sea holly) with its spiny rosettes of flowers introduces another interesting shape.
Ornamental grasses are key to creating borders like this. 'They are versatile and require little maintenance while providing movement and beauty across the seasons,' says Åsa. 'They can either be used as punctuation or as a swathe into which other plants can be interwoven.' 
4. Choose textured surfaces for their tactile qualities
Consider contrasting ribbed and molded finishes with smooth surfaces to add an interesting tactile element to your garden design. Textured wood can be contrasted with smooth paving, for example, to create a striking juxtaposition.
The bespoke wooden screen in this garden design takes center stage. Made of Sussex-grown sweet chestnut, it invites exploration. 'This garden is meant to be tranquil, relaxing and inviting. I want people to look at it and think "I just want to sit there,"' says Amelia Bouquet (opens in new tab) of this garden she designed in support of Mental Health UK (opens in new tab). 'Getting into green spaces is so important for our wellbeing.' 
Rustic woodland planting enhances the secluded seating area. The ferns, hostas, astilbes, brunneras and delphiniums provide rich foliage interest, even when not in flower. Smooth paving is interspersed with waves of the plant mind-your-own business (Soleirolia soleirolii) to create textural contrast. 
5. Design the layout for an immersive experience
The design of a sensory garden can feature separate zones to stimulate individual senses at different times, or be a multi-sensory mix where everything is enjoyed simultaneously. 
It should ideally include an area designed to entertain friends, where you can dine alfresco and enjoy the sights, sounds and scents close up. Meanwhile an outdoor kitchen should sit alongside fragrant herbs and vegetables for easy access. Think of the layout in terms of creating zones of enjoyment. 
A well-placed table and chairs is an invitation to spend time relaxing in the yard. The sculptural qualities of this eye-catching wooden set fit perfectly with the naturalistic planting aesthetic. A tumble of flowers spill from tiered planters constructed in aged brass. These raised beds make the planting accessible, which is ideal for brushing against the foliage and enjoying the scent.
6. Take a moment to pause
Every garden needs a comfortable place to sit, somewhere you can enjoy being immersed in all it has to offer. The materials and textures of seats can add to the tactile experience of the garden, offering a restful interlude. 
Comfort is often overlooked in favour of design but it's key to your enjoyment, offering a chance to pause. Choose elegant seats that are low level, modern in design and made of natural wood and with deep cushions. 
Colors are best taken from a simple tonal palette that's chosen from nature. It's another way of introducing textures into the fabric of the garden, too.
7. Use ornamental grasses for landscaping
Handsome architectural grasses add texture to the yard for a naturalistic effect. Rhythmic planting of airy grasses creates interest all year round, adding an understated elegance in a range of eye-catching colours, everything from rich gold and luminous silver to inky black and zingy green varieties. 
The trick is to plant one type of grass in a big loose block to maximize the impact. The rippling grass becomes the star of the show, a blaze of bright foliage, plumed flowers and interesting seed heads. 
Grasses are good for landscaping, too, especially when combined with water. 'We often integrate ponds in a way that adds visual impact so they feel intrinsic to the character of the garden,' says Harriet Farlam, creative director of Farlam & Chandler (opens in new tab).
'In this garden we chose materials to edge the pond that connect to other garden areas, with the periphery softened with a generous gravel border, spot planted with Angel's fishing rod and Stipa gigantea, which overhang the water and move in the wind, creating a space which is really sensual and immersive.' 
8. Plant fragrant lavender in borders
The scent of lavender and the soothing buzz of bees hovering over the flowers on a summer's day are a heavenly addition to the yard. Plant lavender near a path or doorway so you can brush your fingers through the scented bushes as you pass by. It will fill your garden with fragrance and color all summer long.
Set the scene by framing doors and windows, both front and back, with pretty lavender borders. As you walk up your path one of the most welcoming sensations on arriving home is being hit by a waft of delicious fragrance so lavender borders will give your entrance the standout factor. 
The best variety to choose is English lavender (Lavandula angustifolia), which is strongly scented, and covered in masses of purple-blue flowers with silvery-grey leaves. Favourite varieties include 'Hidcote' and 'Munstead'. French lavender (Lavandula stoecha) have flowers that are a different shape to the English varieties, topped by pretty feathery tufts, but their scent is not as strong.
9. Add the soothing trickle of water
Even the most simple design can bring pleasure. Of all the garden features, water is the most fascinating. It captivates with its movement, reflections and gentle sounds, bringing an appealing mix of new sensations. 
This eye-catching simple circular water feature is composed of a raised metal pool with two pipes delivering trickling water that introduces a note of tranquility to the yard. 
The dark gravel around the pool is planted with lush ferns and grasses to layer up interesting textural details, and the combined effect is appealing to all the senses in complementary ways.
10. Use reflections to enhance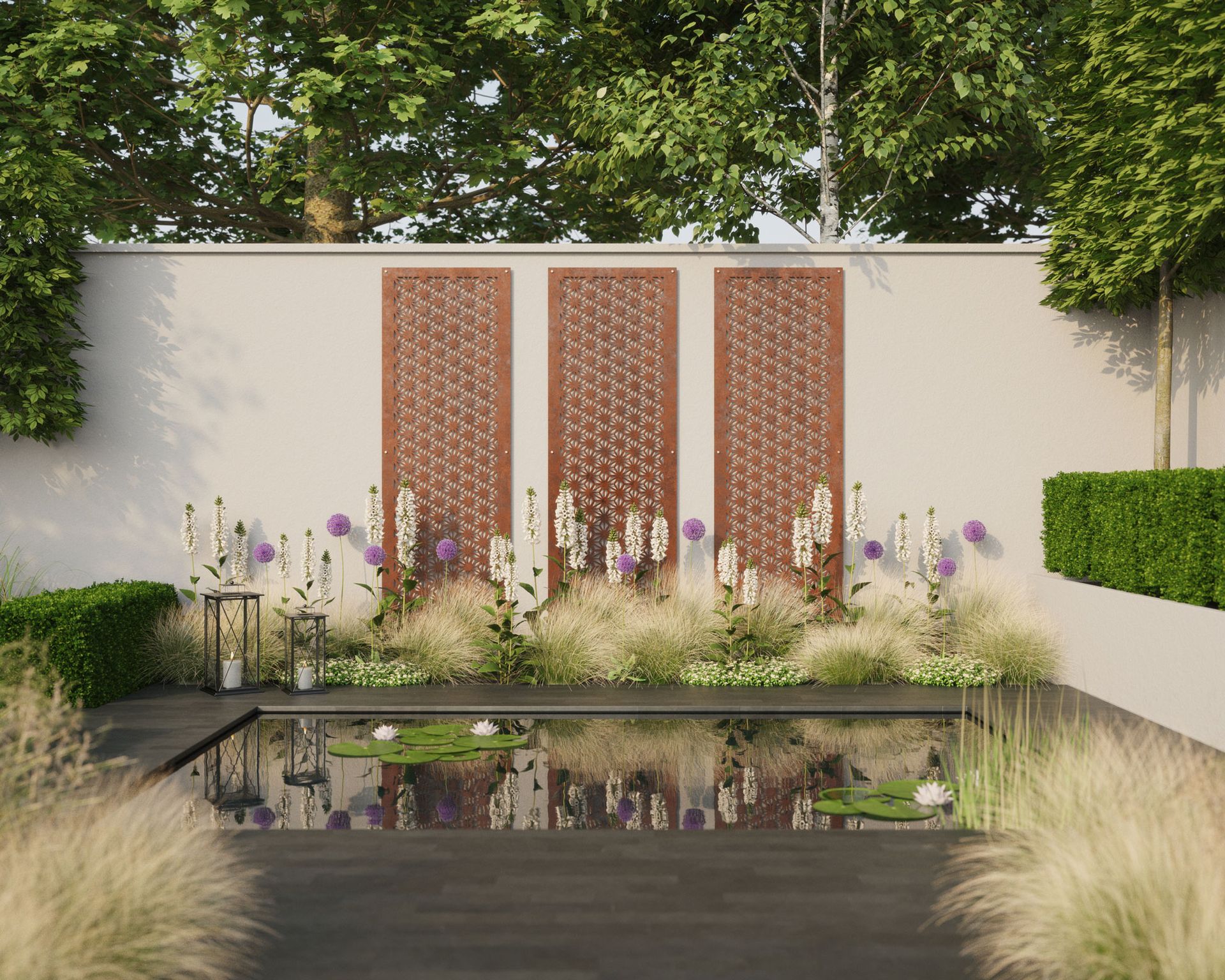 A tranquil setting, characterized by straight lines, simple shapes, subtle lighting and a coherent layout, provides a comfortable light-filled space for retreat from modern-day life. The reflections add a magical element to the water, helping to create the feeling of a sanctuary.
As well as letting you divide the yard into smaller and more intimate areas, some decorative screens can be considered works of art in themselves. Hang them where they will be most appreciated. 
By introducing a different material, such as Corten steel, into a design filled with plants and water, you add exciting textured accents that heighten the drama. Metal also adds gleam and reflection to an otherwise matt series of surfaces such as the wall and deck. 
Gardens like this one are successful in combining all the various elements needed to create a truly immersive sensory experience.
11. Pick the best plants for a sensory garden
Aromatherapist Nicolle Mitchell (opens in new tab) believes herbs can have real effects on the body and mind when their scents are inhaled. For example, she says, rosemary can ease fatigue and help you focus; and lavender can help induce sleep and ease depression, making these excellent plants to choose for a sensory garden.
12. Use scent to relieve stress
As well as the benefits mentioned above of rosemary and lavender, Kathi Keville, author of The Aromatherapy Garden (opens in new tab), describes the scientific case for the relaxing, stress-relieving scents of herbs including chamomile and marjoram; the stimulating aromas of basil, peppermint and sage; and the surprising passion-invoking properties of liquorice-scented plants, among others. 
13. Consider the seasons when planting for a sensory experience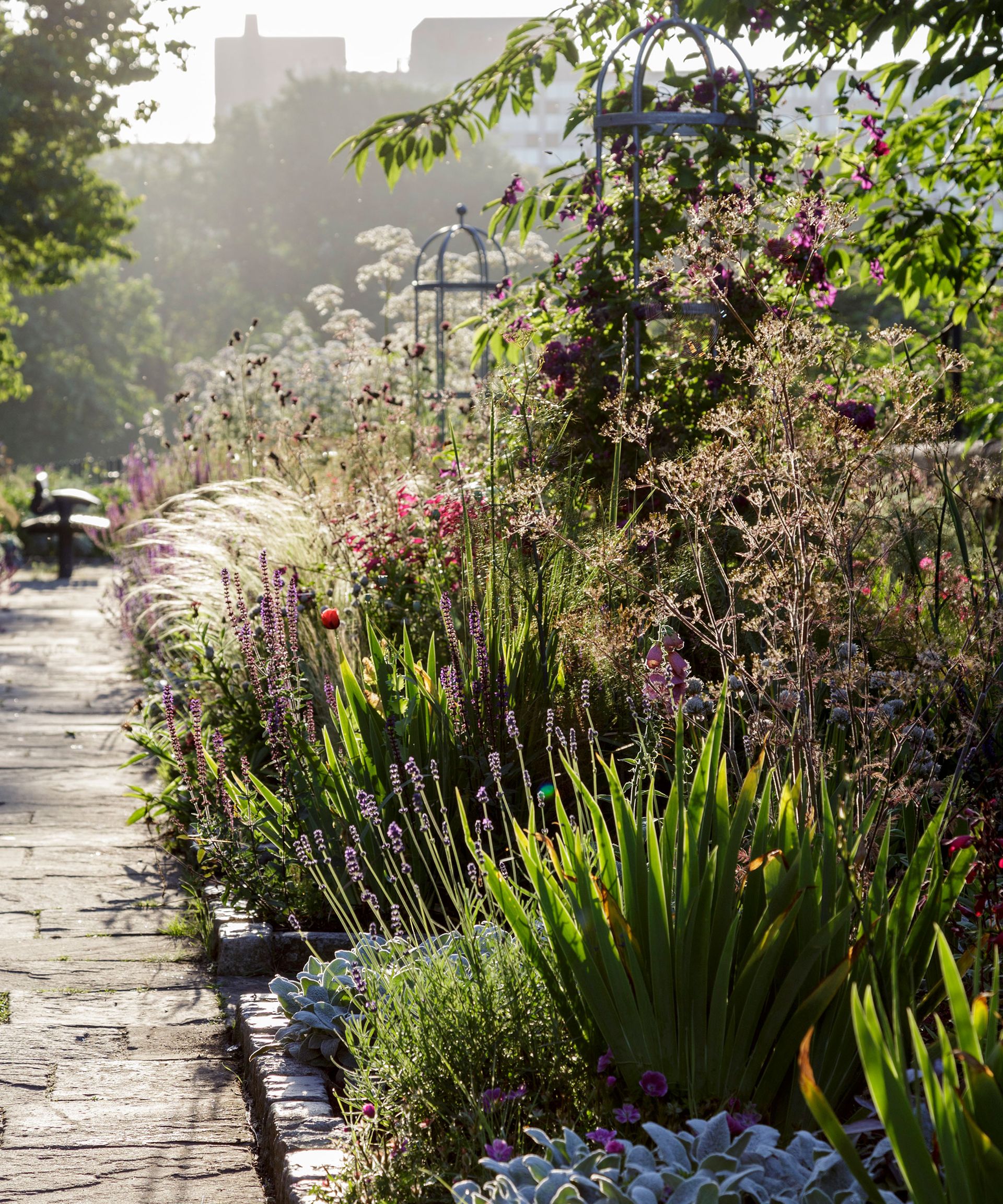 There are plenty of other fragrant plants to consider apart from herbs. Catherine Cutler, who created the Perfume Garden at The Eden Project (opens in new tab) in Cornwall, recommends thinking about the seasons and including something for every time of year. 'Some of the best scents come in winter,' she explains, 'such as the shrub daphne 'Jacqueline Postill'. For flower scent, try sweet peas, roses and jasmine, and pinks, which are remarkably sturdy and produce a wonderful, heady, clove-like scent,' she continues.
14. Plant fragrant flowers
'For larger gardens, my top choice is Cercidiphyllum japonicum (katsura tree), which gives off an incredible candyfloss scent in autumn,' says Catherine Cutler. 'Other great plants for a perfume garden include mock orange, a shrub with strongly fragrant flowers, and fun, more unusual herbs such as apple mint, pineapple sage and curry plant. 
The RHS (opens in new tab) recommends chameleon plant, Houttuynia cordata 'Chameleon', a shrub whose leaves smell of lemon; and chocolate cosmos, which has a vanilla scent that children adore.' 
15. Introduce a sensory space in a small garden
There is no need for acres of land to make a garden that will appeal to all the senses and promote health and happiness. Garden decorating ideas such as a scented hanging basket, a collection of tactile plants in containers, or a simple herb-edged pathway are just as capable of providing you with invigorating experiences in a small garden as well as large. 
16. Be at one with the wind
To encourage people to explore your backyard with their hands, place trees within reach of paths and seats so the bark can be easily stroked. Some plants simply beg to be touched, such as Stachys byzantine (lamb's ears), the leaves of which are soft like felt.
17. Make it visually pleasing
For visual interest, use different textured path surfaces, introducing pattern with decking or paving and gravel. You can also consider sight-driven elements like flags, sculpture or topiary. When decorating a garden wall, encourage wildlife with feeders for birds and choose nectar-rich plants for butterflies.
18. Enhance with color
When it comes to color, it is generally believed that 'hot' colors such as red and orange are stimulating, while greens and blues are calming, so aim to zone different areas of your garden with this in mind.
19. Invite night-friendly focal points
If the garden is going to be used in the evening, you can add mesmerising outdoor lighting ideas. Consider a fire pit too, and use plants such as four o'clocks and night-scented stock, which come into their own as the sun goes down.
20. Invest in a pond or water feature
Water trickling or gently flowing is the soundtrack to a relaxing garden and a wonderful addition to a sensory garden. A water feature, such as a small fountain or spout, encourages people to dip their hands or feet in, and children to splash and play.
21. Enhance sound and texture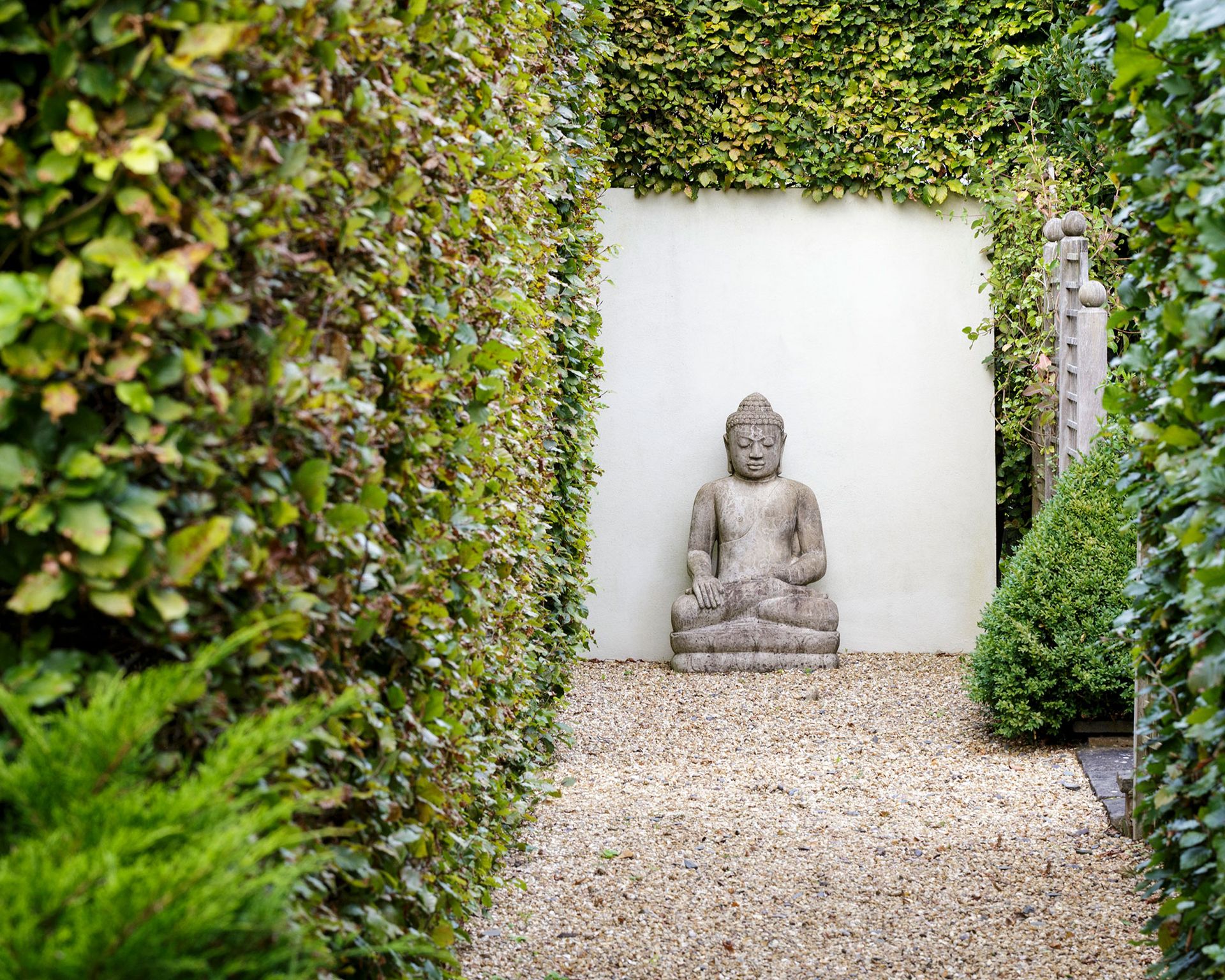 Incorporate plenty of gravel paths to encourage movement from one area to another to create a pleasant crunchy sound underfoot – you could even opt for colored stones to add further stimulation. 
What should a sensory garden include?
Many sensory gardens are just walks or pathways, with low scented plants such as herbs in between stepping stones. A winding route works well as it invites you to slow down and look around. 
Another excellent sensory design is a keyhole garden, with a narrow entry opening into a larger space where you can rest while immersed in planting. Whatever the design, include comfortable seating in a part of the garden that is shaded.
Choose landscaping materials with a tactile element, such as smooth pebbles. A water feature will stimulate both touch and sound.
For sound, investigate wind sculptures and sound fences – rows of tubes that make a melody when a stick is dragged along them – or deer scarers, the tip-tapping water features from Asia and used in zen garden ideas.
What plants are good for a sensory garden?
For a calming natural soundscape, choose bamboo, trees like weeping birch and plant ornamental grasses such as Briza maxima and miscanthus, to enjoy their leaves rustling in the breeze.
Scent is one of the most vivid senses, which can improve mood and trigger memories and strong feelings. To capture these benefits, use fragrant plants, but plant them at intervals so the different scents will not be overwhelming. For taste, add 'pick and eat' possibilities with pots of strawberries or stepover apple trees.
How do you make a small sensory garden?
If you want to create a small or DIY sensory garden, then it is best to plan zones that concentrate on different senses. You could create a listening corner by placing a seat next to a soothing water feature, accompanied by the gentle buzz of insects. Or plant a raised garden bed or containers with herbs, allowing easy access to rub or sniff their aromatic leaves and flowers. To activate the sense of touch, think about textures underfoot, from cool grass to crunchy gravel. 
But if you only have room for a couple of pots, then your best option is scented pelargoniums, the leaves of which release aromas of lemon or rose when rubbed. And make sure there are no toxic, thorny or irritant plants – the Royal Horticultural Society (opens in new tab) has a list on its website.
Related Posts