Looking for a fun at-home date night? Maybe it's the lasting impact of the pandemic. Or maybe it's the cost of living crisis that's affecting countries across the globe. Or perhaps it's the rise of the gig economy that's made everyone look a little closer to home for entertainment. Whatever it is, there's no denying that fun at-home date ideas have a certain charm.
You don't have to go very far to enjoy a little bit of romance or some quality time with loved ones. In fact, staying at home is the new going out – and there are plenty of activities that are just as exciting while saving you time and money.
All you need is an open mind, some creativity, and an eye for interiors. Get your surroundings right and you can enjoy countless date nights in the comfort of your own castle. Here's a list of fun dates to try and some tips on decorating to make it as special as can be…
Enter a 1920s Speakeasy
Mural in Image: Deco Feathers
There's something incredibly fun and clandestine about a 1920s speakeasy bar. Also known back then as a 'blind pig' or 'blind tiger', a speakeasy was an illicit establishment designed to serve alcohol during the Prohibition era.
In order to plan a speakeasy date night though, be sure to stock up on the right spirits, mixers and garnishes. Because this type of bar is all about lavish-looking cocktails. Ditch the beer and skip the wine. Invest in some fancy glassware and don't you dare think about making something with an umbrella in it. Instead, why not try some sophisticated Prohibition faves, such as an Old Fashioned, Sidecar, or a French 75?
To make your home speakeasy-ready, you'll need to get on board with the art deco trend. This 'Deco Feathers' mural is perfect for your bar area. Or if art deco isn't quite your thing, opt for art nouveau wallpaper for a slightly more refined look.
Create a Home Cinema Room
Got a spare bedroom that's not getting used? If you want to make the most of unused space in your home, create a movie theatre that can be enjoyed by the whole family. This is one of the best fun at-home date ideas that also gives you an easy way to entertain the kids. While popcorn, snuggles and romance are definitely on the cards, you'll also be able to provide an unforgettable night-in when it comes to children's birthdays or sleepover parties.
If you're decorating a dedicated movie room, make sure to choose the right wallpaper so it feels like you're walking into a real cinema room. Blackout blinds/curtains are a must-have for the right ambience and dimmer light switches are worth buying too because no cinema is complete without a slow fade as the credits roll out.
Fun at-Home Date Ideas with Music
Mural in Image: Tranquil Flow
Getting tickets for a gig isn't always easy, and let's face it – when there's a cost of living crisis, attending music events isn't cheap. From getting the best seats and paying for food and drink to expensive travel/hotel arrangements, sometimes staying at home can seem like the better option.
But if you don't want to miss out on the music, why not turn your living area into a space for music, cocktails and dancing?
For some cosy decorating tips, why not indulge in some watercolours? This 'Tranquil Flow' mural makes the perfect backdrop for a stylish sideboard or table where you can keep your record player or create a cocktail making station. It's bright and interesting while also adding some soothing colours to your room. This is the perfect wallpaper for all your fun at-home date ideas because it's warm and inviting, ensuring that both of you relax for the occasion.
Book In a Coffee Date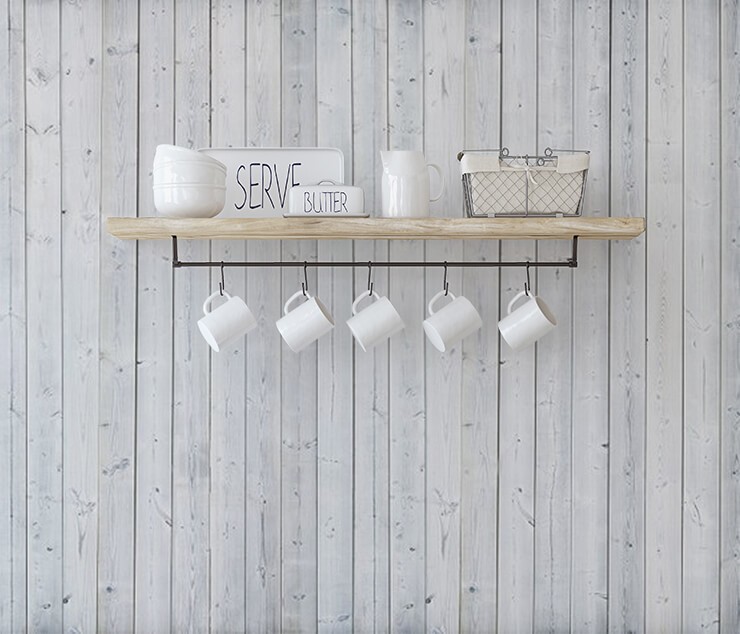 Mural in Photo: White Wood Wall
Since COVID, there's been a massive rise in coffee consumerism for the at-home caffeine enthusiast. When the world could no longer meet at coffee shops and get served by their favourite baristas, people started trying their own artisan blends and latte art at home.
From coffee subscriptions to all sorts of fancy machines and contraptions, the trend of coffee-drinking is at an all-time high. So it only makes sense to plan your next coffee date in the comfort of your own kitchen. All you need is a little coffee station (just head to Pinterest if you're stuck), the best beans or ground coffee you can get your hands on, stylish crockery, and some clever décor tricks…
This 'Abstract Coffee' mural is the ultimate coffee station backdrop and will make you feel like you've walked into your local joint. Just make sure you put a ban on the instant stuff – your fancy coffee bar deserves better!
Host a Wine Tasting Event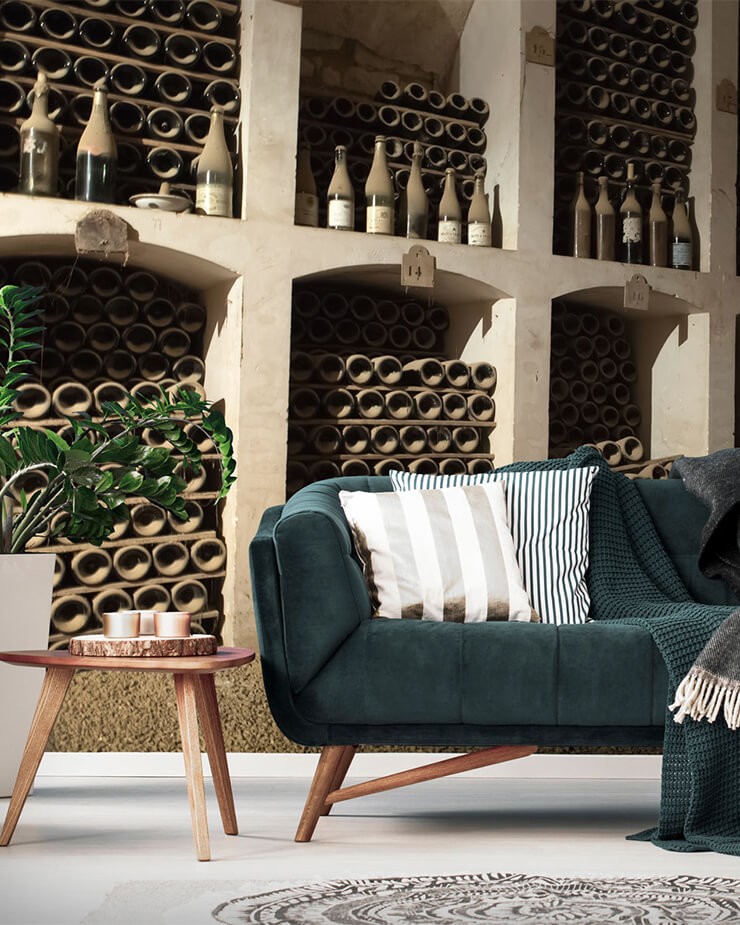 Mural in Photo: Castle Wine Cellar
Turn your kitchen or dining room into a walk-in wine cellar with our 'Castle Wine Cellar' wallpaper and make date nights a social event with your couple friends. Wine tasting isn't just an excuse to enjoy a few guilt-free tipples – it's also a great conversation starter and an experience that can be shared with people you love spending time with.
Drinking alone can be kind of dry (no pun intended) so throwing friends into the mix can sweeten the occasion, giving you a night to remember and cherish. You can plan wine-tasting events with a real sommelier, or you could pay for a wine-tasting kit which normally comes with wine cards to explain what you're tasting.
Or if you hang out with a bunch of wine buffs, make your own fun with blind folds to see who can guess the correct varietal, region, vintage and producer.
Wind Down with a Spa Day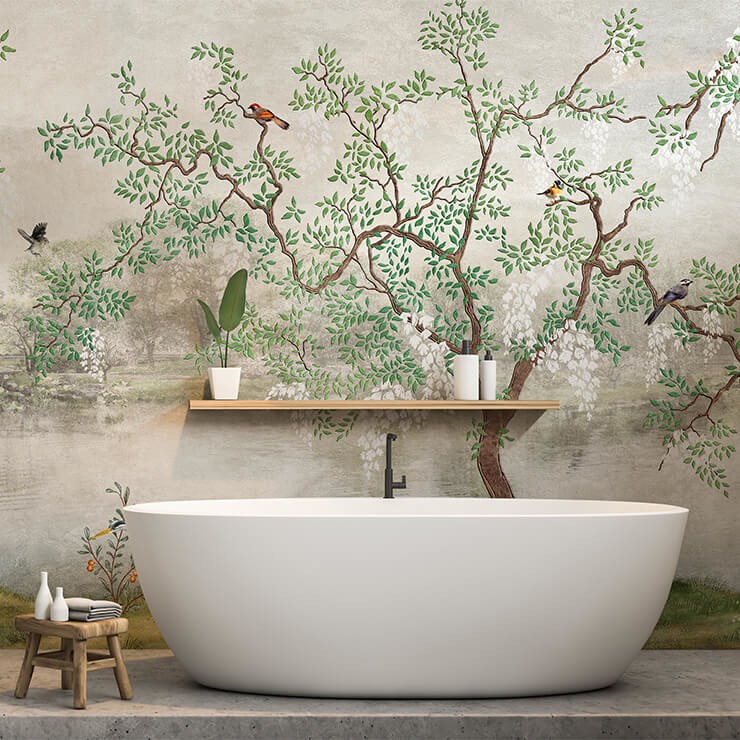 Mural in Photo: Chinoiserie Garden
Having a spa bathroom is always a good idea. Not only will it help you relax at the end of each day, but it can seriously level up your house value. And if enjoying luxury spa dates is right up your alley, then redecorating your bathroom is a no-brainer.
First thing first – you'll need a show-stopping tub. Make it as spacious as you can, and make it freestanding. Then you'll need to think about matching bathroom furniture. Pick a theme that puts you at ease and elevates your mood, whether that's natural wood, polished metals or clean white lacquer. Then you'll need to think about finishing touches, such as an atmospheric wallpaper.
We love greenery in bathrooms because it sets the right mood, so soothing murals like this 'Chinoiserie Garden' mural is definitely a winner.
Do you have any fun date night ideas that can be enjoyed at home? Let us know your most romantic date night tips or cool ways to decorate for the purpose of at-home entertainment…
Related Posts