Looking for garden landscaping ideas? The renowned garden designer Rosemary Verey once said, 'True gardening is as much about the bones of a garden as its planting,' and every outdoor scheme includes hardscaping in the form of paths, patios, pergolas, walls, decks, edging and more, along with plants. 
The materials used – from pavers and gravel to wood and metal – add texture, character and structure, leading the eye through the landscape. Of course, they have a practical role, too, fulfilling roles such as adding flat surfaces for seating and dining furniture, creating garden boundaries and dividing different zones of the space, and adding shade. 
While the best time to redesign your garden is in the winter when plants are dormant, summer gives you the chance to really understand how you use the space, to effectively list the garden ideas you want to include, and to make the swap to alternative materials better suited to your lifestyle and your garden's style. But whether you're contemplating a full garden remodel, or aesthetic and functional improvements, garden landscaping ideas are where to start.
Garden landscaping ideas – and advice
If you want to know how to plan a garden, this is where to start. A garden features both hardscape – walkways, paving, decking, fencing, walls, and more – and the softscape of beds and borders and the plants within them, lawns and so on that you want within this landscape.
In a full garden remodel, it's the hardscape that's completed first before the softscape is prepared and planted. Drainage and leveling of the site are followed by the building of retaining walls and fences, and pavers and/or decking laid, plus leveling for lawns completed.
Afterwards, beds and borders are outlined and soil improved before planting and mulching, with topsoil then added for lawns and sod or grass seed put down.
You might choose to design the garden yourself, and put in the hardscape, too, if you have DIY skills. However, you could call on a garden designer, who will look at the design as a whole, including the layout, structure and planting. The designer may also call in a landscape contractor – or landscaper – to oversee the hardscaping.
Alternatively, if you are designing the garden yourself, you could employ a landscaper to advise on the use of space and suitable materials and to put in these elements of the garden.
If you are employing a professional to help, establish first what level of service you require. 
1. Set priorities
Think about all the hardscape elements in your garden whether you're embarking on a remodel, or improving the existing landscape. That includes garden edging ideas, garden fence ideas and retaining garden wall ideas – those are your boundaries. Then thoroughfares: garden path ideas and walkways, steps, ramps, driveways, all of  which then lead to seating or dining areas – or of course, the house. For these, you need patio ideas and deck ideas. 
For structure, you might be looking for pergola ideas and gazebos or looking to add garden structures, so searching for pool house ideas.
Next, to the luxe extras: outdoor kitchen ideas, water features, swimming pool ideas,  and so on. 
Aside from the fact that some of the materials you might use will weather, these are the parts of the garden that don't change nor grow – unlike the softscape.  
Whether you're making small changes or transforming the entire garden, focus first on the elements that make the garden an easier and more enjoyable space to use: paths, patios, steps, ramps and hardscaping that turns a slope into a level area. You are giving the garden 'bones', which will define both the way it is used and how it looks.
2. Think garden structures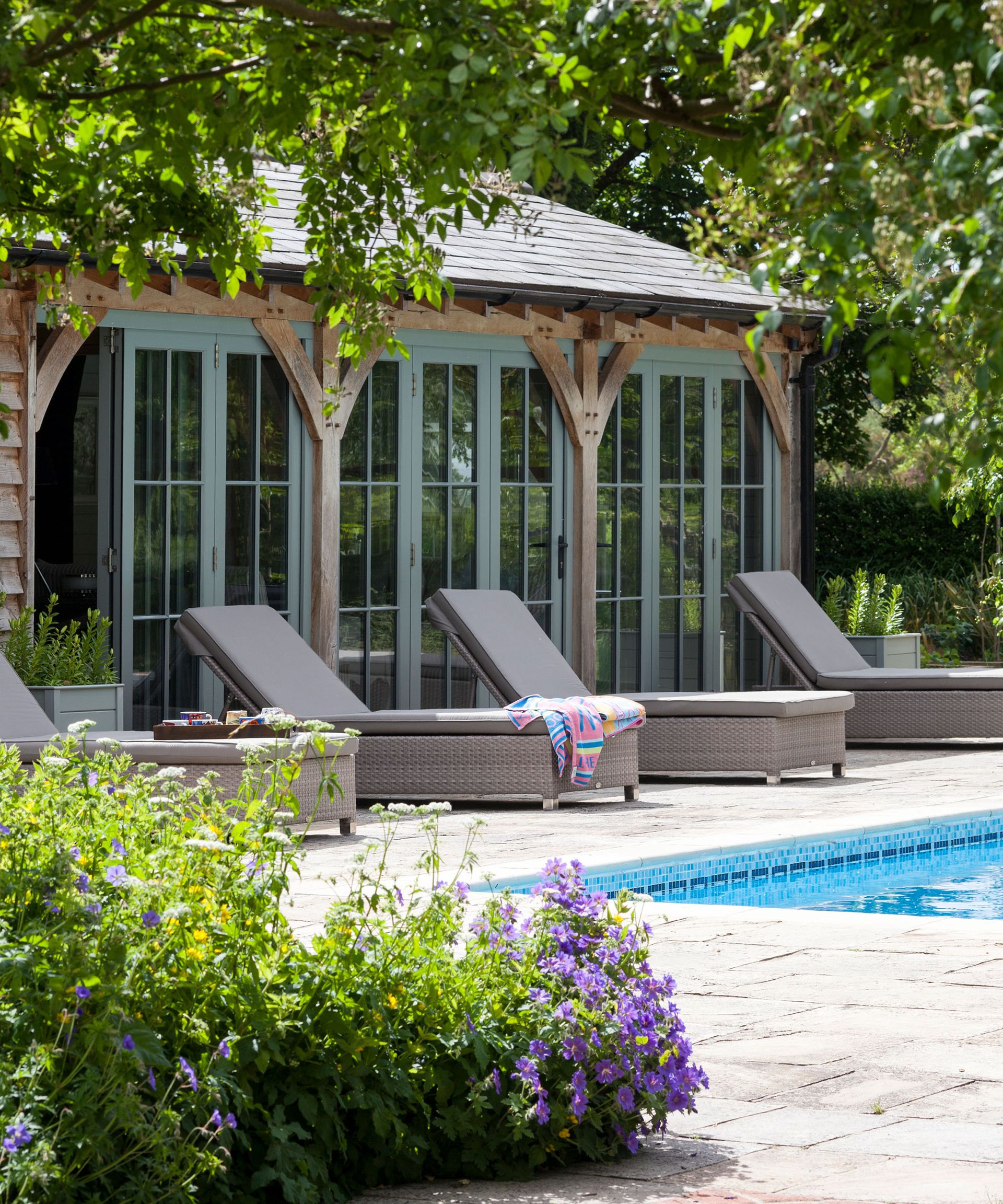 Do you need garden buildings in your plot? We're talking a backyard greenhouse for keen growers, a structure providing storage for tools, a pavilion or – or perhaps you're looking for pool house ideas. Whichever buildings you plan to incorporate, these will be major features of the landscape, so should be part of the whole, sympathetic to the rest of the garden, and complementary to your house.
Architectural elements – from pergola ideas to pool houses – need to be properly detailed in advance and built by skilled contractors or craftspeople so they are sound as well as elegant. When you're budgeting, bear in mind that as a rule, the longer construction takes, the more expensive a building is likely to be.
3. Add visual interest
Think about how you can introduce drama and energy to the garden landscape aside from with the planting. There are a whole host of features you can opt for. 
Even the smallest garden can accommodate a water feature; sculptures and other artworks can create fabulous focal points; and mirrors can give the illusion of a larger space and provide fresh views.
Outdoor lighting ideas can highlight the elements you want to focus on after dark from plants to the texture of a wall. The furniture you choose can also add to the garden's appeal. 
Altogether, assign around a quarter of your budget to the materials when you're remodeling the garden because, unless you are doing all of the design and construction yourself, the bulk of the budget will be needed for design fees and labor.
4. Where to save
If your budget is small, you can still create a fabulous design with cost-saving garden landscaping ideas. There is an enormous range of hardscape materials on offer and choosing the least expensive needn't mean your results are compromised.
To save, consider swapping pavers for gravel, and consider re-using materials such as old bricks as paving. Meanwhile, wood is a cost-effective option for dividers, screens and plant supports, as well as for steps. 
If you can DIY, you can also save on labor, but even if a contractor is doing the work on your behalf, choosing pavers made from concrete rather than those in limestone will mean a lower overall cost.
When it comes to the planting, being prepared to buy smaller plants can also save money – although it will take longer for a remodeled garden to appear established if you take this route.
5. Check if you need permission
Bear in mind that building codes could apply to your garden landscaping, so do your research before you go ahead rather than find out later that you've broken the rules with all the implications of doing so. 
In the UK, what you want to do may be permitted development, meaning it doesn't require an application for planning permission. However, check with your local authority to ensure that the elements you want, such as garden buildings, and fences and walls, don't require an official go-ahead.
Remember that as well as setting aside the cost of any permit or planning permission application, you may also need to pay for professional consultancy, so build this into your budget from the start.
6. Focus on softscape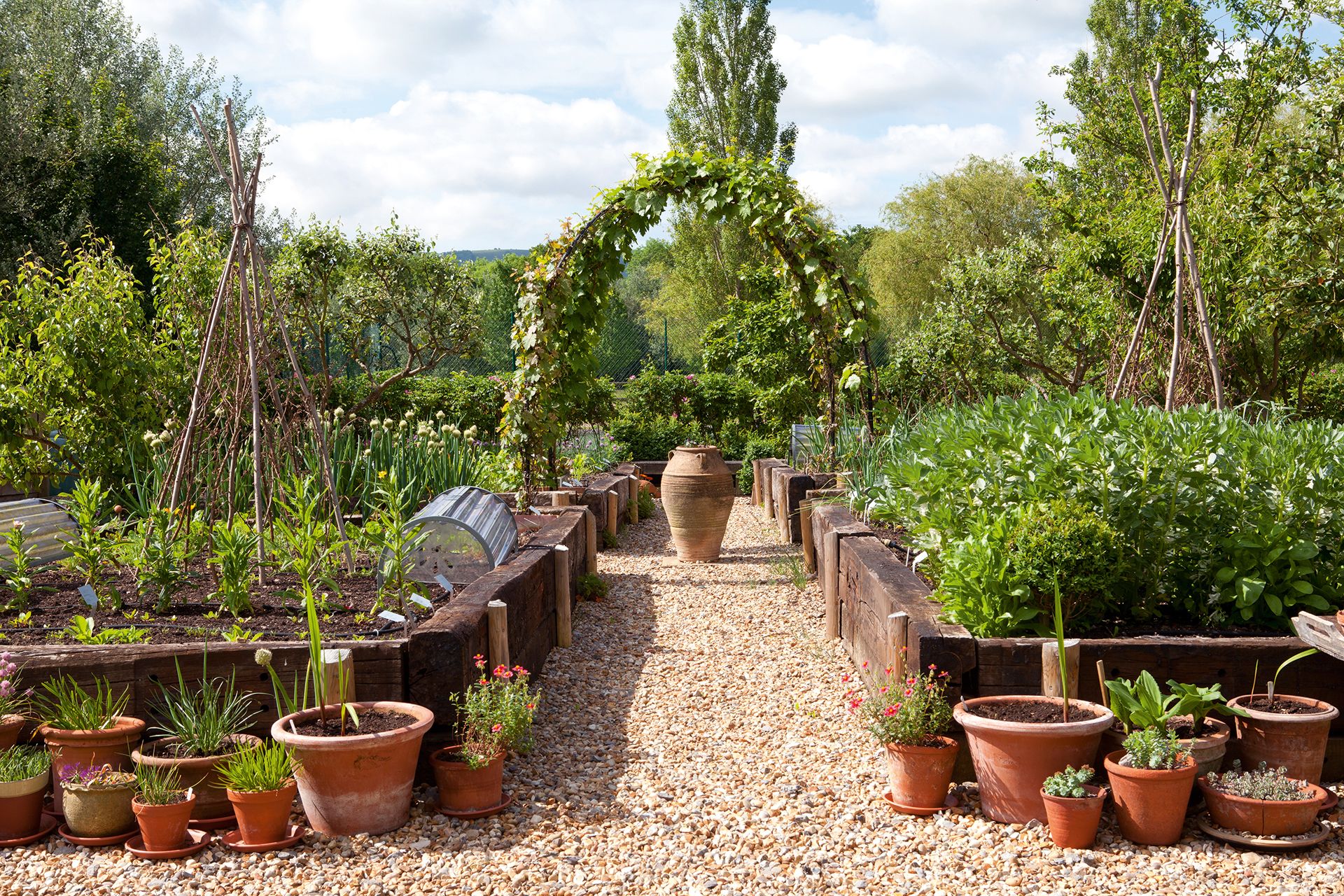 A garden design with plenty of softscaping – think trees, shrubs, flowers, grasses, climbers, lawns – can save compared to one that majors in hardscape. 
With a clever design and good plant selections, you can give your garden structure and year-round excitement. Include a kitchen garden and you can also enjoy the fruits of your labors in the kitchen.
You can't do away with hardscaping entirely, of course. Garden path ideas provide access to the different areas of a garden so you can tend what's growing there, and hardscaping also helps distinguish the different zones of the space. Most of us want at least one hard level surface for seating and dining furniture, too.
A preponderance of planting also means a higher maintenance garden, so aim for a design with a balance between hard and soft elements that suits your lifestyle.
7. Welcome wildlife
The garden landscaping ideas you can opt for include those that make your plot wildlife friendly.
Consider creating a meadow in your yard even if it's modest in size. It will support bees, butterflies and birds, and look fabulous as well. Always buy seeds or wildflower turf suited to your local conditions. Consider planting native hedges and trees and fruit trees as well, and add water for garden inhabitants.
8. Select turf rolls with care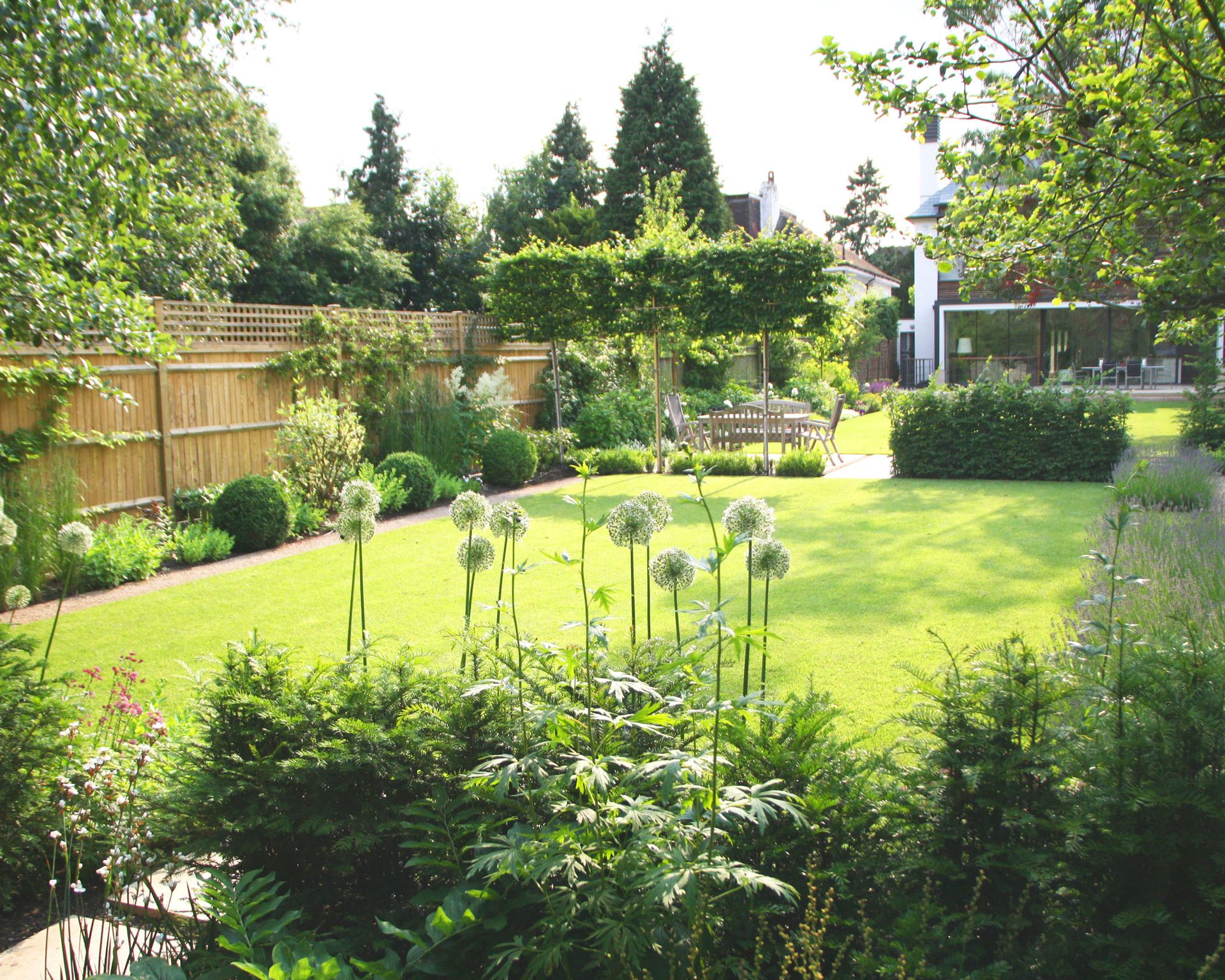 If lawn areas are an important part of your garden design, it's worth investing in sod rather than grass seed for faster results. It's also easier to lay if you're doing this part of the landscaping yourself.
Buy grass that will grow well in your location. Warm season grasses including Bermuda and St Augustine grow best in the south, while cool season grasses like fescue grasses and bluegrass are preferable in the north.
In the UK, consider how you want your lawn to look and how it's used. Your supplier should recommend a different turf for a manicured look than for a resilient lawn the kids will play on. If they can't, shop elsewhere.
How do I plan my garden layout?
As this is your chance to tailor your garden to your lifestyle, think about who will use the space, especially if you have kids or pets or you're keen on outdoor entertaining, and consider how these needs might change in the future. 
Surfaces of walkways, paths and patios should be anti-slip and this is particularly important if young kids or older people are using the garden. 
While gravel is a cheaper material, it is inclined to travel, so consider maintenance levels, too. The noise it makes when you walk on it might also be worth thinking about. If you use unusual materials, such as broken china for a mosaic, also bear in mind the effects of frost.
While aesthetics will guide your choice, materials need to be fit for purpose. At ground level, drainage is a big issue. When choosing paving, look for permeable designs that reduce the risk of flooding. 
Establish a style. There's no shortage of hardscaping options that can create a look that's rustic, sleek and modern, or something in between. In general, hardscaping tends to be the star of contemporary designs, and the range of materials for such spaces is extensive – mirror, metal, Corten steel, and concrete to name a few – but there is nothing to stop you using these in traditional herbaceous gardens. 
The trick is to create a coherent design. 'Simple, elegant detailing is often the key to a successful space,' says garden designer Robert Myers. 'People often overcomplicate design by putting too many ideas and patterns into a small space, making it look busy and fussy.'
How do you plan a landscape garden?
Your first priority will be to establish the functional spaces, from terraces to paths. The size of an area and its use will dictate which materials are most suitable. For instance, a hard surface for a table and chairs needs to be flat and stable, while you might want to keep granular materials like gravel or bark away from entrances so that it's not walked indoors. 
Also think about color, texture and interest, and how the materials will interact both with plants and with the house when viewed from the garden. Sleek, smooth stone that continues inside is a smart option if you have a modern addition or bi-fold doors, but can look harsh butted straight up to a red brick home or a rustic cottage.
How do I find a garden designer or landscaper?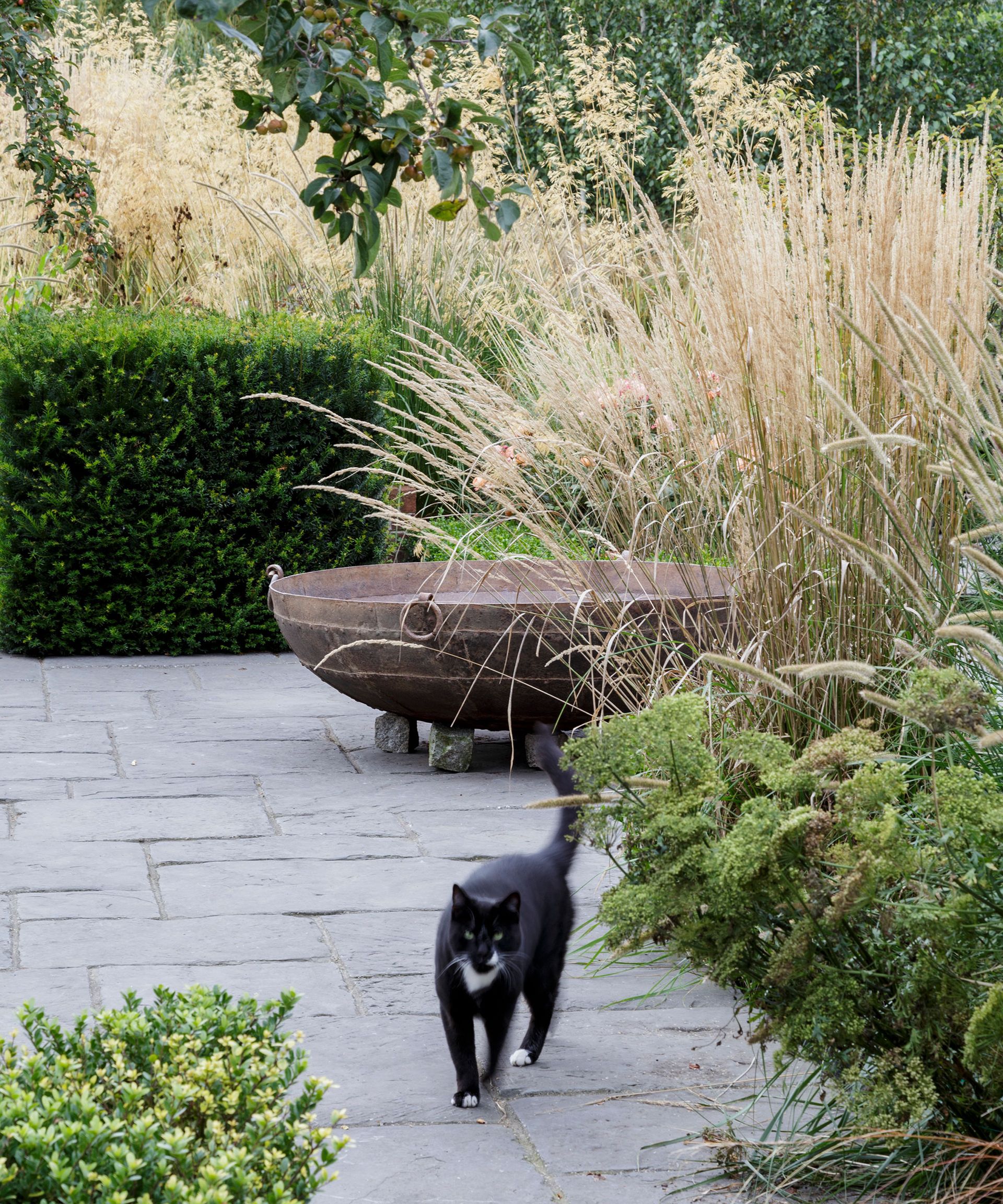 Check out the Association of Professional Landscape Designers (opens in new tab) to find a designer in your area: there are members throughout the US.
In the UK, you can search for designers and landscape contractors at the Society of Garden Designers (opens in new tab) (SGD), the British Association of Landscape Industries (opens in new tab) (bali.org.uk) and the Association of Professional Landscapers (opens in new tab).
You can ask a general contractor to do hardscaping, but a specialist will have a much better understanding of the principles of soil compaction, levels and drainage, and will also be well versed in the available materials.
Expect to provide a down payment of 25 to 35 per cent of the overall cost to secure the contract, and to arrange to pay the remainder in instalments to ensure the job is done to your satisfaction. Establish a schedule, payment terms and any guarantees for the project in writing.
Related Posts