These long garden ideas will help you turn a narrow outdoor space into a 'garden room' you will love. 
If you have, or have ever had, a long, narrow garden, then you'll be more than aware of the tricky task of finding small garden ideas that make it look wider than it actually is, while desperately trying to ensure every corner looks pretty yet functional. 
You've probably spent hours rearranging garden furniture and trimming back hedges in a frenzied attempt to make your narrow garden space look more square, but in the back of your mind you know that, unless you move house, there's just little you can do. 
Long garden ideas
Never fear – with these clever, narrow garden ideas and tricks of the trade, there are tons of ways to help turn that awkward, long garden into something the whole family can use and enjoy.
1. Install a water feature to create sound
In narrow, long gardens, the sounds from the neighbors can often be intrusive, but a water feature will help to soften or eradicate the noise entirely. 
It's an impressive focal point that feels sophisticated, yet will offer plenty of sensory benefits with its soothing sound, cool feel, and shimmering good looks.
2. Plant a sensory space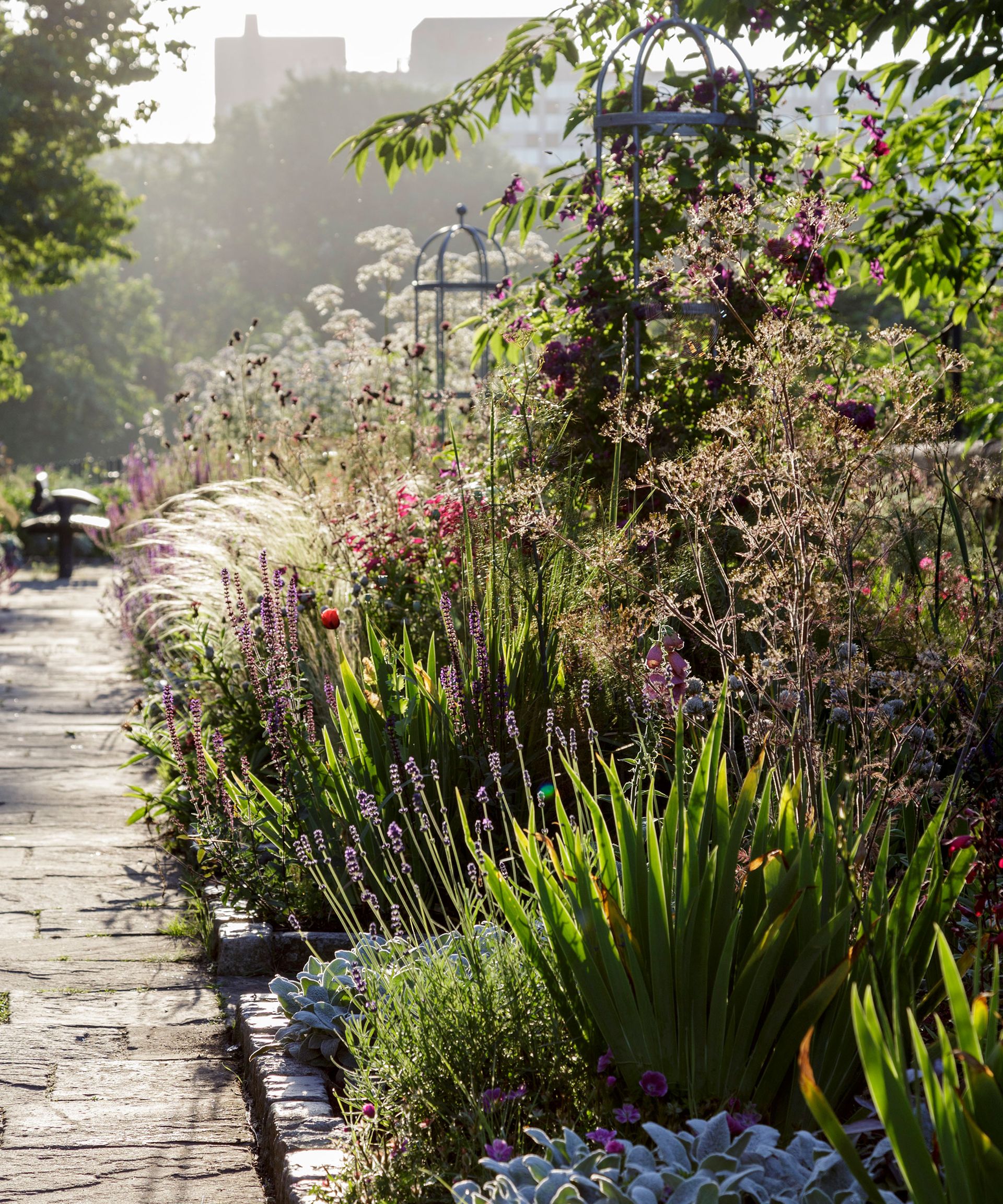 It can be argued that all gardens provide sensory experiences, but long garden ideas with a sensory garden at their heart will have a concentration of different elements that stimulate the five basic senses of sight, sound, touch, smell and taste. 
In the narrow and confined space of long gardens or courtyard gardens, scented plants work very well as they will fill the area with beautiful fragrance. 
A small garden shouldn't be a barrier to creating an enticing sensory space. Employ garden decorating ideas such as scented hanging baskets, tactile plants in containers, or simple herb-edged pathways.
3. Give each 'zone' a purpose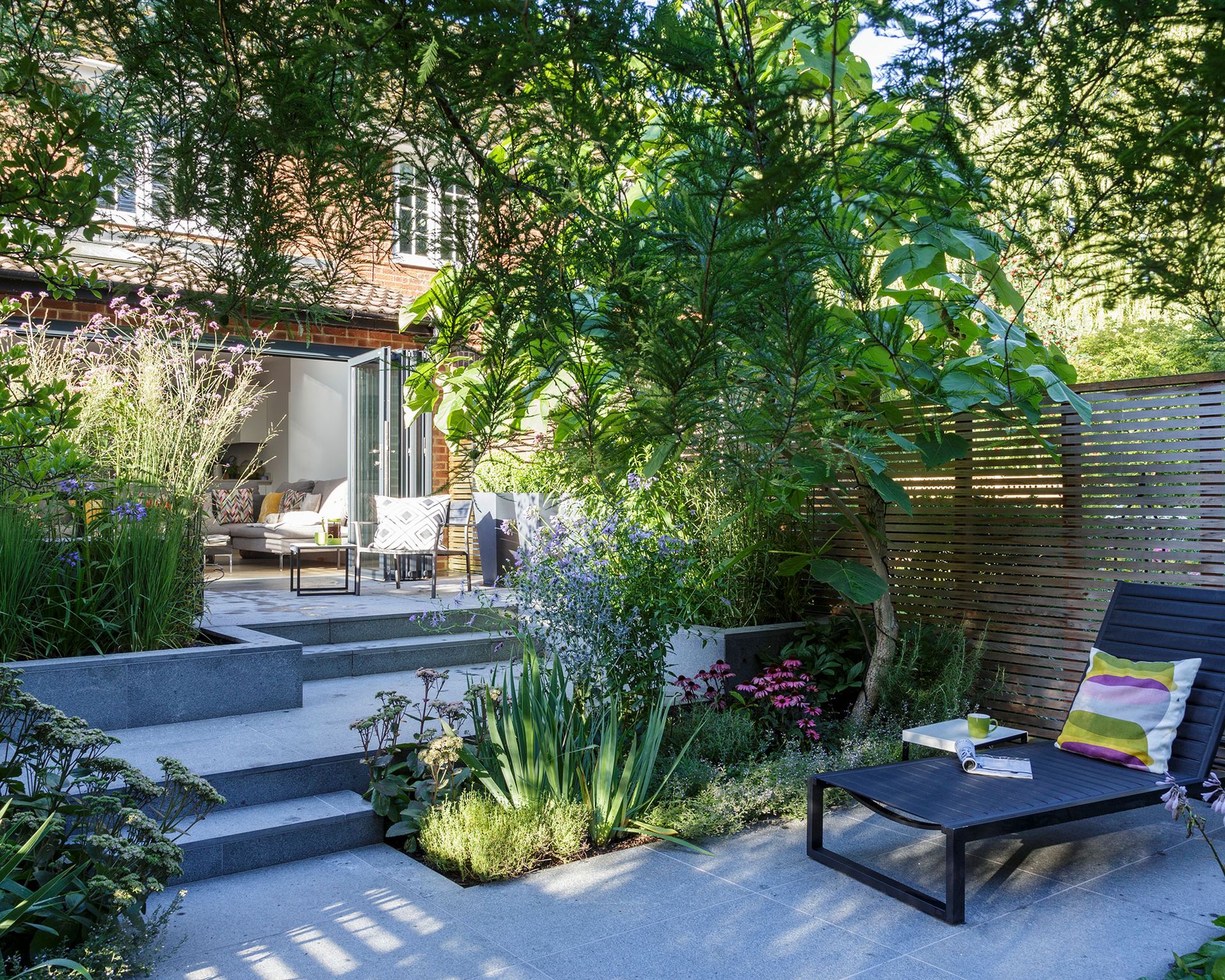 When you plan a small garden, give each 'zone' in your long garden a sense of purpose. One area might be for designed as a lounge area for sunbathing, one for entertaining and barbecuing, and another for indulging in a coffee or tea. 
Use a mix of lawn, paving and small garden decking ideas to create each 'zone' or 'room' – with clever planting and screens to differentiate each area.
4. Take shade and privacy into consideration 
Think about how much privacy and shade you will need in a long garden. When it comes to garden screening ideas – getting the balance right is crucial, otherwise you risk blocking out the sunlight too.
The best trees for a small garden will provide excellent coverage without blocking too much sun, and can be trimmed back to suit your needs. Alternatively, temporary structures allow for a bit of fun and the chance to dress up the garden for a particular event.
5. Instead of paths, use hard landscaping to add zones
If you put in a single walkway, however beautiful, it will dominate the view from the house – only serving to enhance the narrowness of the space. Instead, add zones to your long garden ideas with clever use of hard landscaping, as seen here. 
This contemporary design has been divided by beautiful raised flower beds and a seating area which cuts into the space, making it feel wider.
6. Don't paint your fence using a dark color 
Don't neglect your fence when it comes to planning your narrow garden ideas. In this shape of garden, the fences will be quite dominant to the view. 
Unsurprisingly, long gardens often have issues with shade – and painting the fence in a dark color will only swallow all the natural light – and make the space feel confined. Instead, incorporate the best garden shade ideas by training vertical plants up a trellis or slatted fence panel for added interest and intrigue.
7. Create screens using planting 
Using the right planting is a key ingredient to successful long garden ideas. Get it right and the rest of the scheme will follow. 
Avoid solid barriers in a thin space. Instead, use trellises and vertical planting. Here, an internal garden screen is perfect for dividing a space into a series of 'rooms' and creating boundaries, allowing you to create private areas – as well as giving height.
8. Use ornamental grasses for privacy and shade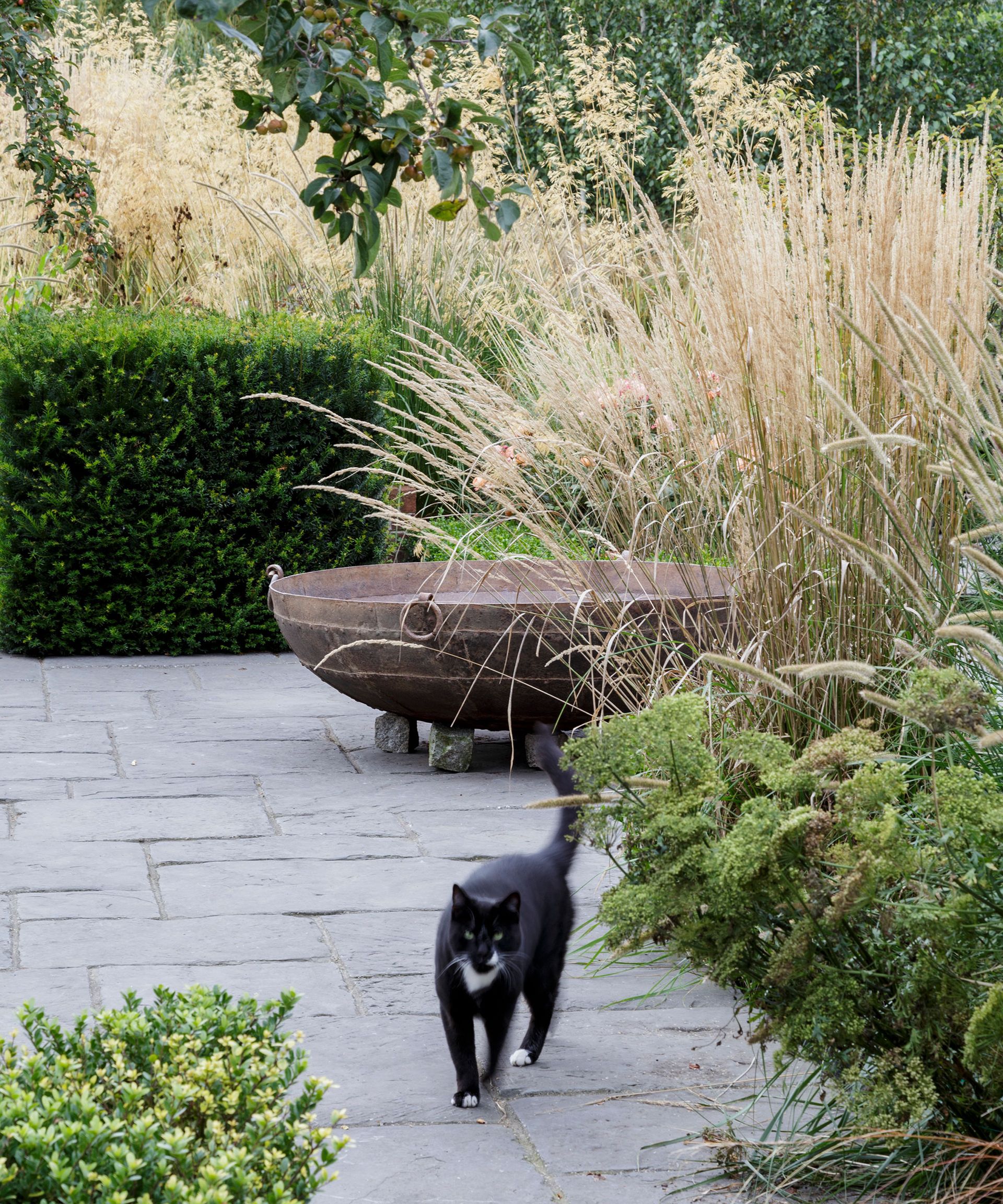 Ornamental grasses can create a variety of wonderful effects, from the tall, arching Calamagrostis, which evokes the atmosphere of a cornfield, to the smart, ground-hugging Hakonechloa, which is ideal for shade, pots and long gardens. Tall grasses like Molinia, Miscanthus and Stipa will create a stronger but still informal barrier between different areas.
Being overlooked is the daily reality for most people living in urban areas with houses on either side, or immediately backing onto an outside space. If this is the case for your long garden, then consider investing in containers of wavy, tall grasses.
9. Don't have a single path going right down the garden
Laying a single path is one the biggest mistakes you can make in any long garden ideas. It will dominate the view and accentuate the narrowness. 
Also, laying down lawn and planting around the edges is another mistake to avoid. The shape of your lawn will highlight the length of the garden and the flower beds will only cut into the width. 
Instead, break up your backyard with 'zones' and eye-catching planting and landscaping.
10. Install a garden room at the end of your backyard
With more and more of us wanting to carve out some extra space in our homes, whether that be for remote working, starting a hobby or simply for quiet reflection, a garden room is one of the best investments you can make – and long gardens tend to be the perfect shape for them. 
It's a simple way to section up a narrow garden into smaller, more inviting – and useful – spaces.
What can I do with a long garden?
When it comes to landscaping a long or narrow garden, garden designer and CEO of Bowles & Wyer (opens in new tab) John Wyer shares some expert advice:
'It's really important that you can give a hint at what is going on further down the garden, without giving it all away,' John says. 'Often it's a good idea to have different rooms with slightly different characters or uses. Think about how you will use the garden – a sitting area, dining space, a zone for reflection – perhaps incorporating reflective pool ideas, or a herb garden.'
Related Posts